BMW X3 G01 (2018-2020) Expert Review
Review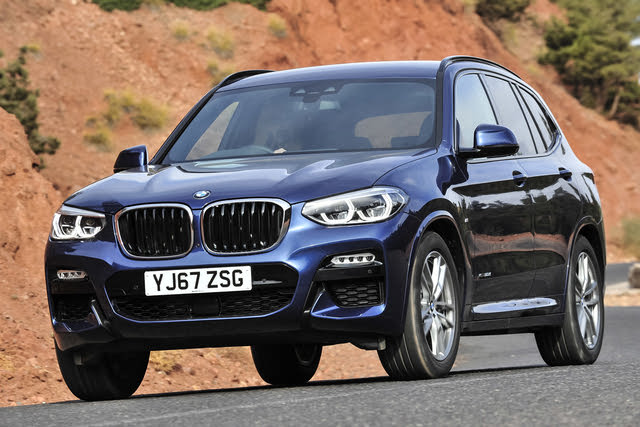 Premium small SUVs such as the Audi Q5 are all well and good, but they're often not that much fun to drive. BMW's X3, however, offers much in the way of handling and driver engagement, making it a good option for those seeking a sportier SUV. It's not just for enthusiasts, though, as it's long been one of the top choices thanks to its good comfort, practicality and equipment levels.
Fact File
Years Available
2017, 2018, 2019, 2020
Main Rivals
Introduction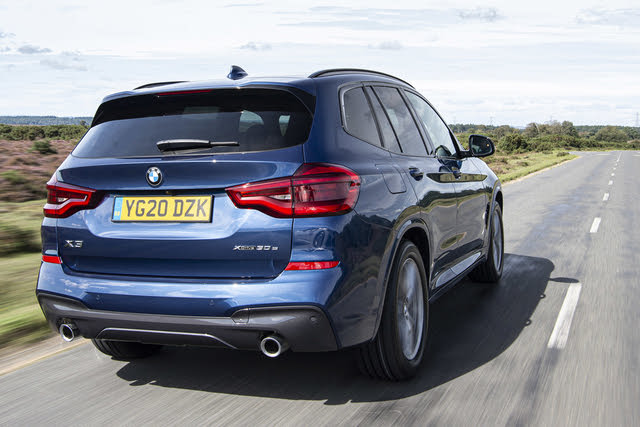 The third-generation BMW X3 is a compact premium SUV that blends impressive handling with stout performance, practicality and modern tech. A range of versions are offered, including petrol, diesel and plug-in hybrid models, and there's even a high-performance derivative called the BMW X3 M Competition, so there's something to suit most buyers.
This generation of X3, known as the G01, was launched in 2017 and built on the impressive capabilities of its predecessor. A tweak to its wheelbase made it slightly longer and more spacious, for example, while fresh styling and new kit – such as standard-fit triple-zone climate – bolstered its appeal.
BMW hasn't sat on its laurels, either, and new engine options and updates have been rolled out over the years to keep the X3 up to date. Petrol options include the xDrive20i, plug-in hybrid xDrive 30e, sporty M40i and range-topping X3 M Competition, while diesel options consist of the xDrive20d, xDrive30d and high-performance M40d.
Even the base-grade SE trim level comes with lots of kit, but there are also xLine, M Sport and dedicated high-performance M models – and this array of options gives the X3 a further edge against competitors such as the Alfa Romeo Stelvio, Audi Q5, Jaguar F-Pace, Mercedes-Benz GLC, Porsche Macan and Volvo XC60.
Inside, you'll find a spacious, comfortable and well-designed cabin that offers a good driving position and easy-to-understand controls. The build quality is also excellent and features such as the infotainment system are simple to use, making the X3 easy to live with. The X3 has a large 550-litre boot, too, which should accommodate most luggage requirements with ease, and there's plenty of space for passengers in the rear seats.
Where the BMW sets itself apart from its rivals, such as the Audi Q5 and Land Rover Discovery Sport, is on the road. Even the entry-level engines are flexible and powerful and the X3's handling is far more sporting and engaging. It's refined and rides well, too, although the lower and stiffer models can be less relaxing on more broken surfaces.
Altogether, there's very little at fault with the BMW X3 and its capabilities make it a smart buy for a wide range of buyers. Some SUVs fare better in specific areas but few can match the overall package offered by the BMW X3. And, if handling and driver engagement is at the top of your SUV shopping list, it's definitely one you should check out.
Three Things To Know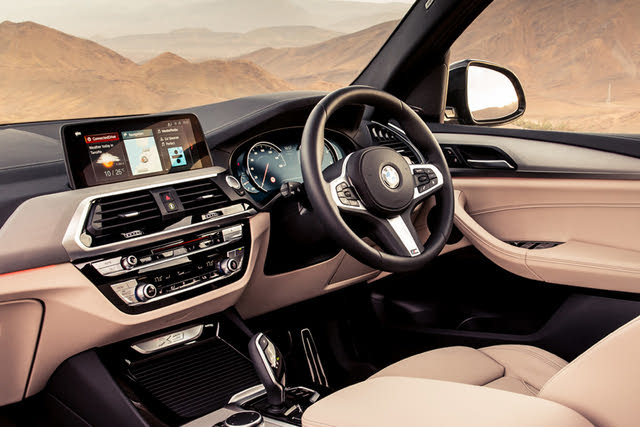 You might expect the current entry-level 2.0-litre xDrive20i and xDrive20d models to feel a little pedestrian but both deliver decent performance. The petrol xDrive20i produces 181bhp and can accelerate the all-wheel-drive X3 from 0-62mph in 8.3 seconds. The diesel xDrive20d, on the other hand, produces 187bhp and grants a 0-62mph time of 7.9 seconds. Go for any of the more powerful options and the X3 will get even quicker still. All versions are all-wheel drive, though, and all feature a smooth and effective eight-speed automatic gearbox.
Go for a new X3 in base-grade SE specification and it'll come with 18-inch alloy wheels, heated front seats, front- and rear parking sensors, a parking camera, cruise control, triple-zone climate control, adaptive LED headlights, a 5.7-inch Live Cockpit driver's display, Bluetooth connectivity and an 8.8-inch touchscreen infotainment system with a DAB tuner and intuitive iDrive controller. Consequently, even this comparatively affordable version of the BMW still feels like a premium and upmarket SUV. You might want to upgrade to an M Sport for the Connected Package Professional feature, though, as this adds Apple Car Play and Android Auto support.
Although the X3 is still a comparatively new car, there have been some changes and updates to the line-up over the years. The six-cylinder M40d was introduced in July 2018, for example, followed by the plug-in hybrid xDrive30e in late 2019. The flagship X3 M Competition was also added to the range in September 2019. This high-performance X3 packs a 3.0-litre, six-cylinder engine with twin turbochargers that produces a heady 503bhp and 443lb ft, which slingshots it from 0-62mph in just 4.1 seconds. It'll hit 155mph flat out or, with the optional M Driver's Package, it can reach 174mph.
Which One to Buy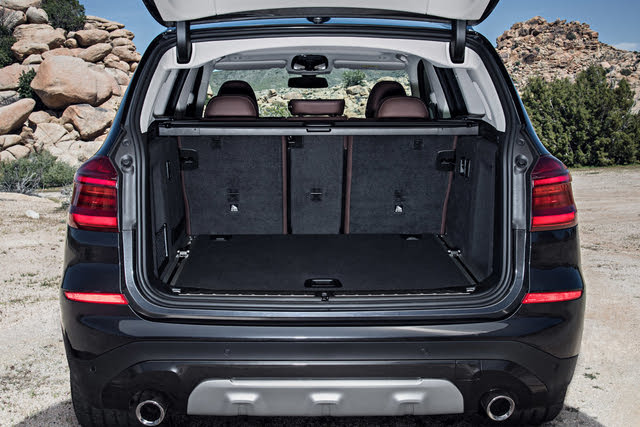 The best all-rounder: The standard SE version of the X3 comes with lots of kit but we'd recommend going for the M Sport if you can. Aside from sportier looks, it also benefits from larger 10.25-inch and 12.3-inch displays and it comes with the Connected Package Professional upgrade, which adds Apple CarPlay and Android Auto support. The xDrive20d powertrain option is probably the best bet, otherwise, as it offers good economy in conjunction with decent punch. The xDrive30d is smoother, but it's much more expensive.
For the eco-minded: Go for the plug-in hybrid xDrive30e, which blends a powerful electric motor with a petrol engine. It's quick, economical and efficient, and on the stringent WLTP test cycle, it's reputed to be capable of covering up to 31 miles on electric power alone. If you only have a short commute, and you keep its batteries topped up, it would make for a particularly quiet, refined and frugal option. The ultimate eco version will be the iX3 which goes on sale in the summer of 2021 and features a fully-electric drivetrain with a WLTP range of up to 279 miles. The diesel xDrive20d models can average up to 47.9mpg, though, so there are efficient options available if you're on a smaller budget.
For the performance enthusiast: The M40i offers up serious performance for sensible money. Its 355bhp engine can catapult it from 0-62mph in 4.8 seconds yet, despite that, it can still average up to 31.4mpg. Only die-hard fans should consider the X3 M Competition, which is very quick but also very expensive. Alternatives such as the Alfa Romeo Stelvio Quadrifoglio are also more fun and captivating, and less expensive.

Running Costs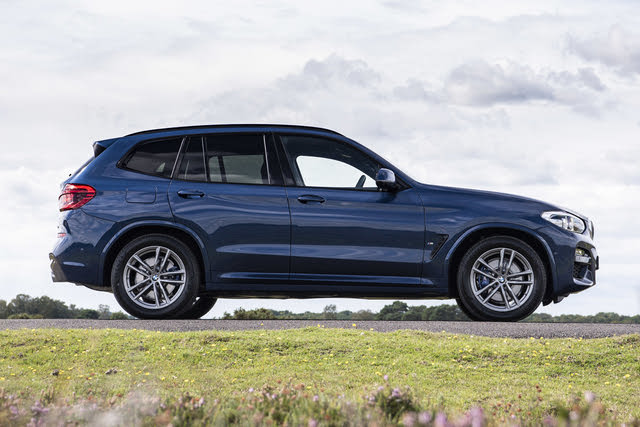 BMW X3 running costs vary significantly depending on the model you're going for. The base xDrive20i and xDrive20d, for example, are capable of averaging up to 36.7mpg or 47.9mpg respectively on the more realistic WLTP test cycle. Even the more powerful M40i and M40d variants aren't hugely less efficient, either, which is impressive.
Jump up to the X3 M Competition, however, and that claimed average mpg figure will drop to a best of 24.8mpg, so it's worth studying the facts and figures of the particular car you're interested in to get the best handle on what to expect in terms of fuel costs.
It's also vital that you look closely at annual VED rates. Many X3s are comparatively efficient but you'll still pay a hefty first-year rate and you'll also get hit with the five-year premium for cars with a list price of more than £40,000. After that, however, annual VED will drop to the more tolerable flat rate of £140-150.
The plug-in hybrid xDrive30e is unquestionably the best bet if you want the lowest emissions and best economy figures, though, as it's claimed to offer up to 148.7mpg while emitting as little as 44g/km of CO2. This, aside from being beneficial on the fuel and VED costs front, could also stand to save some company car drivers some cash when it comes to Benefit-in-Kind taxes.
BMW also offers a range of fixed-price servicing plans that can help spread the cost of keeping an X3 on the road. We got a quote for a service plan on a nearly new X3, in xDrive20d specification, and the cost came back as £25 a month for 32 months. Alternatively, you could pay the full £900 in one hit.
That all said, it's worth looking at conventional estate alternatives if you don't actually need an SUV. A comparable estate will not only be better to drive but it will also offer up similar storage potential, reduced running costs and a lower purchase price.
Reliability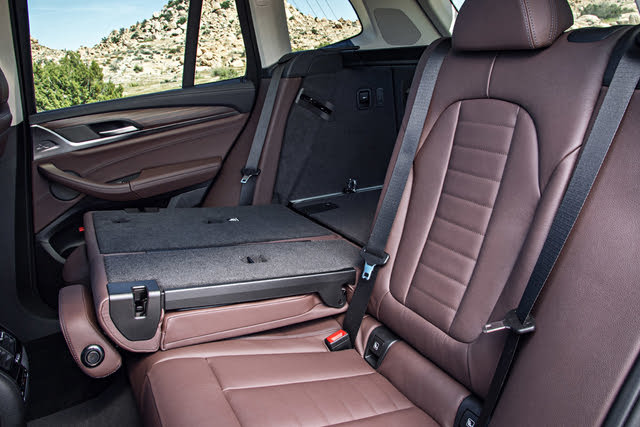 The BMW X3 comes with a three-year, unlimited-mileage warranty, which is a common offering when it comes to luxury SUVs. It's admittedly not as long as the five- and seven-year alternatives offered by brands such as Toyota and Kia, but it can be extended for additional peace of mind.
All new BMWs also come with three years' roadside assistance, a 12-year anti-corrosion warranty and a three-year, unlimited-mileage paintwork warranty, so major hassles should be few and far between.
BMW does have somewhat of a patchy reputation, however, when it comes to customer satisfaction and reliability. There have been several recalls on the third-gen X3 already, for example, ranging from leaking exhaust gas recirculation coolers to loose rear spoilers and poorly manufactured front wheel bearings, so you may encounter some minor faults and failures.
Fortunately, if you're buying new, you'll have the warranty and dealer network to fall back on. That doesn't mean you're out of luck if you're buying a used BMW X3, though, as cars with warranties are offered through the BMW Approved Used Cars scheme. Every used X3 offered will come with a minimum of 12 months' unlimited-mileage warranty, 12 months' roadside assistance and 12 months' MOT.
If you are buying a used X3, though, remember to check its details against the government's recall website. This will identify which recalls apply to the car, allowing you to follow up with the owner or dealer to find out if they've been done.
The CarGurus Verdict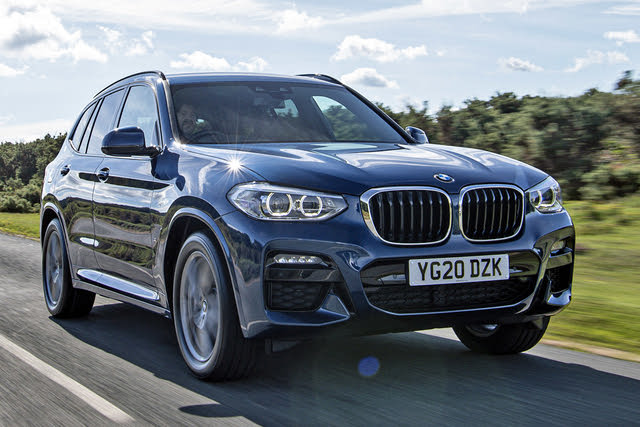 There's an awful lot to like about the BMW X3, from the way it gets down the road to its modern equipment and accommodating interior. These traits, coupled with trim and engine options, subsequently make the X3 a great option for a wide range of buyers.
It's up against an extensive selection of rivals, though, many of which offer an edge in certain situations, and it is one of the more costly options. A Volvo XC60 can be more comfortable, for example, while a Land Rover Discovery Sport will be a better choice for those seeking off-road credentials. There is also no efficient two-wheel-drive version of the X3, or a seven-seat model, which might limit the BMW's suitability for some.
Similarly, enthusiasts might prefer the way an Alfa Romeo Stelvio or Jaguar F-Pace drives when compared to the BMW. However, these alternatives are often compromised elsewhere, so if the strength of the overall package is most important to you, the X3 easily justifies itself a place on your shopping list.
What's your take on the BMW X3 G01 (2018-2020)?