Toyota Yaris (2021- ) Expert Review
Review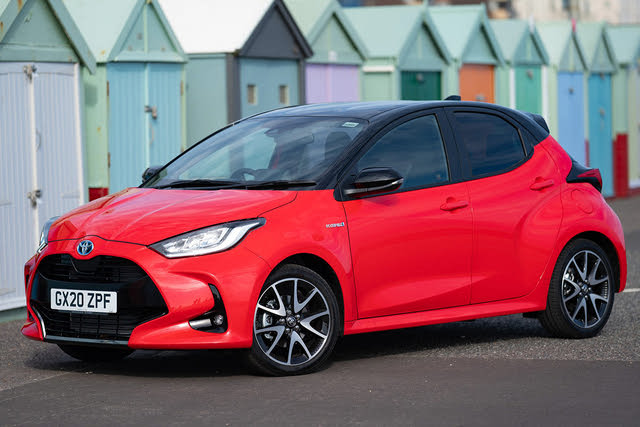 With its pumped-up styling, the new Toyota Yaris is a bit of a head-turner. Yet beneath the skin, its hybrid powertrain means it's incredibly efficient in the real world, especially around town. It's a shame that the ride is quite firm, and some cheap plastics inside keep the interior from feeling as plush as it could. But otherwise, the Yaris is a smart supermini choice.
Fact File
Years Available
2020, 2021
Main Rivals
Introduction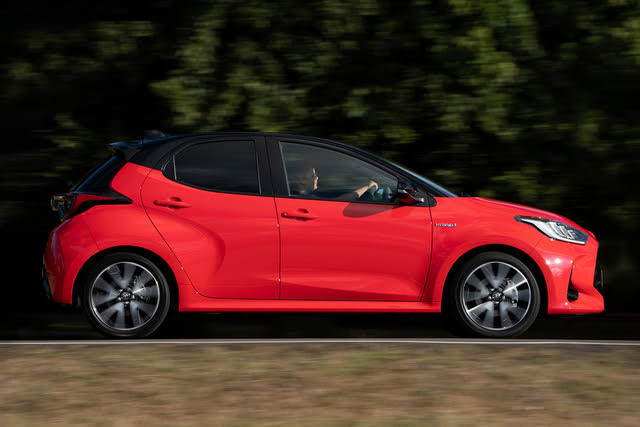 Rarely do stylish and sensible go hand-in-hand, but in the Toyota Yaris, the twain could well meet. This latest model swaps the staid and sensible styling the Yaris has gained a reputation for until now for a sports-car-esque nose, a swooping side profile and a wide, chunky behind.
Yet beneath the striking five-door bodyshell – and much like its bigger brother, the Toyota Corolla – the Yaris is now hybrid-only. There are no pure petrol or diesel versions available any more, and that makes the Yaris particularly economical. Throw in the five-year warranty, and you can see why it's more than just a pretty face.
Inside, there's a smart dashboard with unusual pod-like gauges, and for the most part, it's screwed together well, with only a few slightly cheap plastics here and there taking the shine off matters.
And despite the funky styling, all the controls are where you'd expect them to be, which means the Yaris is pretty easy to find your way around. Less so the infotainment system, which is mounted high up in the centre of the dashboard; the screen is large, crisp and clear, but some of the menus can be a little fiddly, and finding the radio station you want takes practice.
The Yaris scores well on practicality, too, with plenty of space in the front seats, and while the back seats feel a little tight, they're no more so than most small hatchbacks'. Boot space isn't quite as generous as it could be, though, so if you want to carry bulky items with any regularity, you might be better off looking elsewhere. The Renault Clio comes with a larger boot, for example, as does the Honda Jazz, and the Jazz's clever flip-up rear seats make it more versatile, too.
Out on the road, the Yaris is good, but not perfect. It feels stable and secure most of the time, and the hybrid engine is perky and responsive to the throttle, which makes it great for nipping into gaps around town. It's even reasonably quiet; there's not too much engine noise when you're just pootling around, and even when you push the Yaris a bit harder, the raspy exhaust note you do get doesn't become overly intrusive.
The downside is that it rides a little firmly; while it takes larger lumps and undulations in its stride, the Yaris never settles down fully. That means you can feel all the little imperfections in the Tarmac jiggling the car around unless the road is mirror-smooth, which, of course, is rare in the UK.
Light steering does make it easy to drive, mind you, as does the fact that every Yaris comes with an automatic gearbox, and if you need to change direction quickly in an emergency, there's plenty of grip and the steering reacts quickly, so the Yaris feels agile. Having said that, there's not much feel, so if you like to enjoy hustling your supermini along a country lane, you'll find a Ford Fiesta is more fun.
Three Things To Know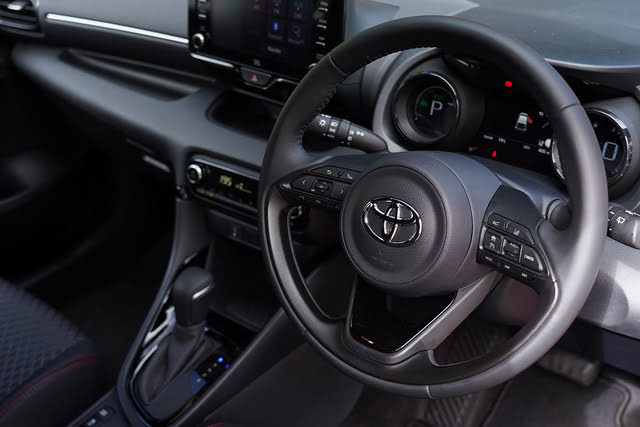 As we've already discussed, the Yaris is now only available as a hybrid, and indeed, there's only one engine option. It's based around a 1.5-litre three-cylinder petrol unit, which is then paired with an electric motor for a total output of 114bhp. It's a traditional hybrid setup, which means you can't plug it in and the relatively small battery gets charged up by the petrol engine; consequently, it'll only go a couple of miles on electric power before the petrol engine needs to start up again. Toyota has been making hybrids in this way for decades now, and its expertise shows; compared even with other hybrid superminis, the Yaris is very economical, and up against petrol rivals, it's in a different league.
You can't actually get satnav on any version of the Yaris, even as an option. Toyota says it believes most customers will use Apple CarPlay or Android Auto to link their phone up to the entertainment system, and then use a sat nav app, but if you don't have the right phone tariff, that could cost you quite a bit in data. And don't be fooled by the button that says 'Map' on the infotainment unit; if you press it, you'll just get a message saying that function isn't installed. It's only there because Toyota uses the same system on other cars that do have satnav as an option.
OK, confession time: we fibbed a little just now, because there is one Yaris that doesn't come with a hybrid powertrain, and it's the hot GR version. This four-wheel-drive hatchback with a bespoke three-door body has caused a stir among petrolheads, because Toyota developed it with a view to going rallying, making it a properly motorsport-derived performance car, something that's incredibly unusual nowadays. And it feels it, too; it's sensationally exciting to drive, and extremely fast, with 257bhp from its 1.6-litre turbo engine, enabling it to sprint to 62mph in just 5.5 seconds and top out at 143mph.
Which One to Buy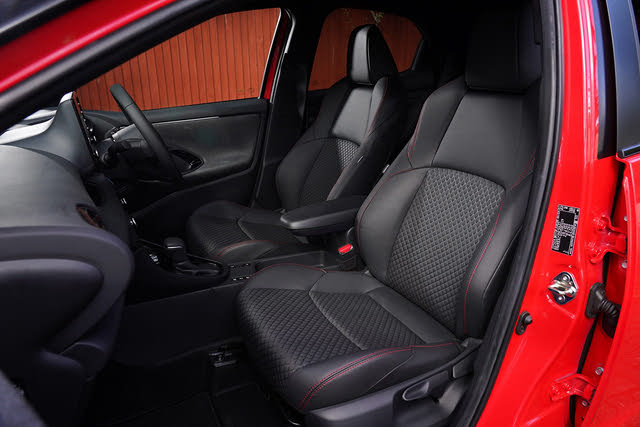 For most buyers, we'd recommend the Design model. It's the second rung up the Yaris ladder, sitting above the Icon in the range, and while it doesn't get the slightly sportier looks of the Dynamic model or the luxurious trimmings of the Excel, you do get alloy wheels, automatic headlights and wipers, climate control, a reversing camera and adaptive cruise control. What's more, its smaller 16-inch wheels will help smooth out that slightly fidgety suspension.
If you're on a budget, of course, you can opt for the Icon model. This gets you a slightly smaller infotainment system, and you lose the smart LED headlights that come with the Design, but you'll save around £1,000, or approximately £15 a month if you're financing your car.
If you're an enthusiast looking for an exciting driving experience, though, there's only one Yaris that'll do, and that's the GR model. It doesn't come cheap, but it's widely acknowledged as being the most exciting hot hatch on the market today, so if you're looking for a small car that can deliver big thrills, this is it. And don't forget: unlike some hyper hatches of its ilk, you still get a full-size rear seat and a usable boot, making it practical enough to serve as daily transport.
Running Costs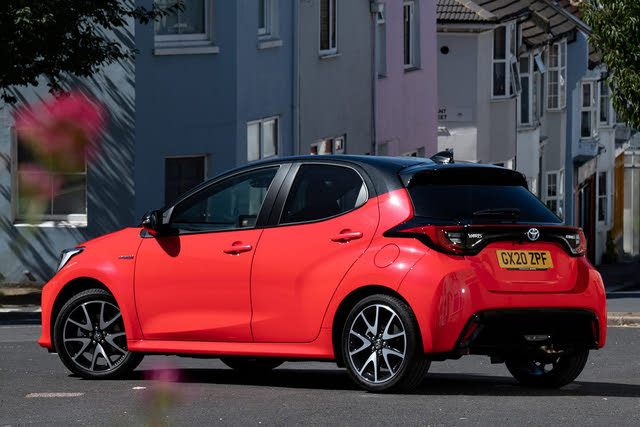 This is where the Yaris really starts to shine, thanks chiefly to the impressive fuel economy of its hybrid engine.
You can expect to see as much as 60-65 mpg in real-world motoring, and that isn't just on the motorway. Because of the clever way Toyota's hybrid system harvests energy whenever you're coasting or braking in traffic, it should prove just as economical around town, which of course, is where the Yaris will be most at home.
And because the Yaris is a hybrid, it counts as an "alternative fuel vehicle" according to the Government, and that means a slightly discounted annual tax rate compared to a petrol or diesel car. And if you're choosing one as a company car, you'll find the low emissions bring down the Yaris's tax costs.
Toyota's servicing prices are reasonable, and as an additional bonus, the company lists them on its website so that it's easy to see how much your next service will set you back. What's more, Toyota offers service plans that help you spread the cost by paying monthly.
And whereas some rivals use a timing belt within the engine, which needs to be changed every few years at some cost, the Yaris uses a metal chain instead, which should last the lifetime of the car.
Reliability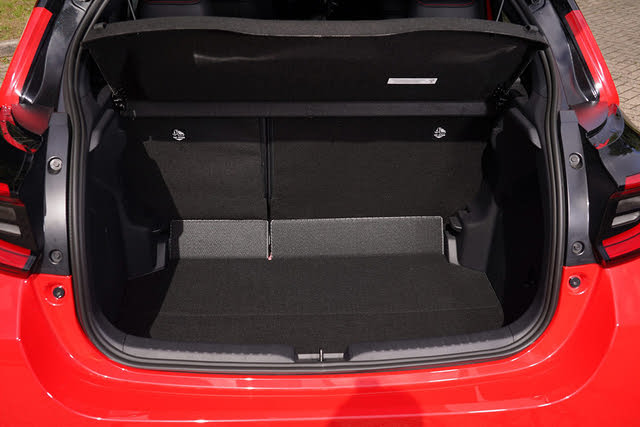 This generation of Yaris is too new for us to have any concrete data on its reliability, but the signs are at least promising.
For one thing, Toyota has a pretty solid reputation for reliability; its hybrids, in particular, are favoured by taxi companies for that very reason. So it follows that the Yaris should prove dependable.
What's more, while the last-generation Yaris Hybrid was somewhat different beneath the skin, it scored very well in reliability studies, so it follows that this model probably will, too.
In fact, the last Yaris Hybrid was deemed to be the most reliable car in the 2020 What Car? Reliability Survey, with an outstanding score of 99.5%, and although Toyota as a brand finished below average in the 2019 JD Power Vehicle Dependability study, it offers a five-year, 100,000-mile warranty on all its cars, which should mean even if something does go wrong, you'll be covered.
The CarGurus Verdict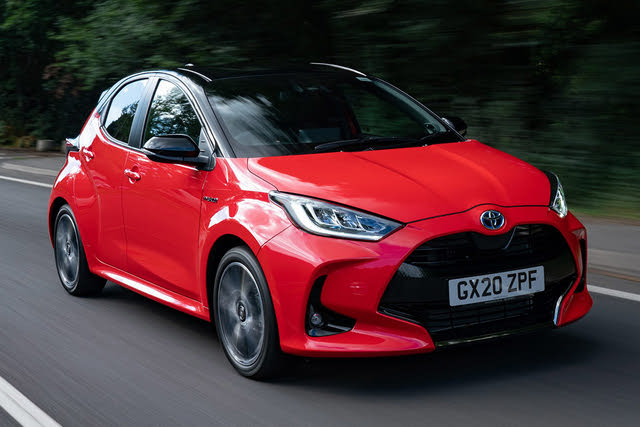 Beneath its eye-catching lines, the Yaris is a car of real talent. It is a shame the ride's a touch on the firm side, and it'd be even better if the interior wasn't quite so dour. But on the plus side, the Yaris feels nippy and nimble, even if it isn't the last word in outright fun, and the savings you'll make on its running costs should mean you'll at least be laughing all the way to the bank.
It's also easy to drive, well equipped – apart from the slightly jarring lack of satnav – and decent value. And of course, there's that long warranty to fall back on if anything should go wrong. Other hybrid models like the Renault Clio and Honda Jazz are worth a look, of course , the former offering a smoother driving experience and the latter bettering the Yaris's practicality. But on the whole, this is a sound and sensible supermini with a welcome dose of style that means it should appeal to the heart as well as the head.
What's your take on the Toyota Yaris (2021- )?