CarGurus reveals the UK's most EV-friendly motorway
Scotland's M74 is the UK's most EV-friendly motorway, with the most charge points per mile
Yet nearby M8 is least EV-friendly, with zero charging points across 60 miles
M6 through West Midlands and North West England has highest number of charging units along 232-mile route
London's M25 among least EV-friendly motorways despite ranking as a hotspot for EV buying interest
Northern Ireland's M5 makes the top five most EV-friendly motorways despite ranking lowest in EV buying interest in the UK
CarGurus has revealed which of Britain's motorways are best prepared to serve electric vehicle (EV) drivers, with the M74 in Scotland and M6 in England crowned the most EV-friendly.
With over 330,800(1) models of electric and plug-in vehicles now on UK roads, the new research provides an insight into the country's charging network as interest in EVs continues to grow.
CarGurus research found the M74 in Scotland is the most EV-friendly motorway overall, with the shortest average distance between charging point locations. The 40-mile route, which runs south-east from Glasgow, has three public EV charge points along its length, giving an average distance of just 13.3 miles between locations.
Yet, the nearby M8 which connects Glasgow to Edinburgh is the least prepared for the EV revolution, with just one service station and no charging points across its 60-mile length, despite being Scotland's busiest motorway. Similarly in England, the 32-mile M60 Manchester ring road lacks any EV charging facilities at its motorway service stations.
The M6, which is the UK's longest motorway and connects the West Midlands to the North West of England, may be a favourite among EV owners, coming second with a charging point location on average every 14.5 miles along its 232-mile route.
According to CarGurus search data analysis, the EV-preparedness of motorways like the M6 doesn't necessarily correlate with genuine interest in electric vehicles from local residents.
In fact, CarGurus found that despite the nearby M6 ranking highly, just 10% of buyer searches for EVs on the CarGurus marketplace platform came from the West Midlands and North West(2), despite these areas accounting for a fifth of the UK's population.
The M25, which is often named among the nation's least favourite motorway and by far the busiest, has just four charging locations along its 117-mile length. Yet, with a charging location nearly every 30 miles, it ranks a lowly 15th, despite Greater London accounting for over a third (37%) of EV searches in the UK.
On the other end of the spectrum, Northern Ireland's M5 made it into the top three most EV-friendly motorways, despite accounting for just 1% of EV interest nationwide.
CarGurus, the fastest growing automotive shopping site in the UK(3), also researched the motorways with the highest total number of charging units across their route, which unsurprisingly saw some of the UK's biggest motorways, including the M6, M4 and M1 top the list.
Chris Knapman, Editor at CarGurus UK, said, "While many EV drivers will do the majority of their charging at home, there are most likely still times when charging mid-journey will be essential, particularly on long motorway runs. As such, it is reassuring to see just how frequently you'll be able to find a charge point on the UK's various motorways.
"Of course, it's not only the number of charging points that's increasing. The SMMT reports year-to-date registrations of new battery EVs are up by 157% compared with last year(4), despite the impact of lockdown measures. With interest also filtering through to the used EV market we've created guides that run through the pros and cons of buying and running an electric car, as well as highlighting some of the most appealing models on the second-hand market in 2020."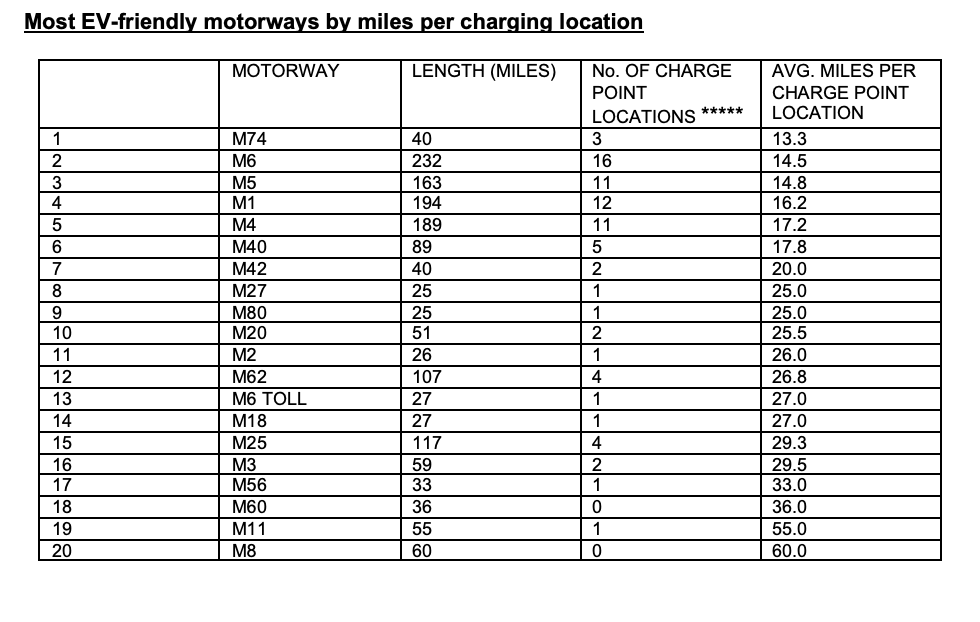 1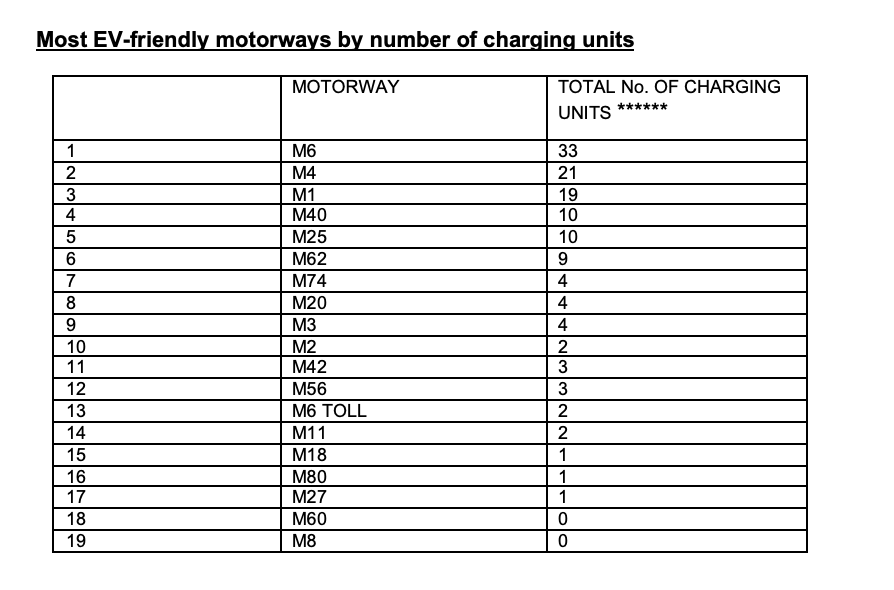 1
Top tips for buying a used EV
Be realistic about where you can charge and the range you really need: Electric cars work best when you can charge at home. If you don't have off-street parking (or easy access to a charger at work) then an early used EV with a smaller range might not work for you. However, an EV with a longer range could be fine if you are prepared to use the public charging network instead.

Think about battery warranty: To help reassure buyers of long-term durability, most EVs come with extended warranties for their batteries. If you're looking at a used EV check what the battery warranty is and whether there's any of it left to run.

Research used EV reviews: Generally speaking, electric cars have proven themselves to be very reliable. But issues do still occur. It's therefore worth reading model-specific reviews of the car or cars you're interested in. At CarGurus.co.uk you'll find used car reviews of the most popular used EVs including the Nissan Leaf, Renault Zoe and Tesla Model 3.
-ENDS-
(1) Official figures: https://www.nextgreencar.com/electric-cars/statistics/
(2) CarGurus analysed thousands of searches on its site from across the UK from April 2020 to September 2020 between regions to find out some of the most popular areas of EV interest
(3) CarGurus is the fastest growing online automotive marketplace in the UK among its nearest competitors based on the percent change in average unique monthly visitors from Q2 2019 to Q2 2020 (Source: Comscore MMX Multi-Platform®, Total Audience, Custom-defined list includes CarGurus.CO.UK, Motors.CO.UK, AutorTrader.CO.UK, Gumtree.com, Q2 2019 – Q2 2020, UK)
(4) The Society of Motor Manufacturers and Traders (SMMT) New car registrations, August 2020
(5) https://www.zap-map.com/live/
(6) Official motorway services only; excludes Tesla charge points that can be used by Tesla vehicles only
For further information, please contact:
James Drake at CarGurus – UKPR@CarGurus.com / 0208 541 3434 / +44 07809 657178
How CarGurus Works:
CarGurus helps car shoppers search local car listings and quickly find great deals from top rated dealers. Every day, the company analyses millions of data points on hundreds of thousands of UK car listings to calculate each car's Instant Market Value (IMV) or fair retail price. This data is used in combination with dealership ratings from other shoppers to rank and rate available cars results based on the quality of the deal: Great, Good, Fair, High or Overpriced. The site also provides transparency on how long the car has been on the forecourt and if it's had a price drop. Consumers can contact dealers directly.
About CarGurus:
Founded in 2006 by Langley Steinert (also a co-founder of TripAdvisor), CarGurus (Nasdaq: CARG) is a global, online automotive marketplace connecting buyers and sellers of cars. The company uses proprietary technology, search algorithms and data analytics to bring trust and transparency to the automotive search experience and help users find great deals from top rated dealers. CarGurus is the most visited automotive shopping site in the U.S. (source: Comscore Media Metrix® Multi-Platform, Automotive - Information/Resources, Total Audience, Q2 2020, U.S. (Competitive set: CarGurus.com, Autotrader.com, Cars.com, TrueCar.com)). CarGurus launched in the UK in 2015 and is the fastest growing online automotive marketplace in the UK among its nearest competitors based on the percent change in average unique monthly visitors from Q2 2019 to Q2 2020 (Source: Comscore MMX Multi-Platform®, Total Audience, Custom-defined list includes CarGurus.CO.UK, Motors.CO.UK, AutorTrader.CO.UK, Gumtree.com, Q2 2019 - Q2 2020, UK). In 2019, CarGurus acquired UK-based PistonHeads.com, which it operates as an independent brand. In addition to the United Kingdom and the United States, CarGurus also operates an online marketplace in Canada.
CarGurus® is a registered trademark of CarGurus, Inc. All product names, trademarks and registered trademarks are property of their respective owners.
To learn more about CarGurus visit www.cargurus.co.uk.
© 2020 CarGurus, Inc., All Rights Reserved.
James Drake
CarGurus
pr@cargurus.com
###