2019-2020 Land Rover Range Rover Evoque Expert Review
Review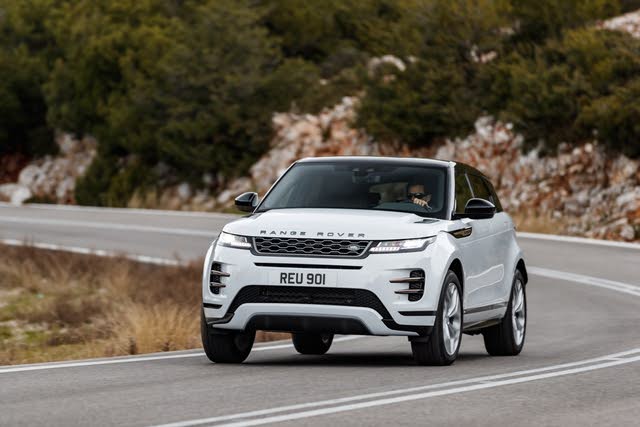 The Evoque has been a big hit for Land Rover, letting customers get into Range Rover ownership for much less money than the traditional larger Range Rover and Range Rover Sport models would cost. This is the second-generation Evoque, which aims to further improve on the appeal of the original while maintaining its combination of sharp looks, luxurious interior and off-road capability.
Fact File
Body Styles
Five-door SUV
Years Available
2019, 2020
Main Rivals
Volvo XC40
Audi Q3
Mercedes-Benz GLC
Introduction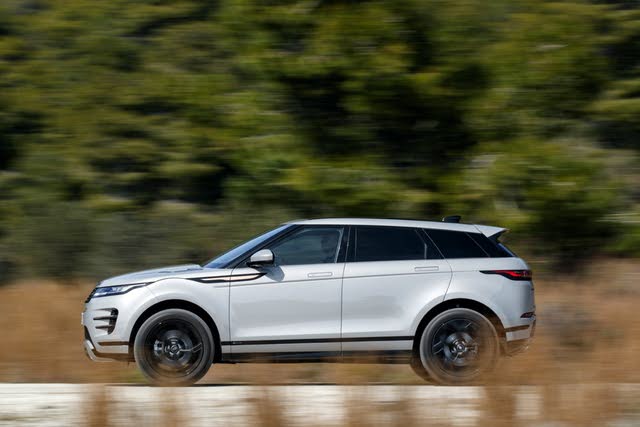 The original Range Rover Evoque caused jaws to drop when it was introduced in 2012, thanks mainly to its stunning concept car-like looks. It still looks fresh even now, so this second-generation Evoque has its work cut out to capture the public mood in the same way.
The new Evoque has still got some sleek styling, suitably modernised for the third decade of the 20th century. Check out those flush door handles that rise out of the bodywork when you want to use them. The latest Evoque also comes with a range of modern engines, including hybrid options.
Inside, the Range Rover Evoque takes many of its cues from the larger Range Rover Velar, which means a minimalistic aesthetic and the ditching of most buttons in favour of touchscreens for the controls and infotainment system. More expensive models get two screens in the centre of the dashboard – one for entertainment and navigation, and one for various vehicle controls like temperature and suspension settings – and they certainly look slick. They're a magnet for fingerprints though, and some of the more detailed functions are best operated when stationary rather than on the move.
While there's definitely a classy air to the Range Rover Evoque, a few areas disappoint. The seats could use more lateral support and some of the plastics aren't quite as solid as you'd hope. But that said, the upholstery materials feel great, there's a nice driving position and lots of adjustment in both seating positions and steering wheel.
From a practicality point of view, there's a reasonable amount of space inside but perhaps not as much as you'd expect for an SUV of this size. That sloping roof and rising window line looks great from the outside but makes things a bit dark and gloomy for rear seat passengers. It makes rear visibility from the driver's seat less than brilliant too, although that can be combated with a clever 'ClearSight' camera system that displays a wider view on a screen in the rear-view mirror.
Anyway, those in the back should have enough room to be comfortable. The boot is about the same size as in a family hatchback, which makes it usable rather than vast, and while the rear seats fold down they don't go completely flat. It's probably fine for 90% of people but there are more practical rivals on the market.
The driving experience is a little more grown-up than the sporty-edged first generation Evoque, with a more wafty, Range Rover-like feel on both standard and optional adaptive suspension. It still stays stable through the corners though, despite the fact that it's a heavy car for its size. It's also one of the most capable off-road machines you can buy at this price-point. It's nice to know that, if needed, the Evoque can head off the tarmac with the best of them. The four-wheel-drive models are the most capable, but the two-wheel-drive version is no slouch either.
Petrol and diesel models are available, and most have a mild hybrid system that, without getting too technical, uses a battery to save energy while braking and redeploy it to the wheels during acceleration, reducing fuel consumption. A plug-in hybrid is available too.
Three Things To Know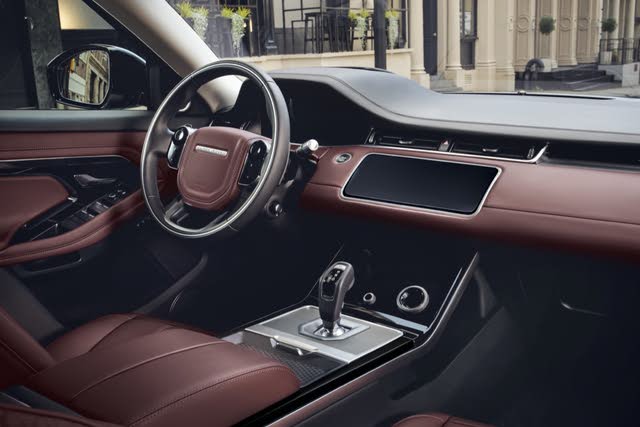 This second-generation version of the Range Rover Evoque is only available as a five-door model. The three-door and convertible versions of the first-generation model haven't been continued. But considering the five-door model was always the most popular of the previous Evoque – and by a considerable margin – that's unlikely to dent sales too much.
All the petrol and diesel engines are 2.0 litres in size and come from Jaguar Land Rover's Ingenium family of engines. They are named P or D, followed by a number that denotes how much power they have in metric horsepower. The petrol range consists of the P200 (197bhp), P250 (246bhp) and P300 (296bhp), while the diesel range features the D150 (148bhp), D180 (178bhp) and D240 (237bhp). The plug-in hybrid, which combines a petrol engine with an electric motor, is called the P300e and, slightly confusingly, has 309 metric horsepower, or 305bhp.
If you don't want leather draped over your Range Rover Evoque's seats, but still want some high-end upholstery, you can pick from some ethical and unusual fabrics, courtesy of some high-end furniture manufacturers. These include Kvadrat, which mixes wool and Dinamica suedecloth, made from recycled bottles. Other options include a fabric made from eucalyptus fibres. Of course, leather is available too, and there's not a huge amount of difference between the cost of the different options.
Which One to Buy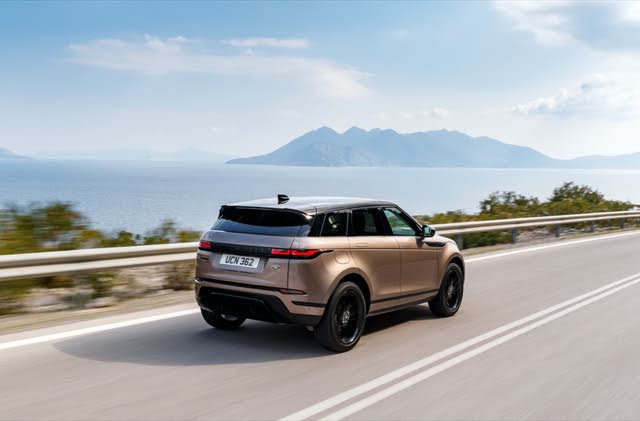 If you want the best all-rounder: We think the diesel-powered, 178bhp D180 strikes the best balance between performance, kit and price. It's quiet and has plenty of grunt for cruising long distances. Mate that to a mid-spec S trim and you have a good amount of equipment too, without breaking the bank.
If you want sporty looks: The Range Rover Evoque is split into two different models – Evoque and R-Dynamic – or three if you count the First Edition model introduced when it launched. Within those, you can choose between four trim levels (standard, S, SE and HSE). The R-Dynamic models all have a slightly more… well, dynamic look thanks to a more rakish bodykit.
If you want to blow the budget: At the top of the Range Rover Evoque range (not including the First Edition revealed for early adopters) sits the R-Dynamic HSE P300e, a plug-in hybrid with sporty looks and a boatload of features included as standard. But it'll cost you more than £50,000 before you've added any options.
If you want to maximise your mpg: The P300e plug-in hybrid has the best official fuel economy at between 201.8 and 168.1mpg (measured using the new WLTP testing procedure). However, how close you get to this will depend on how you use it. Plug it in to charge the battery and you'll be able to do up to 41 miles on electric power only. But if you do a lot of longer journeys or can't charge it regularly, the petrol engine use will see the fuel economy plunge.
Running Costs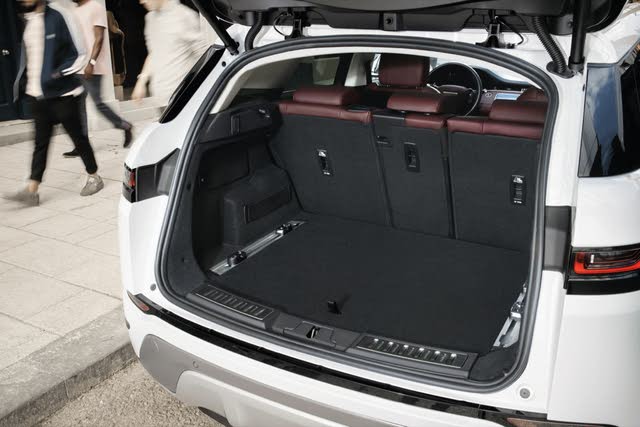 The Range Rover Evoque is not a particularly cheap premium SUV to buy, but it should hold on to its value very well when you come to sell it on, which brings overall running costs down. The fuel economy figures across the range aren't particularly impressive either, partly because of the extra weight that all that off-road kit adds to the cars. The P300e hybrid will be relatively light on fuel if you do mainly shorter journeys and have somewhere to plug it in to charge regularly.
Failing that, the front-wheel-drive 2.0-litre D150 model has less weight to haul around and so will give you around 45mpg. Incidentally, this is the only model of Range Rover Evoque that has a manual gearbox, as all the rest are automatic and all-wheel drive. If an auto is a must, then the regular D150 isn't too far behind at 42mpg. Petrol models are on the thirsty side and you'll do well to get 30mpg in the real world in any of them.
The relatively high CO2 emissions on a lot of Range Rover Evoques mean that if you're a company car driver, your tax bill may well be higher than on some equivalent rivals. This is an important difference to private ownership, where the solid resale value of the Evoque could claw back a lot of the fuel costs.
Insurance costs vary between group 26 for the entry-level models, and up to 39 for the most expensive. This is slightly higher than some rivals, which is probably due to the prestige of the brand. Servicing costs on the Range Rover Evoque look like being slightly higher than some of the opposition too, but overall running costs could still be lower due to the strong resale value.
Services are due every two years or 21,000 miles. Land Rover offers fixed-price service plans on new Range Rover Evoques, which are transferable and refundable if you decide to sell and can be paid in one go or spread over time. Expect to pay around £1,925 for this.
Common Problems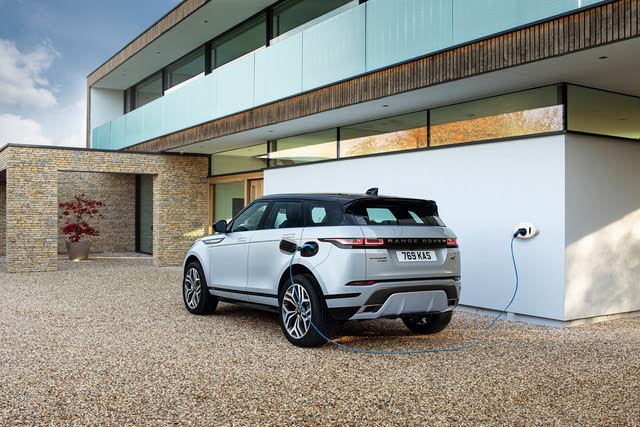 Land Rover's reliability record doesn't always make for particularly happy reading, and it regularly features towards the bottom of independent dependability studies. This doesn't bode particularly well for the latest Range Rover Evoque, although its relatively new arrival to the market means we don't have much model-specific data for it. The previous model did have its problems, mostly with electrical systems. Satnav and air-conditioning systems seemed particularly prone to problems, as did the automatic gearbox.
Should anything go wrong on the new Range Rover Evoque, Land Rover offers a three-year, unlimited mileage warranty, which is slightly better than the standard three-year/60,000-mile offer by Audi on the Q3 or Volvo on the XC40, and the same as BMW and Jaguar offer on the E-Pace and F-Pace, or X2 and X3 respectively. The Evoque sits between those models when it comes to size, so either model from those brands could be considered rivals.
There have been a couple recalls for this version of the Range Rover Evoque, one intended to fix an issue with the emergency call system, which contacts the emergency services in case of an accident. Another tackles potentially inaccurate fuel level indicators. If you're buying a used Evoque, check with a dealer to see if the car you're looking at has been affected, and that necessary work has been carried out.
The CarGurus Verdict
There's no doubt that the Range Rover Evoque is a very attractive, luxurious machine that does a great job of giving Range Rover levels of classiness for far less than Land Rover's larger vehicles. We'd urge caution when it comes to reliability, as Land Rover's reputation is considerably less than stellar in this regard. While it's not the cheapest car of its type to buy or run, its desirability means that it'll hold onto its value very well, which could make it a relatively sound financial choice, particularly with a diesel engine.
The arrival of a hybrid option could also keep the costs down, assuming you keep it plugged in whenever you can. We would definitely recommend checking out some rivals before you commit to an Evoque, as cars like the Audi A3 and Volvo XC40 also have plenty to like about them. But if you're sold on the Land Rover's looks, Evoque ownership will give you a very capable and comfortable SUV that's as at home on-road as it is off-road.
What's your take on the 2019-2020 Land Rover Range Rover Evoque?