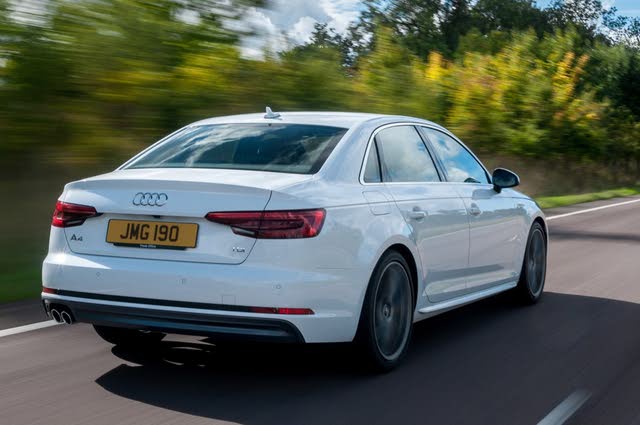 Audi A4 (2016-2021) Expert Review
Review
The Audi A4 is one of the big three German cars in this premium car segment, the others being the Mercedes-Benz C-Class and the BMW 3 Series. It's a justifiably popular machine available as a saloon or an estate, and it's a brilliant all-rounder with plenty of space and an interior that would shame much more expensive cars. It might not be the most exciting car to drive, but it's very good at pretty much everything.
Fact File
Body Styles
Four-door saloon
Five-door estate
Years Available
2016, 2017, 2018, 2019, 2020
Main Rivals
Introduction
If you've ever been in the market for a medium-sized executive saloon or estate car, the chances are you've heard of the Audi A4. It's one of the trifecta of aspirational German executive cars that have grown enormously popular in the last 20 years, the other two being the BMW 3 Series and Mercedes-Benz C-Class. In this Audi A4 review we explore whether it makes a good buy, both as a new proposition, or if you're looking at a used example.
This fifth-generation version is arguably the most complete A4 of the lot. Granted, it isn't as much fun to drive as the equivalent 3 Series, or as upmarket as the Mercedes C-Class, but from its smart looks to its beautifully put-together interior, its spacious seating and its range of impressively efficient engines, this A4 has a vast amount to offer buyers. As with other modern Audis, the A4 saloon and A4 Avant also feature a first-class infotainment system and are available with the German company's excellent Virtual Cockpit digital dial setup. It should come as no surprise, then, that it's proven immensely popular in the UK.
The core model range consists of three main versions: the SE, Sport and S Line, each featuring similar equipment but growing progressively sportier-looking. With that in mind, we reckon the SE (later SE Technik or just Technik) is the best bet, as it offers plenty of features (including climate control, cruise control, and alloy wheels) at a lower price than the other two models.
Of course, it doesn't look quite as eye-catching as the more popular S Line, with its sporty body kit, but beware the big wheels and stiffer suspension that the S Line comes with as standard; both of these make the A4 ride stiffly, which can be uncomfortable. The same goes for the sportier Black Edition and plush Vorsprung trim levels.
In terms of handling, the A4 is satisfying rather than scintillating. Front-wheel-drive versions are perfectly planted, while the availability of quattro all-wheel drive on some models gives the A4 true all-weather ability. Don't expect the kind of feedback or body control that a BMW 3 Series or Alfa Romeo Giulia gives you, but if those kind of things aren't a priority then this Audi – whether it's a saloon or A4 Avant estate model – remains a very good car to drive. With excellent insulation from road and wind noise, it's also a great car on the motorway and for covering long distances in general.
There's a bewildering array of petrol and diesel engines available. The excellent 2.0-litre diesels are the most popular, though if you want a bit more punch, the 3.0-litre diesels also make great buys. If you'd rather have a petrol, mind you, the 1.4- and 2.0-litre petrol turbos make satisfying and surprisingly efficient alternatives. And if you're after something more potent, the rapid S4 and blistering RS4 from the A4 line-up should fit the bill.
If you're after a family car with a touch of class, then, the fifth-generation A4 is a very solid option.
Three Things To Know
In addition to the four-door saloon, there's a five-door estate option badged as the Audi A4 Avant. Don't expect this to be quite as good for practicality as larger estates like the Volkswagen Passat, but if all you need's a little extra space for a dog or for runs to the tip, it should be perfectly adequate.
If you need to tackle muddy or rutted tracks on occasion, the A4 Allroad is a great alternative to an SUV. With its raised ride height, rugged body cladding and four-wheel drive, it can go places the standard A4 simply can't.
A facelift in 2019 brought fresher styling, but the bigger news was under the skin, where some engines gained an efficiency boost thanks to the addition of a small battery and electric motor to turn them into mild hybrids. Notably, at the same time, the Audi S4 switched from petrol to diesel power.
Which One to Buy
Our favourite version: The 2.0 TDI Ultra SE mates the best engine to the best trim in terms of features versus cost.
If you want the cheapest running costs: The 2.0 TDI 136 SE isn't the best-performing engine, but it'll cost you the least in fuel.
If you want a petrol: The 2.0 TFSI Ultra SE has 188bhp yet still manages to be surprisingly efficient on fuel.
If you want an automatic gearbox: The S Tronic gearbox is a quick, smooth dual-clutch system that we'd spec with the 2.0 TDI Ultra SE model.
If you want something a bit faster: The 3.0 V6 TDI Sport gives you 272bhp but the fuel economy of a diesel. Sure, you'll go faster with the petrol-powered S4 or RS4 models, but you'll be stopping for petrol much more often. As a bonus, the V6 diesel engine sounds suitably muscular.
Running Costs
For maximum mpg the most economical A4 is the entry-level 2.0-litre diesel, though as this is a bit sluggish, we'd recommend upgrading to the 2.0 TDI Ultra, which has a power advantage of more than 50bhp, yet is only fractionally less economical. Reckon on getting around 50-55mpg in the real world, depending on your driving style.
Petrol models aren't quite as economical, as you can imagine, but you'd be surprised how close you can get. The 2.0-litre Ultra version should achieve around 40-45mpg on average – about the same as the 1.4-litre model that's considerably less powerful, which makes it well worth considering if you don't do a high mileage.
Servicing costs are reasonable, especially once your A4 hits three years old, at which point it can take advantage of Audi's fixed-price service scheme. Expect to pay around £185 for a small service and £355 for a large one at an Audi dealer; those prices may vary slightly depending on engine.
Reliability
Thus far, this generation of A4 is looking to be pretty reliable, so there aren't that many issues to be concerned about. However, you should still go into inspecting any used example with your eyes open.
One issue that may be of concern is persistent vibration in V6 diesel models, a characteristic that's been reported by more than one owner. With that in mind, it's worth making sure you test drive any V6 diesel A4 you plan to buy thoroughly.
A4s fitted with the 2.0 TFSI engine were subject to a recall in 2017 to solve a coolant pump issue. If you own one of the affected cars, it should be fixed for free by Audi, but it's worth checking and, if the recall hasn't been carried out already, having it done.
If you're buying a new A4, Audi's warranty runs for three years or 60,000 miles, whichever comes sooner. That's not quite as good as the warranty you'll get on a new BMW 3 Series, which also lasts for three years but doesn't have a mileage limit.
The CarGurus Verdict
It's not particularly scintillating to drive, but if that doesn't bother you, the Audi A4 is a smart and very competent executive saloon (or estate, if you choose the A4 Avant). Granted, it will set you back a little more than most other cars of its size, but what you're paying for is the classy interior, the efficient engine technology, and a sense of impenetrable quality that's hard to find elsewhere for the price.
Updated
What's your take on the Audi A4 (2016-2021)?