Mercedes-Benz GLC-Class Mk1 (2015-2020) Expert Review
Review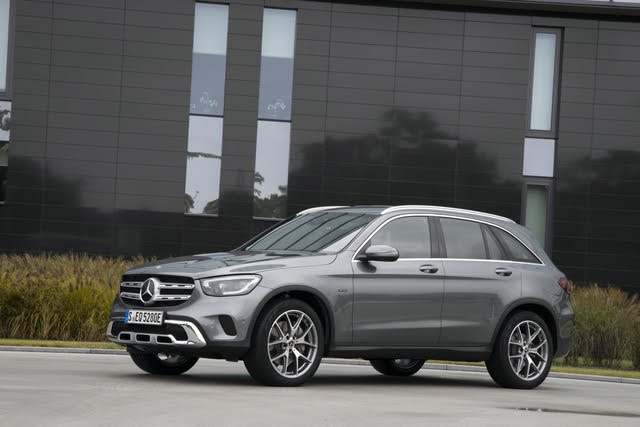 The Mercedes-Benz GLC-Class is a premium mid-sized SUV that's got a lot of competition, from BMW's X3 and the Audi Q5 to the Jaguar F-Pace, Lexus NX and the Volvo XC60. The Mercedes brings a very desirable badge to the table, but also a great interior and lots of space for passengers and their things. It's a classy, comfortable car to drive, and is available in both standard form and as a sleek GLC Coupe, which further adds to its appeal.
Fact File
Body Styles
Five-door SUV
Five-door SUV coupe
Years Available
2015, 2016, 2017, 2018, 2019, 2020
Main Rivals
Introduction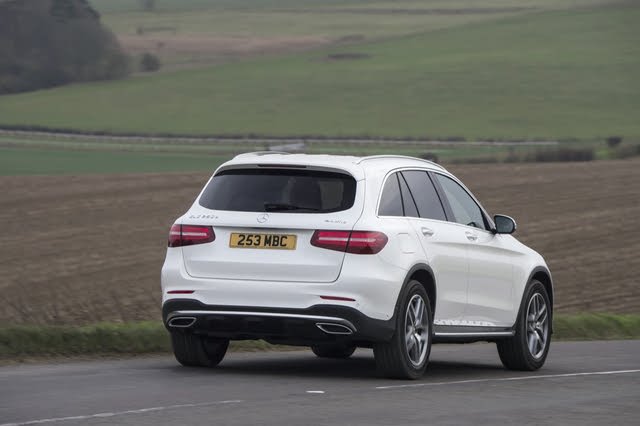 Mercedes introduced the GLC-Class into its SUV line up in 2015, having realised premium mid-sized SUVs were becoming increasingly popular around the world. Like many other cars in the Mercedes range, it's available in a wide range of forms, and when new the price could vary by as much as £50,000. You can opt for a conventional family-orientated, economical SUV, a fire-breathing performance car, courtesy of Mercedes' tuning arm, AMG, or something in between. Whichever version you go for, you'll get a smart and well-built machine that should tick all the boxes you'd expect from a Mercedes.
The interior is sleek, solid and filled with technology. Build quality is excellent and the materials used all feel suitably luxurious to the touch. Post facelift models (more on that in a moment) get a slicker looking infotainment system, but the original system is pretty decent, too. It's controlled by a dial between the two front seats, which makes it easier to change settings on the move than trying to flail at a touchscreen.
There's lots of space for passengers with good head- and legroom in the back, and the boot space is a good size, too. At 550 litres, expandable to 1,600 litres with the rear seats folded, it's bigger than Volvo's XC60 but smaller than the Jaguar F-Pace. Both GLC models seat five; if you need a seven-seater, check out the Land Rover Discovery Sport.
On the move, you'll find that the Mercedes GLC is set up as a comfort-focused cruiser, in contrast to the sporty pretensions of BMW's X3 or Jaguar's F-Pace. The Mercedes drives well, though. It resists body roll through the corners and has a good amount of heft to the steering, which makes it feel solid and composed. But if you want any kind of excitement, you'll need to look at the AMG models, which mix brutish power with much more sophisticated and agile handling characteristics.
All models come with four-wheel drive, called 4Matic, and will have no problems with light off-road duties. Engine choices started in 2015 with two 2.1-litre four-cylinder diesels, the 168bhp 220d and the 201bhp 250d. Later a 3.0-litre V6 diesel was added, called the 350d, and so was the first AMG performance version, the GLC 43 AMG. This featured a petrol 3.0-litre V6 turbo with 362bhp. The GLC 250 followed later, which had a 2.0-litre engine with 208bhp. All engines come with a nine-speed automatic gearbox.
In 2017, two more hardcore performance versions arrived. The 470bhp GLC 63 and the 503bhp GLC 63S were available in both body styles, and had big turbocharged V8 engines under the bonnet.
None of the engines are bad, and which one suits you will depend on how much you prioritise power over fuel efficiency. We think the diesel ones suit the car better, as while they could be quieter, they're strong at low revs and will effortlessly pull you along, especially the 3.0-litre V6 models. Good as the petrol engines are, they'll drink more fuel and, for cars registered before April 2017, cost you more in Vehicle Excise Duty.
2019 was when Mercedes gave the GLC a facelift, with a few visual tweaks to the headlights and bumpers, and some new tech, including the excellent MBUX infotainment system. These cars will be more expensive, but for some the entertainment and navigation enhancements will be worth it. It includes one of the best voice assistants available in cars today; just say "Hey Mercedes" and you can ask the car for traffic information, to plot a navigation route, to make a phone call, and countless other things.
As part of the facelift, new engines were introduced. The GLC 220d now made 191bhp from a 2.0-litre engine, and a 300d was brought in with 242bhp.
In 2020, a 254bhp GLC 300 petrol model joined the line-up, with mild-hybrid technology to help reduce emissions. Two plug-in hybrids made their debut, too. The GLC 300e paired a 2.0-litre petrol engine with an electric motor to give a combined 315bhp and a 29-mile electric-only range, while the GLE 350de uses a diesel engine with an electric unit to also give 315bhp and an impressive 66-mile electric range. Some other engines in the range were given extra power.
Three Things To Know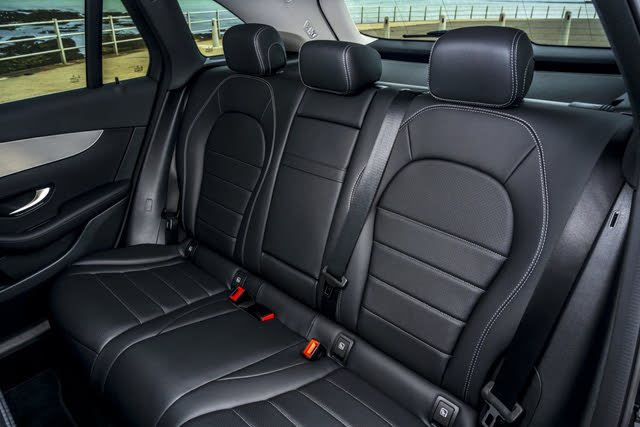 The GLC's standard suspension is a steel spring set-up, which is perfectly acceptable in terms of comfort. But buyers could also specify optional air suspension, which is worth having, as it improves both ride comfort and handling. There's also mid-point suspension with regular springs but adaptive dampers, and a lower, stiffer version of the standard suspension as found on AMG Line models.
All GLC models were well-specced, with even entry-level SE cars getting 17-inch alloy wheels, reversing camera, keyless entry and start and an electrically powered boot lid. Sport added 18-inch wheels, heated front seats and satnav, while AMG Line added a sporty edge, with 19-inch wheels, lowered sports suspension and some styling elements on the outside. These trim levels were tweaked and enhanced throughout the GLC's life; by 2019, SE had been dropped and you could have no less than four versions of AMG Line (regular, Premium, Premium Plus and Premium Plus Ultimate).
You can get the GLC in standard form or as the GLC Coupe, introduced in 2016, which sacrifices some practicality in the name of style courtesy of a lower, swooping roofline. This impacts a bit on rear headroom, which is worth considering if you'll be carrying taller adults.
Which One to Buy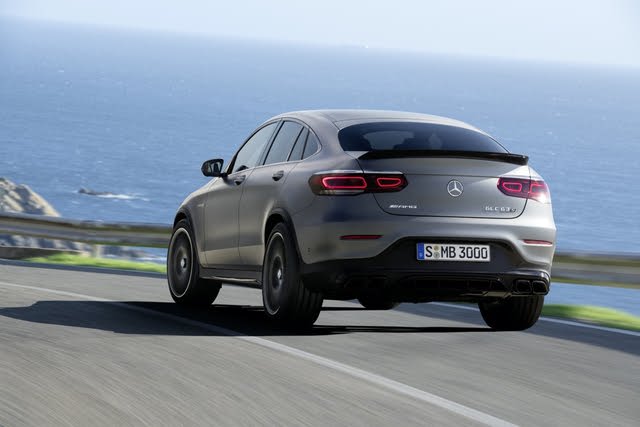 If you want the best fuel economy: The most recent diesel-powered plug-in hybrid model, the 350de, is on paper the most fuel-efficient version of the GLC yet, with an official fuel economy of 256.8mpg. However, as with all plug-in hybrids, how close you get to that figure will depend on how you use it. You'll need to lean on the electric motor more than the diesel engine, which means shorter journeys and regular charges to keep the battery full. Once the battery runs out, you're just hauling around heavy electric components, which will increase fuel consumption dramatically.
If you want the best all-rounder: We'd go for the mid-range diesel option, the 250d, which will give you a good amount of grunt without guzzling fuel. Pre-facelift cars will be cheaper, too, so unless you're set on the swankier infotainment system, we think they're a better deal. Trim-wise, AMG Line models will give you slightly better handling if you can put up with a firmer (but not uncomfortable) ride. Otherwise, Sport has most of the equipment you'll need.
If you want all the toys: The most fully-loaded GLC, outside of the full-on AMG models, is the most recent AMG Line Premium Plus Ultimate, which comes packed with pretty much every feature going. These include 20-inch wheels, air suspension, a Burmester sound system and a panoramic sunroof on the regular SUV or a sliding sunroof on the GLC Coupe. It is quite pricey, mind you.
If you want the most fun: It's got to be the AMG-powered GLC 63S. It might not be the most scalpel-like SUV when it comes to sharp handling, but it's very nimble on its feet considering its size. Mostly, though, it's all about the 500-plus horsepower from the V8 engine, which are intoxicating to unleash. Be prepared to melt your credit card at the petrol pumps, though.
Running Costs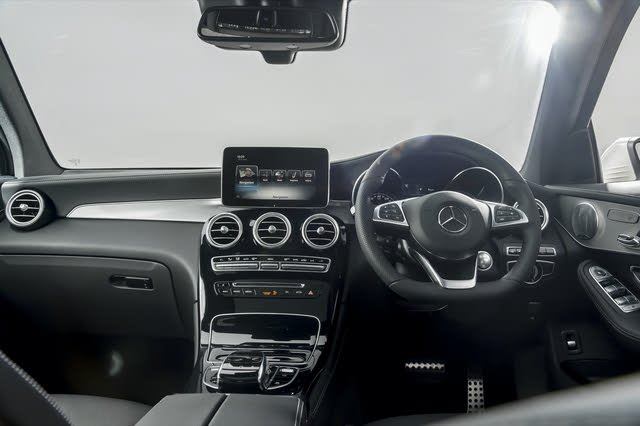 Fuel costs will vary dramatically in the GLC, depending on which model you're looking at. The plug-in hybrid models will consume the least fuel, if you use them in a suitable manner, but will cost more to buy. Conversely, the performance-focused AMG cars will guzzle fuel like there's no tomorrow, and will also be the most expensive to buy. When it comes to the 'regular' cars, the diesels will give you the best fuel economy, with official consumption figures of up to 56mpg. We'd expect mid-40s mpg in the real world. The non-AMG petrols will officially return between 28 and 34mpg.
You'll need to service your GLC every year or 15,500 miles, depending on which comes first. The services alternate between major and minor, and will cost you between £250 and £300 for the former and £350-£400 for the latter at a Mercedes dealer. You may decide to take your car to a Mercedes specialist, where the services will likely be cheaper, but be aware that doing so might put off future buyers who prefer dealer stamps in the service history. You'd also lose the remarkable 30-year roadside assistance that Mercedes offers, called Mobilo, which relies on a continuous main dealer service history.
Mercedes offers service plans on the GLC, which are transferable between owners, so check to see if there's one covering the car you're looking at.
From a Vehicle Excise Duty point of view, costs will vary depending on when your GLC was first registered. Cars registered before 1 April 2017 will be charged according to their CO2 emissions, which means diesels will be cheaper and AMG models very expensive. But models registered after that date will be on a flat rate of £150 per year, although if your car cost more than £40,000 when new, it also attracts a £325 surcharge for the first five years of its life.
Insurance groups range between 27 and 49 out of 50, so make sure you budget for the premiums.
Reliability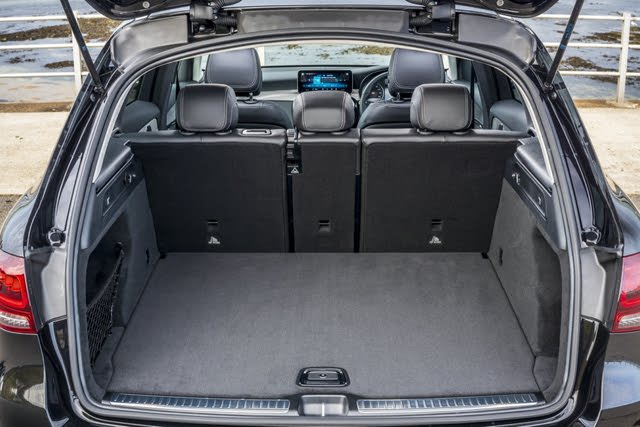 Mercedes doesn't have the best reputation for reliability, but that's also true for several of its rivals. As a brand, it sits well below the industry average rankings in the 2019 JD Power Vehicle Dependability Study, but above Land Rover, Jaguar, Audi and BMW. It's a similar picture from Warranty Direct's Reliability Index.
The 2019 Driver Power survey found GLC owners had plenty of complaints about reliability, while a What Car? survey painted a slightly rosier picture, with the GLC sitting 11th of 22 in the large SUV class. All GLCs came with a three-year, unlimited mileage warranty from new.
Common problems reported by owners include scrubbing tyres when the steering is at full lock, and axle alignment problems. The chances are that such issues will have been fixed by now, but it's worth checking through the receipts box to see.
There have been a number of recalls issued for the GLC since 2015. Issues included problems with the car's emergency call system (which alerts the authorities automatically if you have an accident), manufacturing issues with seatbelt buckles, electrical problems and emissions-related software trouble. Again, most of these should have been fixed, but it's always worth checking with a dealer to make sure the work has been carried out on the car you're looking at.
The CarGurus Verdict
Such is the variety of the GLC line-up that it can offer something to just about every type of high-end SUV customer. It's stylish, practical and drives well, and you'll always feel that you're in a car deserving of that famous Mercedes badge. Do make sure you check out the opposition, though, because there are plenty of good cars of this type, and each offers something slightly different to the next.
There are a few concerns about reliability, so check any potential purchase carefully, making sure it has a full service history. Do your homework, and you should end up with a car that gives you all the premium SUV experience that you expect.
What's your take on the Mercedes-Benz GLC-Class Mk1 (2015-2020)?