Seat Ibiza (2017-2020) Expert Review
Review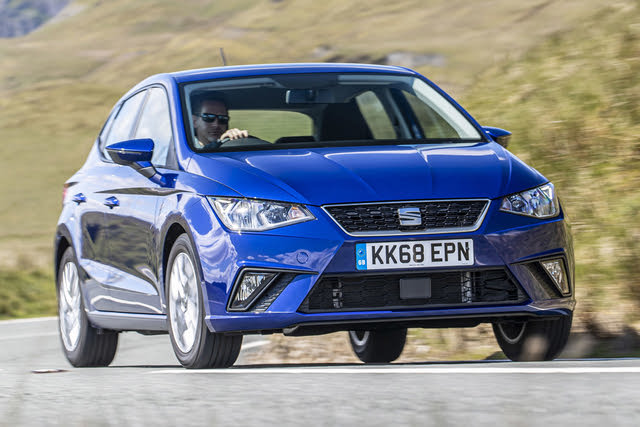 If you want a supermini that's a bit more subtle and grown-up, it's worth taking a look at the Seat Ibiza. It's a sharply styled compact hatch that's practical, good to drive and offered in a range of well-equipped specifications. The new line-up consists of economical and smooth petrol engines, and used diesel options are also available, but all are cheap to run. Consequently, new or used, it makes for a great hatch.
Fact File
Years Available
2017, 2018, 2019, 2020
Main Rivals
Introduction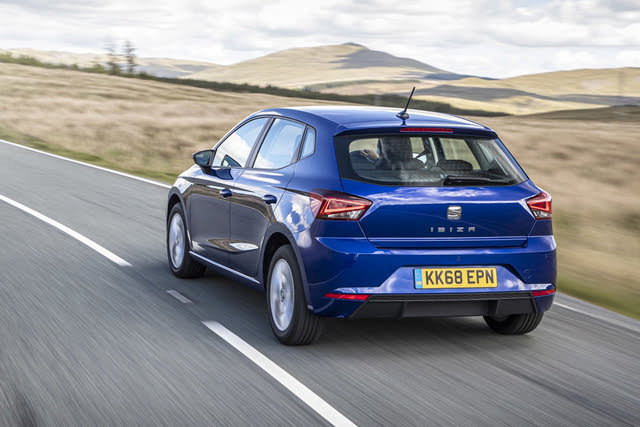 The fifth-generation Seat Ibiza is a compact hatch that rivals cars such as the Audi A1, Ford Fiesta, Peugeot 208, Renault Clio and Skoda Fabia.
It was launched in 2017, exclusively as a five-door model, and featured an all-new platform, a range of efficient 1.0-litre engines and a line-up of well-equipped trims. A 1.5-litre petrol option and a 1.6-litre diesel were also promptly added to the list of options, increasing the appeal of the svelte Seat further.
The Ibiza could be had with a lot of modern equipment, too, which gave it big car-like creature comforts and made it easier to live with. The Xcellence model, for example, came with dual-zone climate control, an infotainment system with smartphone integration, cruise control, a rear-view camera and front- and rear parking sensors.
Even the standard model came a decent amount of kit, though, with the SE grade packing cruise control, air-conditioning, a colour infotainment system, alloy wheels, fog lights with a cornering function and rain-sensing wipers.
The line-up hasn't changed much since, although the engine options are now limited to a range of frugal three-cylinder petrol options. Each is refined and economical, though, and buyers have the option of a manual gearbox or dual-clutch automatic in some variants.
Regardless of which iteration you go for, you shouldn't be disappointed – because the high-quality Ibiza, although not the cheapest option available, is by far one of the best compact hatchbacks around. It's easy and relaxing to drive, composed on the motorway, spacious, economical and it has a large 355-litre boot.
The Seat fares admirably on the safety front as well and scored the maximum five-star rating in Euro NCAP crash testing in 2017. In that process, it attained a 95% adult occupant protection rating, while its child protection rating was 77%. A Volkswagen Polo from the same year, for comparison, scored 96% and 85% respectively.
Some rivals do edge out the Ibiza in other areas, too, which might be worth bearing in mind. A Ford Fiesta provides just that bit more driver engagement and handling fun, while more modern alternatives – such as the Peugeot 208 – feature more striking interiors and pure electric powertrain options. There are more affordable alternatives with longer warranties, too, which could be a more sensible option if you just want a hassle-free, low-cost and straightforward family runabout.
Three Things To Know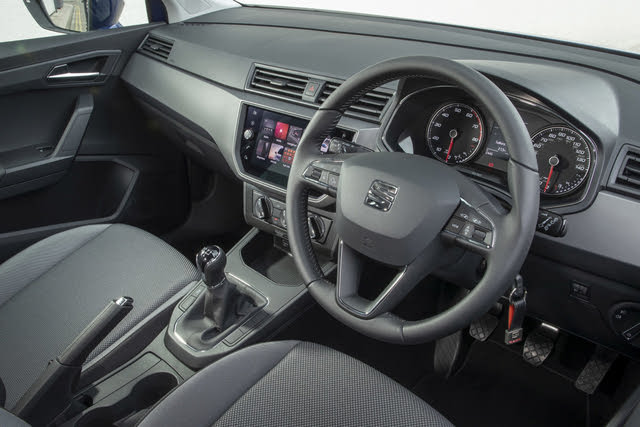 Trim levels are SE, SE Technology, FR, FR Sport, Xcellence and Xcellence Lux. The standard SE comes with a 6.5-inch touchscreen infotainment system with Bluetooth, DAB, Android Auto and Apple CarPlay support, air-conditioning and automatic lights. SE Tech models feature a larger eight-inch touchscreen with satnav, among other upgrades, while the FR gets sportier looks, cruise control, dual-zone climate, a drive mode selector and LED lights. Go for an FR Sport and it'll benefit from the slick digital cockpit, 18-inch wheels and upgraded interior trim. Flagship Xcellence models feature even more kit, including front parking sensors.
There are effectively only two three-cylinder options in the new Ibiza line-up: the basic petrol 1.0 MPI or the popular turbocharged petrol 1.0 TSI. The 1.0 MPI is only offered in 79bhp form and can accelerate the Ibiza from 0-62mph in 15.3 seconds. The 1.0 TSI is far more flexible, thanks to its turbocharger, and it's offered in either 94bhp or 108bhp outputs. The lower-output version accelerates the Ibiza from 0-62mph in 10.9 seconds, while the more powerful option takes as little as ten seconds.
There aren't many optional upgrades for the Ibiza, which isn't a problem given the impressive standard of kit. However, you can add front- or rear parking sensors on any model that doesn't have them, which could be useful if you regularly have to park in tighter spaces. An alarm isn't standard on SE or SE Technology models, either, which you might want to add if security is a concern.
Which One to Buy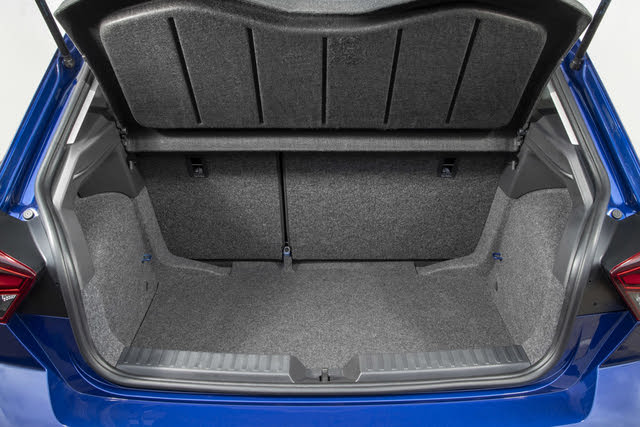 The best all-rounder: Basic variants of the Ibiza come with a good amount of kit but we'd go for an entry-level manual TSI version in mid-range FR trim. The engine offers up a good mix of performance and efficiency, and the manual gearbox is slick and easy to use, while FR trim adds features that will make the Ibiza easy to live with such as cruise control, dual-zone climate and LED headlights.
For the best economy: The most efficient new option is an Ibiza in SE or SE Technology specification with the 1.0 TSI in 94bhp output. This variant is claimed to have a maximum combined economy of 54.3mpg on the more stringent WLTP test cycle and it also emits a low 117g/km of CO2. Alternatively, if you've lots of miles planned, consider one of the older diesel models.
For driving fun: You don't have to spend a fortune to have fun in an Ibiza, as the engines are all smooth and the controls responsive. The 1.0 TSI with the five-speed manual is suitably swift and peppy, for example, but the more powerful version with the six-speed manual is a better option if you've long-distance driving in mind. Go for the sporty FR or FR Sport model, as these get the Seat drive profile system, sharper looks and bigger wheels.
For advanced tech: Go for an Ibiza in Xcellence Lux trim if you want lots of kit. Like the Xcellence, it features upgrades including LED lights, cruise control, dual-zone climate and rear parking sensors, but the Lux also benefits further from the smart digital cockpit, front parking sensors and adaptive cruise control. There's not a big price step from the 1.0 TSI 95 to 110, but save some money by sticking to the manual unless you really want the snappy seven-speed DSG.
Running Costs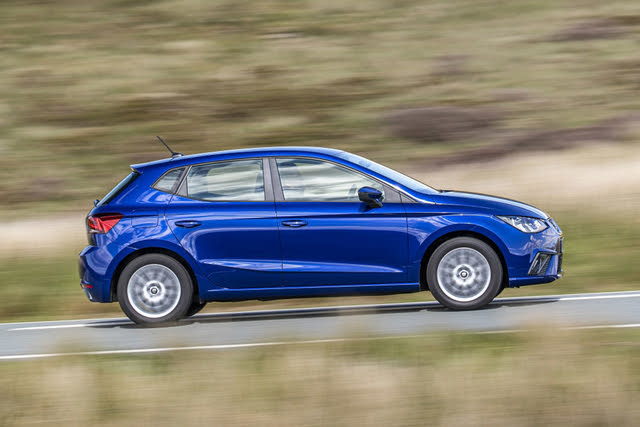 The Seat Ibiza is a small mainstream car and predictably won't cost you much to run, even if you go for a range-topping model. The engines are all economical and clean, insurance groups are low and options such as a fixed-price service plan will further help keep costs down.
Opt for the base 1.0 MPI engine in SE trim, for example, and you'll get an Ibiza claimed capable of averaging up to 53.3mpg. Its CO2 emissions will also be rated at a sensible 121g/km of CO2, entailing a low first-year VED rate of £175 and sensible rates thereafter.
The best option on the economy front, if it's in budget, is the five-speed manual 1.0 TSI 95 in SE or SE Technology trim. This more efficient and flexible option has a claimed average economy of up to 54.3mpg and CO2 emissions of 117g/km, but ultimately, there's not a huge amount of difference between the various Ibiza options.
Previously, there were two 1.6-litre TDI diesel engine options in the Ibiza range, which posted WLTP average figures of up to 60.1mpg and CO2 emissions of just 100g/km. These can be worth seeking out if maximum economy is essential, and you've lots of miles in mind, but they're otherwise hard to justify given that the petrol engines are so smooth and efficient.
A more powerful 147bhp 1.5-litre TSI Evo engine, which had four cylinders instead of three, was also available in the Ibiza range briefly, but it was removed due to supply issues. It was also a more expensive choice and difficult to justify over the other TSI engine options unless outright performance was your main purchasing criteria.
Fixed-price servicing is offered on new Ibizas and a pack to cover the first two services will cost £398. Alternatively, you can pay 24 monthly payments of £17, but in any case, the Seat isn't going to cost you much to maintain. Its light weight also means it won't get through tyres and braking components at a vast rate of knots, which will further help keep costs down.
Service packs are also offered for cars aged 3-15 years. Seat quotes £179 for a 12-month, 10,000-mile minor service and £299 for a 24-month, 20,000-mile major service. Prices for other servicing jobs are listed online as well, allowing you to quickly get an idea of what your car might need and how much it will cost. A timing belt change for a TSI engine, for example, is quoted as costing £499.
Reliability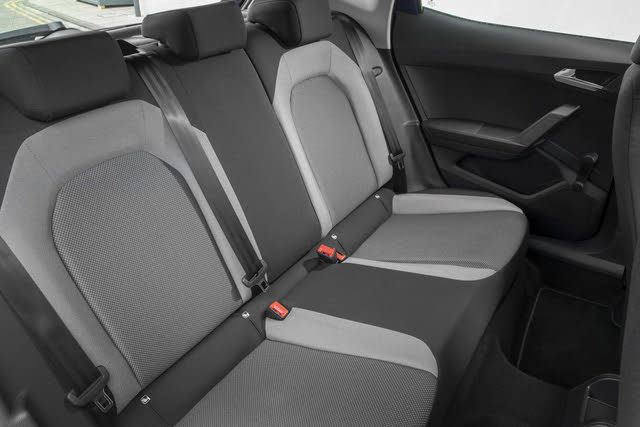 Go for a new Seat Ibiza and it'll come with a three-year, 60,000-mile warranty. It's not an outstanding offer for a new car, compared to longer warranties from Kia, Toyota and Hyundai, but it can be extended to a maximum of five years and 90,000 miles when you buy the car. An extended warranty is also offered for existing owners wishing to add an extra degree of protection.
Seat has a fairly decent reputation for reliability and customer satisfaction, though, so major issues should hopefully be few and far between, and the Ibiza itself is generally regarded as a reliable car that shares many tried-and-tested components with other models in the mighty Volkswagen Group.
The only notable issue is with the rare 1.5 TSI Evo variant of the Ibiza. That engine was prone, in many applications, to behave hesitantly. Volkswagen reputedly corrected the issue later down the line, however, but some have still reported problems. There have also been several recalls on this generation of Ibiza, so you'll need to check the details of any prospective purchase against the government's 'Check Vehicle Recall' website or with a dealer.
To ease the process of buying a used Ibiza, you could buy one through the Seat Approved scheme. It offers cars up to ten years old, with less than 100,000 miles on the clock, with a minimum of 12 months' warranty and 12 months' roadside assistance. Otherwise, if you're buying a used Seat Ibiza from an independent dealer or private seller, just remember to go for one that's been properly maintained and looked after.
Additionally, for those looking to avoid unexpected stoppages, no Ibiza currently comes as standard with a spare wheel; you just get a more-or-less-useless tyre repair kit. A space-saver spare can be selected as an option, though, and it's not very expensive. If you want to minimise the chance of getting stuck, it's an upgrade worth selecting.
The CarGurus Verdict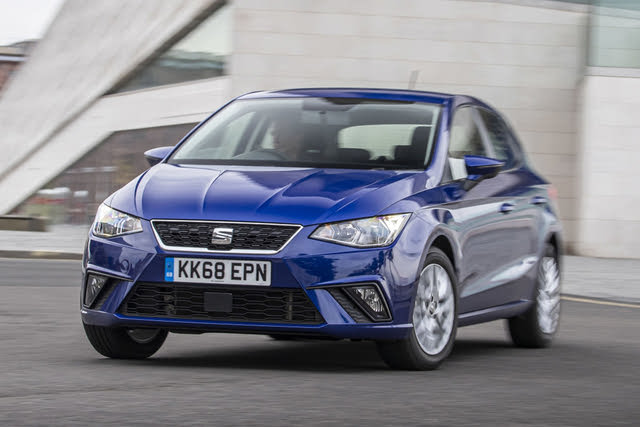 Seat's Ibiza is an excellent compact hatchback that serves up a spacious interior, efficient engines, a refined nature and subtle yet stylish looks. It's a bit more refined and mature than the likes of a used Ford Fiesta, and it's also neatly finished.
It makes for a great used buy, too, thanks to its economical and well-equipped nature, and although it doesn't have the polish of a Volkswagen Polo, it's often more affordable and accessible. Newer rivals such as the Peugeot 208 do pose the Ibiza a problem, though, due to their more modern nature and options such as the pure electric e-208.
While the Ibiza impresses on the road, it's also not quite as engaging or fun as a Fiesta. However, its appealing blend of sharp styling, comfort, practicality, equipment and low running costs will be of more appeal to many than outright dynamism.
What's your take on the Seat Ibiza (2017-2020)?