NEW DRIVERS ARE SPENDING LESS ON THEIR FIRST CARS TODAY THAN THEY WERE IN THE 1950s & 1960s
CarGurus lifts the lid on how much new drivers are spending on their first cars… and it's not a bad time to save money
CarGurus survey finds that spend on a first car now is £4,627* on average, compared to £5,797* in the 50's and £6,025* in the 60's (prices adjusted for inflation)
On average, first time car buyers today spend £1,375 less than their grandparents did when buying their first car
Most popular first car for new drivers today is the Ford Ka, compared to a Morris Minor in the 50's, the Ford Anglia in the 60s and Mini in the 70s
Around 56 per cent of young people fund the purchase of their first car without parental help
London, UK, 28 March 2018. New drivers buying their first car are choosing to spend an average of £4,627 on the vehicle, which is actually £1,375* less than what their grandparents paid for their first cars. This is according to new research by leading online automotive site, CarGurus, which found that surprisingly, when adjusted for inflation, first drivers today spending less than those in the 1950s and 1960s.
Baby boomers buying their first car in the 1950s chose to spend £5,797.27* and £6,025.89* in the 1960s - meaning today's young drivers are getting their hands on their first car at a lower price.

Generation X drivers secured the best deals on their first cars, with the 1980s and 1990s being the decades with the lowest spend on a first vehicle (£3,281* and £3,264* respectively).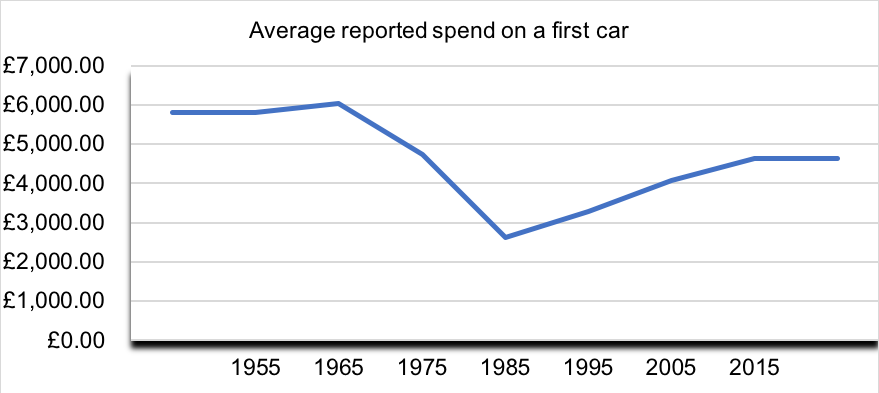 The research also looked at the preferred first car and found that the Ford Ka is the favoured first car of choice amongst today's drivers. However, if you were driving your first car in the 90s or noughties, the most common vehicle was the Ford Fiesta, while the Ford Escort was the choice of the 80's and the classic Mini in the 70s. The Ford Anglia and the Morris Minor were popular cars of choice if you started driving in the 60s and 50s respectively.
Decade of First Car Ownership vs Most Popular First Car:
2010's - Ford Ka
2000's - Ford Fiesta
1990's - Ford Fiesta
1980's - Ford Escort
1970's - Mini
1960's - Ford Anglia
1950's - Morris Minor
In terms of purchasing trends, across the generations, the majority of people (65 per cent) say that they paid for their first car themselves, with no parental help. This drops slightly for today's generation of new drivers, with 56 per cent of those aged 18 - 34 saying that they paid for their first car. A quarter (25 per cent) of young people have their cars bought for them by their parents, with a further 10 per cent receiving some financial assistance from their parents.

Young people will usually purchase a second-hand model for their first car (63 per cent) although this is significantly lower than their parents' and grandparents' generation where the figure was 92 per cent and 91 per cent respectively. This shows that more of today's drivers purchase a new car, although around 9 per cent of new drivers today 'inherit' their first car from a friend or relative.

James Drake, Spokesperson for CarGurus said: "We were surprised to find that new drivers today spend less on their first vehicle than their grandparents did. It would seem that the UK's large used car market is helping first drivers to acquire more affordable vehicles, such as the Ford Ka, which is currently the number one first car of choice."
While there is a growing trend for new cars amongst first time buyers, probably because of finance deals, there remains a significant proportion of young people funding their first car purchase on their own. For these purchasers, being savvy is key and that is where CarGurus can help to guide them through the purchase and ensure they get a good deal."
As well as providing trust and transparency through its unique Instant Market Value and deal ratings, CarGurus also has a number of guides on the website that provide helpful tips and advice to anybody considering purchasing their first car. These include guidance on how to shop for a first car and advice on cars that are the cheapest to insure and run and have the best safety features.
-ENDS-
*Methodology
The first car prices were calculated through consumer research, asking Brits how much money Brits spent on their first cars through the decades. The Bank of England inflation calculator was then used to calculate what the costs would be today. A breakdown of the costs can be found below:
https://www.bankofengland.co.uk/monetary-policy/inflation?
The release is based on the below generations:
+ Young people - people who started driving from 1990s onwards
+ Parents - people who started driving in the 1970s - 1980s
+ Grandparents - people who started driving in the 1950s - 1960s
How CarGurus Works?
Behind every car search on CarGurus, there is a mathematical algorithm that analyses and compares hundreds of thousands of used car listings daily. It factors in everything from registration year, make and model to mileage, options and location to determine a fair retail price that is referred to as the Instant Market Value. The IMV and dealership reputation scores are then used to determine if a deal is fair, good or great.
About CarGurus
Founded in 2006, CarGurus (NASDAQ:CARG) is a global, online automotive marketplace connecting buyers and sellers of new and used cars. The company uses proprietary technology, search algorithms and data analytics to bring trust and transparency to the automotive search experience and help users find great deals from top-rated dealers. The company operates online marketplaces in the United States, United Kingdom, Canada, and Germany. To learn more about CarGurus, visit www.cargurus.co.uk.
James Drake
CarGurus
pr@cargurus.com
###