Post-Pandemic Car-Buying: Three Years Later Britain's Best-Selling Used Cars Have Risen Sharply In Price, But Savings Opportunities are Emerging
CarGurus releases data examining how Britain's best-selling used cars have increased in price since June 1st 2020 - the date car dealerships first reopened following the first wave of the virus
All 10 of Britain's best-selling used cars have gone up in price, with the Vauxhall Corsa rising 86%
Remaining models with the largest price increases include the Ford Fiesta (64%), BMW 1 Series (64%), MINI (63%), and VW Polo (62%),
Average used vehicle listing prices are up 38% compared to pre-Covid levels
Yet CarGurus' U.K. Vehicle Availability Index data shows there are savings opportunities to be had with many used car models dropping in price
CarGurus lists the best value used cars currently on sale here
New data has revealed the lasting impact of the Covid-19 pandemic on prices of Britain's best-selling used cars.
On June 1st 2020, the U.K. Government allowed car showrooms to welcome back customers following the first wave of the pandemic. Since then, the average used vehicle price in the U.K. has gone up 38% compared to pre-pandemic levels.
CarGurus, a leading online automotive marketplace to shop, buy, and sell used vehicles, analysed vehicle price data for Britain's current top 10 best-selling used cars* to examine how much pricing has changed for three-year-old models between June 2020 and April 2023.
Data revealed that every car has increased significantly in price.
The biggest price appreciation was the Vauxhall Corsa, Britain's second best-selling used car in Q1 2023, which had risen from an average of £7,974 to £14,808 - an 86% increase.
Tied for second place were the Ford Fiesta and BMW 1 Series - both increasing by 64%. The Ford Fiesta's average price rose from £9,672 to £15,878, while the BMW 1 Series increased from £15,359 to £25,156.
Also making the top five were the MINI and VW Polo. The MINI's price rose 63% from £12,284 to £19,985 and the VW Polo increased 62% from £10,562 to £17,148.
CarGurus' data on three-year price appreciation for Britain's best-selling used cars includes: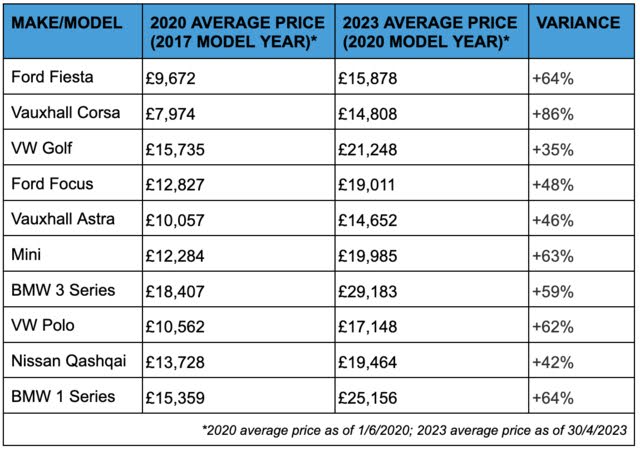 While there have been significant price increases on Britain's best-selling used cars over the last three years, CarGurus' data found there are used cars that are showing positive trends in affordability.
The CarGurus UK Availability Index detailed the top used models that declined in price the most over the last 12 months, with EVs making up six of the top 10 models with the largest price reductions.
The Kia ProCeed (-35%), Tesla Model 3 (-32%), Audi E-Tron (-28%), BMW i3 (-26%), and Jaguar I-Pace (-25%) were the five cars with the largest decreases in price.
Kevin Roberts, Director of Industry Insights & Analytics at CarGurus, said: "Our data shows just how significant the impact of the pandemic has been for Britain's used car market, particularly for best-selling used cars as we reach the three-year milestone since car dealerships re-opened on June 1st 2020.
"While the average used vehicle price is 38% higher than pre-pandemic levels, there are rays of hope for used car buyers looking to find savings.
"Added to this, potential bargains are not isolated to a specific corner of the market. CarGurus data details hatchbacks, MPVs, EVs and other body types that present buyers with the best deals available today."
To learn more about the used car models with the largest price declines, visit the CarGurus Research Centre.
About CarGurus, Inc.
CarGurus (Nasdaq: CARG) is a multinational online automotive platform for buying and selling vehicles. The CarGurus platform gives consumers the confidence to purchase and/or sell a vehicle, and it gives dealerships the power to accurately price, effectively market, and quickly sell vehicles, all with a nationwide reach. The company uses proprietary technology, search algorithms and data analytics to bring trust, transparency, and competitive pricing to the automotive shopping experience.
CarGurus operates online marketplaces under the CarGurus brand in the U.K., Canada, and U.S., where it is the most visited automotive shopping site**. In the U.S. and U.K., CarGurus also operates the Autolist and PistonHeads online marketplaces, respectively, as independent brands. Additionally, CarGurus holds a majority stake in CarOffer, a U.S.-based digital wholesale marketplace.
To learn more about CarGurus in the U.K., visit CarGurus.co.uk, and for more information about PistonHeads, the largest online motoring community in the U.K.* **, visit PistonHeads.com.
CarGurus® is a registered trademark of CarGurus, Inc., and CarOffer® is a registered trademark of CarOffer, LLC. All other product names, trademarks and registered trademarks are the property of their respective owners.
*Based on data for Q1 2023 (https://media.smmt.co.uk/q1-2023-used-car-sales/)
**Similarweb: Traffic Insights, Q1 2023, U.S.
* **Similarweb: Traffic Insights, Q1 2023, U.K.
Maggie Meluzio
CarGurus
pr@cargurus.com
###