CarGurus Reveals the 10 Used Cars with Biggest Price Drops, with EVs Becoming More Affordable
CarGurus, a leading online automotive marketplace to shop, buy, and sell used vehicles, reveals the used cars that have decreased in price the most over the past 12 months
Electric Vehicles (EVs) made up three of the top five most depreciating cars
Kia ProCeed (-39.1%), Tesla Model 3 (-29.4%) and Audi E-Tron (-27%) ranked among the top three largest price declines, according to CarGurus data
While the national average used vehicle listing price of £19,441 is up by just 0.6% year-over-year, prices remain 38.2% above pre-Covid levels
The 10 used car models with the biggest year-over-year price drops have been revealed, offering car buyers some relief as the average price for a used car in the U.K. remains 38.2% above pre-Covid levels.
According to an analysis of vehicle listing price data from CarGurus, a leading online automotive marketplace to shop, buy, and sell used vehicles, electric vehicles (EVs) occupy three of the top five vehicles seeing the largest average price declines over the last 12 months.
The national average used vehicle price has remained steady year-over-year, up slightly by 0.6% to approximately £19,441. However, several popular models are bucking this trend, falling significantly in price and becoming more attainable for buyers seeking opportunities for savings.
The listing price for the Kia ProCeed decreased the most, from an average of £29,348 in 2022 compared to £17,860 in 2023 - a decline of 39.1% and savings of £11,488.
Second was the electric Tesla Model 3, declining in value by 29.4% on average from £46,775 to £33,017, representing a decrease of £13,738.
In third was the electric Audi E-Tron, falling year-over-year from £63,363 to £46,249 on average, representing a decline of 27%.
CarGurus' top 10 list of used cars with biggest price drops includes: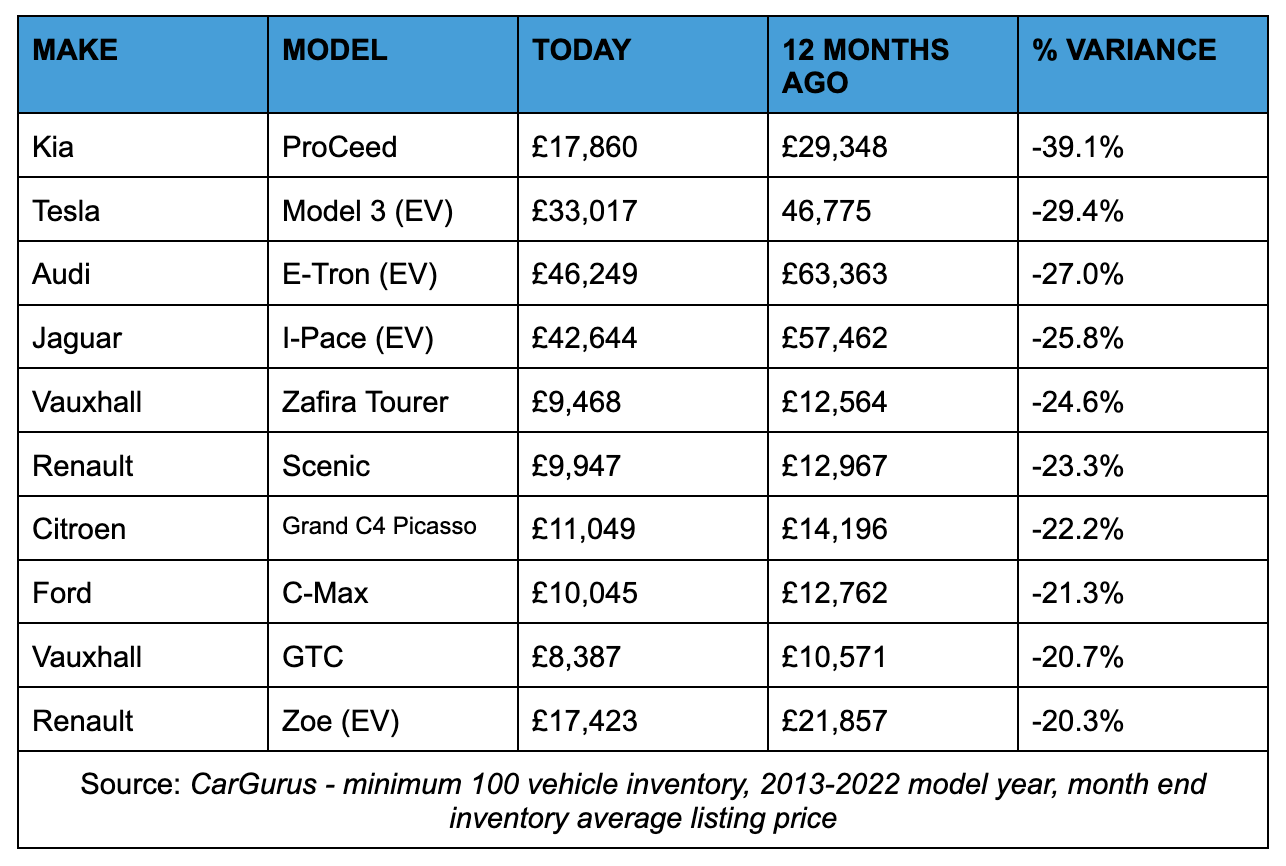 Chris Knapman, Editor at CarGurus UK, said: "Although there has been little change in market-wide average used car prices over the past 12 months, it's always possible to find models that buck the trend.
"As part of CarGurus UK's mission to help consumers navigate today's automotive market with greater confidence and ease, our analysis has uncovered several opportunities to find savings. It will be welcome news to consumers that a variety of used vehicles, including hatchbacks, people-carriers, and EVs, represent some of the biggest price drops on the market today."
CarGurus' expert advice on the top 10 used cars with biggest price drops includes:
Kia ProCeed
The ProCeed is a family estate car with an unusual amount of style. Kia describes it as a shooting brake rather than a traditional estate (the Ceed Sportswagon estate fulfils that brief), although its boot capacity is still useful at 594 litres. Under the skin it's based on the Ceed hatchback, which is a benefit given how well-rounded that car is. Expect low running costs, stable handling, and generous equipment, all with an added dash of style.
Tesla Model 3
Given Tesla's recent decision to reduce the price of a new Model 3 by around £7,000, it's no surprise that used values have followed. This is clearly good news for today's buyers, who can now pick up a Model 3 from around £33,000. Model 3 owners can feel satisfied that they have one of the best electric cars on sale today, supported by what is arguably the best charging infrastructure, too.
Audi E-Tron
The E-Tron is one of three premium used EVs to have experienced significant price drops in recent months. It's a big, roomy, comfort-oriented SUV that is great for devouring long journeys. Be aware, however, that efficiency isn't one of the E-Tron's strengths, which means the real world range can be significantly lower than the official figures suggest.
Jaguar I-Pace
Jaguar's I-Pace has been on the market since 2018, so it's impressive that even today it remains one of the most enjoyable electric cars to drive. With the recent decreases in residual value, it becomes a more tempting used buy. In our study, the average used price hovers around £42,000, but the lower end of the range can be had for less; you can pick up a three-year-old I-Pace with 30,000-40,000 miles from just under £30,000.
Vauxhall Zafira Tourer
As we move down our list of the best value used cars to buy right now, the theme shifts from electric cars to people carriers. First up is the Zafira Tourer, which is Vauxhall's follow up to the hugely successful Zafira. It has a versatile seven-seater interior, a big boot (provided the two rearmost seats aren't in use) and is quite good to drive. As a new car, the Zafira Tourer struggled against better rivals, but as a used buy it looks conspicuously good value.
Renault Scenic
The previous iteration of the Scenic was Renault's last roll of the dice when it came to selling a traditional MPV (multipurpose vehicle) or people carrier in the U.K. market. The French company certainly had form with this class of car - the original Espace was one of the MPV pioneers - but buyers' preference for SUVs meant there was little interest in either the five-seater Scenic or its bigger seven-seater Grand Scenic stablemate. The model lasted three years before being dropped from the lineup. It didn't help that interior space in this generation of Scenic was a little disappointing; however, with recent price drops the size, combined with price, could prove to be a good fit for the right buyer.
Citroen Grand C4 Picasso
If you're in the market for a practical people carrier, but find the idea of a used Scenic to be a little underwhelming, look instead to the Grand C4 Picasso. This seven-seater has practicality in spades, it is incredibly comfortable to drive, and it looks and feels a bit more unique compared to other models in the class. Look out for possible electric issues with used models (overall, this Citroen's reliability reputation has been a little disappointing), and note that in 2020 Citroen changed the car's name (but little else) to Grand C4 Spacetourer.
Ford C-Max
The C-Max completes a quartet of people carriers in this list of the best value used cars on sale at the moment. Like the Scenic it's a five-seat model, and it's also available with seven seats if you opt for the Grand model. In Ford's case, the Grand C-Max also gets sliding rear doors, adding some welcome practicality. However, it's the five-seat model that's experienced the most notable year-over-year drop in average price. It's good to drive and should prove affordable to run, but as a family car it's important to bear in mind that the facelifted model from 2017 gained only three out of a possible five stars in EuroNCAP's industry standard crash tests, mainly due to poor scores for its electronic assistance systems.
Vauxhall GTC
The GTC might be based on the humble Astra, but its swoopy bodywork turns it into a much more desirable coupe. You can think of it as Vauxhall's take on the VW Scirocco. While the latter might be the more well-rounded car overall, the GTC still has enough charm and ability to recommend. That's even more so when you factor in a near 21% fall in average used listing price year-over-year. For those after a performance car, the VXR hot hatch version delivers seriously impressive performance thanks to its 276bhp, 2.0-litre turbocharged engine.
Renault Zoe
Along with the Nissan Leaf, the little Renault Zoe was a pioneer in the electric car class. For a while after its launch, used prices were on the floor as the market struggled to embrace electric cars (at one time you could pick up a low-mileage used Zoe from as little as £5,000), but as the market caught on and the semiconductor shortage caused car prices to rise, so demand for used Zoes picked up. In today's market, prices for Zoes are softening once again. While the average listing price of around £17,000 is still far higher than before, it's important to note you'll get a much better car for your money due to improvements to the Zoe's range and performance over time.
CarGurus' U.K. Vehicle Availability Index & Insights for March 2023 can be accessed here.
About CarGurus, Inc.
CarGurus (Nasdaq: CARG) is a multinational online automotive platform for buying and selling vehicles. The CarGurus platform gives consumers the confidence to purchase and/or sell a vehicle, and it gives dealerships the power to accurately price, effectively market, and quickly sell vehicles, all with a nationwide reach. The company uses proprietary technology, search algorithms and data analytics to bring trust, transparency, and competitive pricing to the automotive shopping experience.
CarGurus operates online marketplaces under the CarGurus brand in the U.K., Canada, and U.S., where it is the most visited automotive shopping site*. In the U.S. and U.K., CarGurus also operates the Autolist and PistonHeads online marketplaces, respectively, as independent brands. Additionally, CarGurus holds a majority stake in CarOffer, a U.S.-based digital wholesale marketplace.
To learn more about CarGurus in the U.K., visit CarGurus.co.uk, and for more information about PistonHeads, the largest online motoring community in the U.K.**, visit PistonHeads.com.
CarGurus® is a registered trademark of CarGurus, Inc., and CarOffer® is a registered trademark of CarOffer, LLC. All other product names, trademarks and registered trademarks are the property of their respective owners.
*Similarweb: Traffic Insights, Q4 2022, U.S.
**Similarweb: Traffic Insights, Q4 2022, U.K.
Maggie Meluzio
CarGurus
pr@cargurus.com
###