There can be no more blue-collar automotive brand than the Blue Oval. And yet, in amongst all those very affordable, rally-inspired Escorts and Fiestas, you'll find red-blooded performance thoroughbreds that make Ferraris look pedestrian. That is the wonder of Ford, perhaps the only car manufacturer that can turn its hand to tiny hot hatches and carbon fibre supercars alike.
Peruse the fast Ford inventory and it's the variety that leaps out. Three-cylinder front-wheel drive hatches, rear-driven V8 muscle cars, race-derived mid-engined missiles… And that only covers the last couple of years.
Ford GT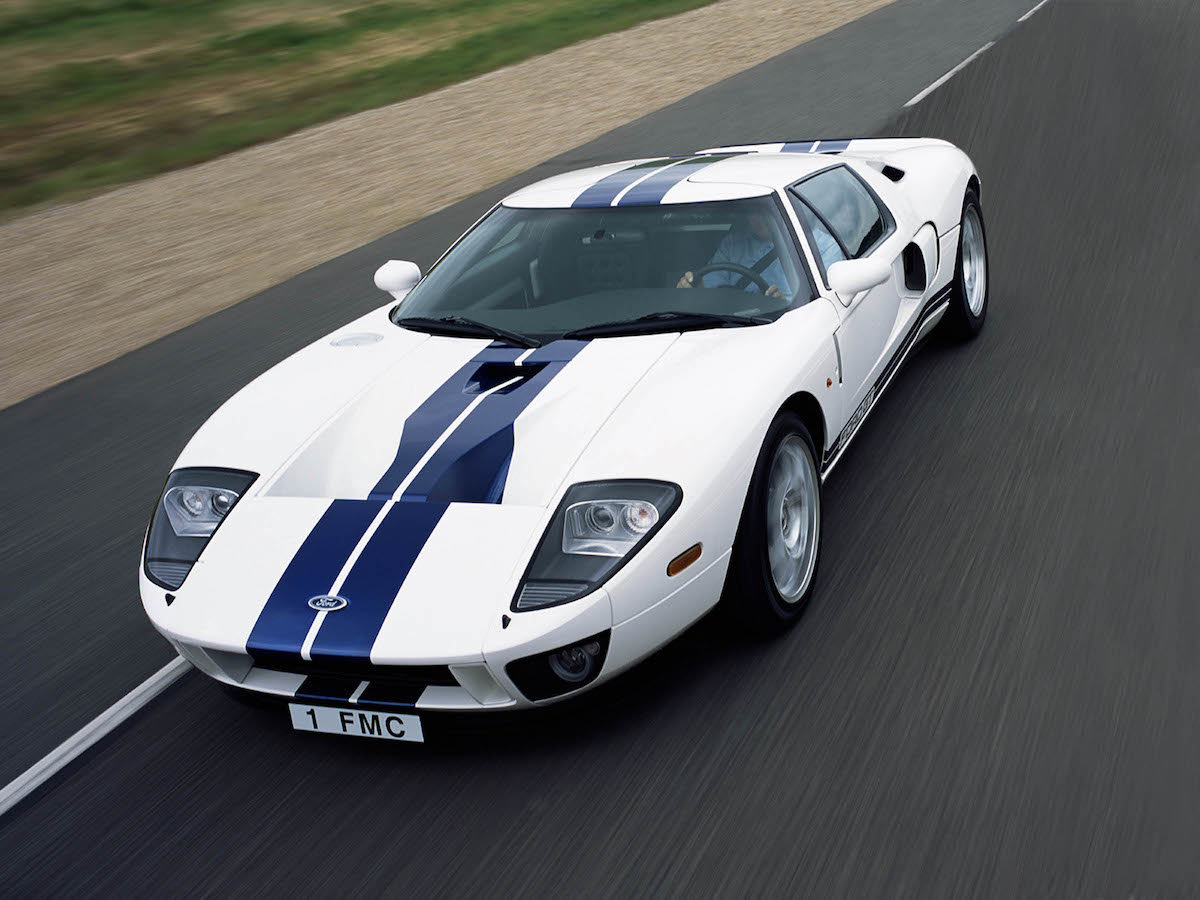 Best for: Pretending you're racing at Le Mans in the 1960s
Built between: 2005-2006
Price from: £300,000
Retro styling and a throwback driving experience to match. With a rumbling V8 that's supercharged to 550bhp and a hefty manual gearbox, the 2005 Ford GT is much more sledgehammer than scalpel, and therefore closer in character to the original Sixties GT40 than a modern day supercar.
It began life as a concept to mark Ford's 100th year. Paying tribute to the legendary GT40 that won the 24 Hours of Le Mans four times between 1966 and 1969, the 205mph brute faithfully recreated the GT40's low-slung shape, plus its sharply pointed nose and dramatically sliced-away rear.
Around 4000 were built, every one of them greedily snapped up by well-heeled enthusiasts. The GT – both this version and the 2017 recreation – demonstrates the unusual elasticity of the Ford brand. There aren't many car makers better known for building affordable family hatchbacks that can also successfully market a Ferrari-baiting supercar. A string of magazine awards proved the GT was not only a whimsical evocation of Ford's glory days, but also a brilliant performance car in its own right.
Ford Fiesta ST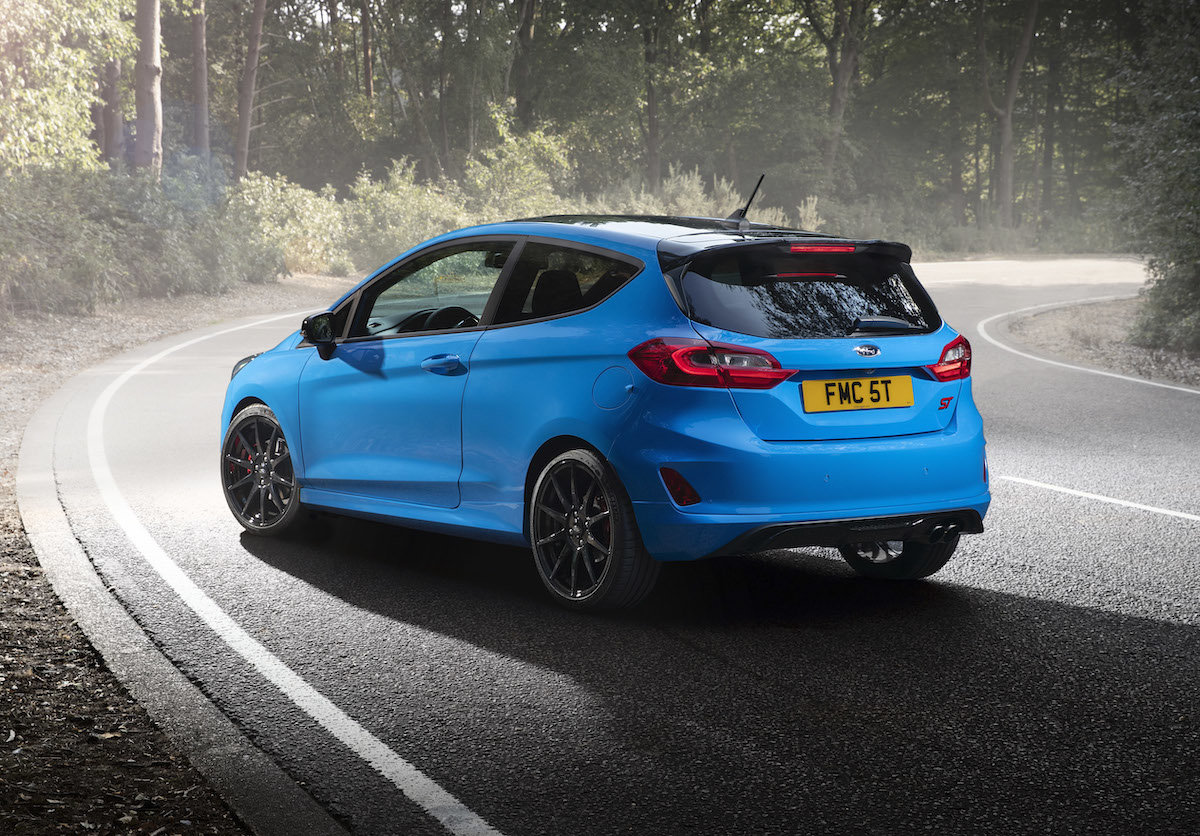 Best for: Having more fun than you would in a much glitzier sports car
Built between: 2018-present
Price from: £13,500
Whether you have £20,000 or £2m to spend on a new performance car, the current Ford Fiesta ST should be right at the top of your wish-list. If you enjoy driving, you will get a kick out of this feisty little hot hatch, no matter how much time you might have spent in far more exotic machinery.
Its dinky three-cylinder turbo engine is eager and rev-hungry, begging to be thrashed gear after gear. The manual transmission is a delight, too, although it's the ST's exquisite handling that makes it such fun to drive. There's sharp, incisive steering, perhaps the most adjustable front-wheel-drive chassis on sale today and a feeling of flow that courses through every contact point.
The best of the lot is the Edition model, limited to just 300 examples. It comes with a limited slip differential and manually adjustable coilovers as standard, lending the ST an extra degree of dynamism. It's more entertaining to drive than most sports cars costing many times the price.
Read our expert review on the Ford Fiesta
Search for a Ford Fiesta on CarGurus
Ford Focus RS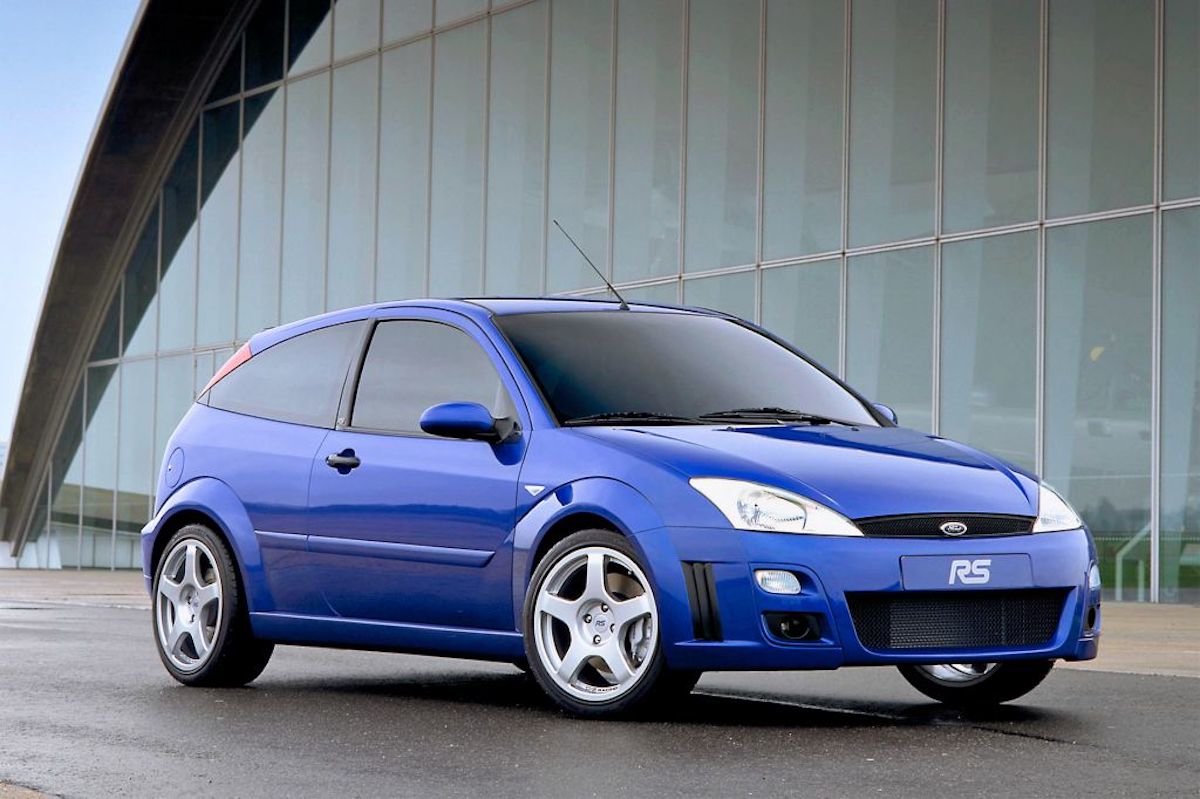 Best for: Raising the hot hatch bar to ever loftier heights
Built between: 2002-2003
Price from: £15,000
The original Focus RS was far from perfect, but it did elevate the hot hatch category to an entirely new level. For one thing, it challenged all preconceived ideas as to how much power a front-wheel drive chassis could handle (most reckoned a front axle would never be able to both deploy 212bhp and steer at the same time) and it proved that motorsport-grade engineering needn't be overkill on a seemingly humble hot hatch.
Brembo brakes, Sachs dampers, a Quaife limited-slip differential and a Garrett turbocharger made the Focus RS the most over-specified car of its type when it arrived in 2002: no other high performance hatchback had gone to such great lengths. The RS was spectacularly fast (for the day) and great to look at, but that tightly-wound differential and an enormous wedge of turbocharged torque meant the car would drag itself violently across the width of an uneven road. It paid to be wide awake when driving this car spiritedly.
Search for a Ford Focus on CarGurus
Ford Sierra RS500 Cosworth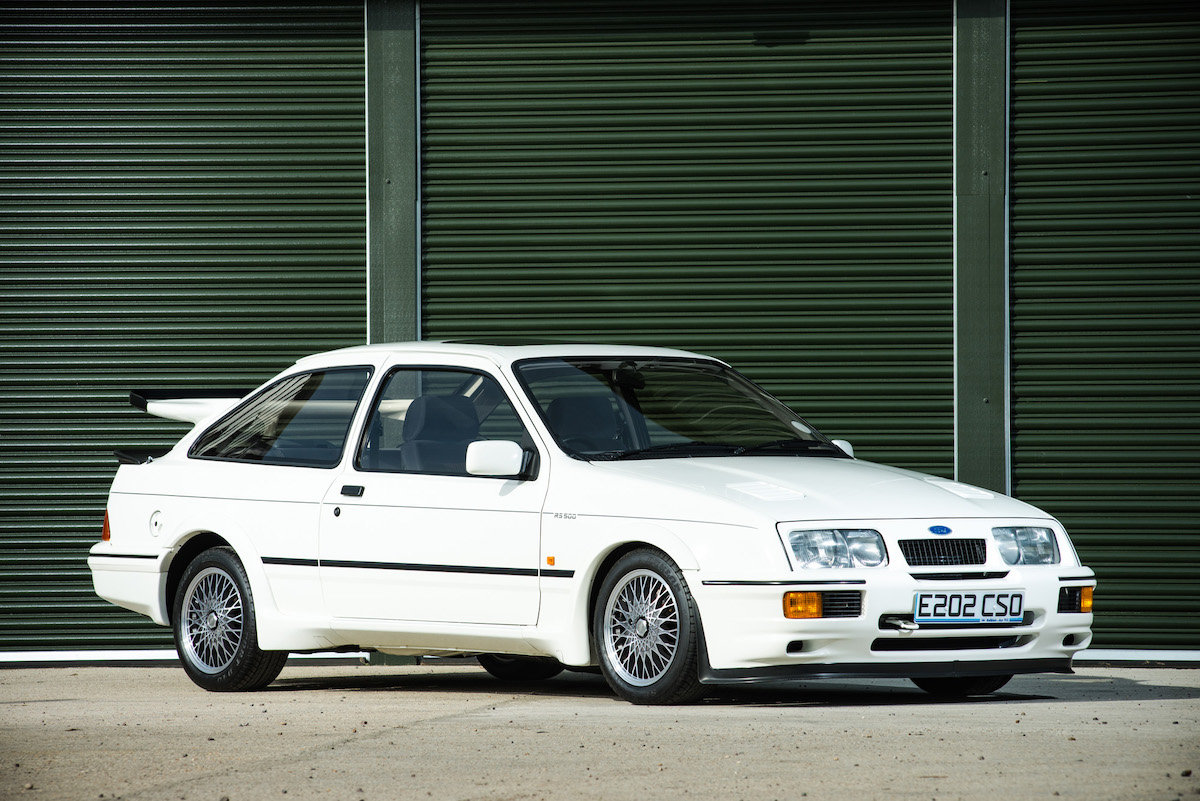 Best for: Being a touring car driver (no matter that you're stuck on the M25)
Built between: 1987-1988
Price from: £70,000
For a period in the late Eighties and very early Nineties, the Sierra RS500 Cosworth dominated touring car racing. It couldn't stop winning races and championships around the world, and its road-going counterpart of the same name became one of the most sought-after performance cars of its day.
Exactly 500 were built, all for the UK market. Unlike later Sierra Cosworths the RS500 was rear-wheel drive only, its two rear tyres tasked with delivering almost 230bhp to the road. Over and above the stock Sierra RS Cosworth it was based upon, the RS500 was uprated with a bigger turbocharger, improved cooling, a second set of fuel injectors (which weren't connected on road cars but were put to very good use by racing teams) and a freer-breathing induction system.
While the four-door, four-wheel-drive Sierra RS Cosworth that arrived in 1990 was far easier to drive quickly, it's the limited-edition RS500 that fast Ford fanatics get misty-eyed about today.
Search for a Ford Sierra on CarGurus
Ford Racing Puma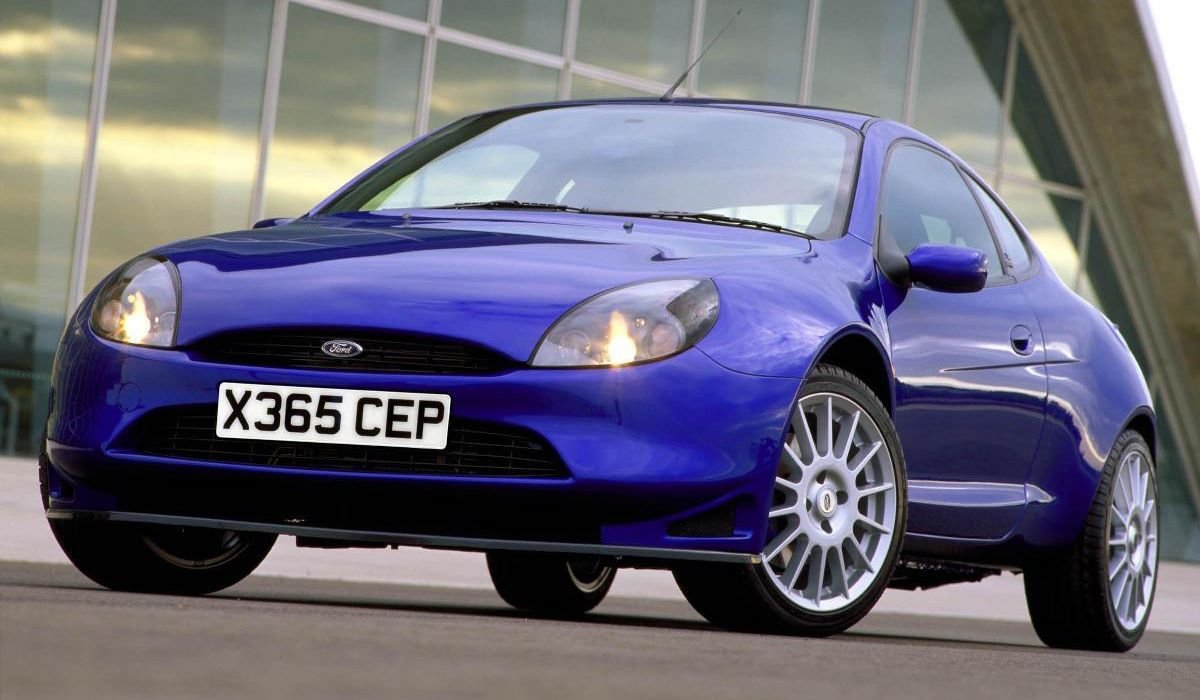 Best for: Proving front-wheel drive isn't wrong-wheel drive
Built between: 1999-2001
Price from: £14,000
Like the Sierra RS500 Cosworth, the Racing Puma was limited to 500 cars, all for the UK market, and it was built by independent vehicle engineering firm Tickford. But there the similarities end, because the Racing Puma was front- rather than rear-wheel drive and powered by a revvy naturally-aspirated engine, not a punchy turbo unit.
Although there was one other important likeness, because the fastest Puma of the lot was informed by Ford's motorsport activities just as the RS500 was. Alcon brakes, much wider tracks front and rear (clothed by swollen arches), Sparco seats and a thoroughly reworked 1.7-litre engine turned the pretty Ford coupe into an uncompromising road racer.
Ford was busy forging its reputation for building the best-handling cars of their type when the Racing Puma arrived on the scene. Just like the (somewhat less exciting) Mondeo and Focus, the 153bhp Puma steered beautifully and handled exquisitely. To this day it's regarded as one of the best front-wheel-drive performance cars of all time.
Search for a Ford Puma on CarGurus
Ford GT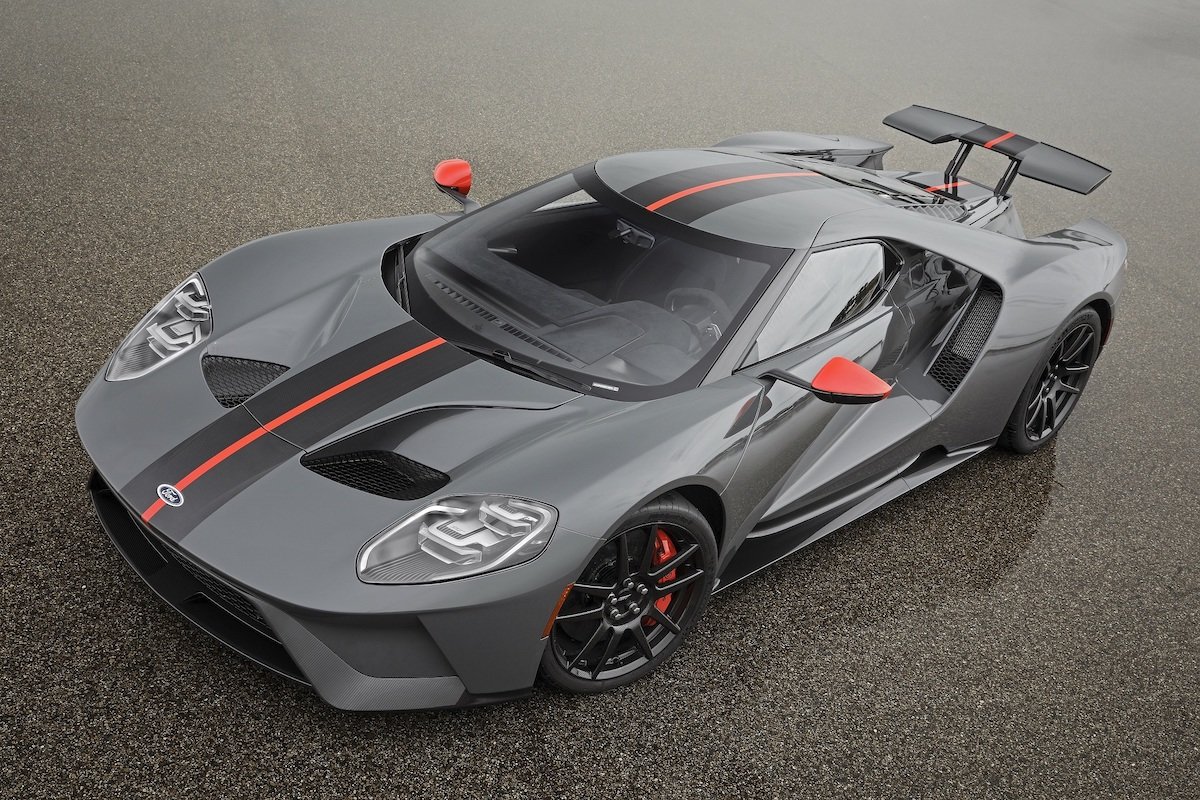 Best for: Pure, undiluted driving thrills
Built between: 2017-present
Price from: £600,000
Come the 50th anniversary of the start of Ford's period of dominance at the 24 Hours of Le Mans, the Blue Oval couldn't resist reviving the GT nameplate once more. The 2017 GT was a very different sort of beast to the 2005 model, trading that car's retro styling and Stars and Stripes swagger for ultra-modern design and motorsport-derived engineering.
In fact, the most recent Ford GT was originally conceived for racing (it poetically won its class at Le Mans 50 years after the GT40 first won the race in 1966), with the road-going version adapted from it in a complete reversal of the usual process. A twin-turbo V6 replaced the thundering V8 that all previous GTs had been powered by, while a paddleshift gearbox, active aerodynamics and extensive lightweighting measures made it one of the most sophisticated cars on the road.
Several years later it remains exactly that. Though it lacks the searing straight-line pace of a McLaren 720S, it is no slouch with 647bhp, while pin-sharp steering and live-wire handling responses mean it's about as thrilling to drive as cars entitled to wear number plates get.
Ford Escort RS2000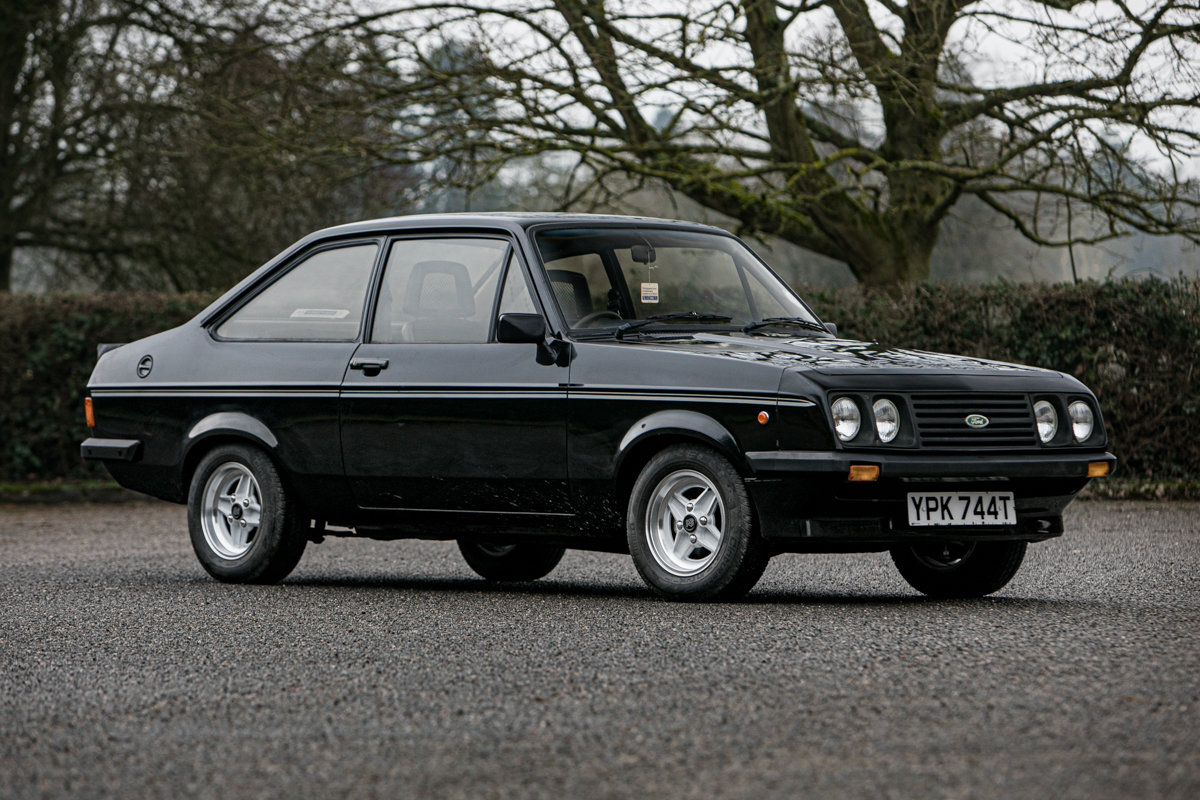 Best for: Pretending to be a Finnish rally driver
Built between: 1975-1980
Price from: £25,000
Early Ford Escorts forged their reputations on the world's rally stages. That culminated in 1979 when the RS1800 (based upon the Mk2 Escort) won the World Rally Championship Constructors' title. Even now the Escort badge is indivisible from the image of some heroic rally driver sliding the car at great speed through a bend, mud sent flying in its wake.
While the RS1800 conquered rallying, the RS2000 was the model that performance car enthusiasts would actually go out and buy (only a small number of RS1800s were ever built for the road). Recognisable by its slatted 'droopsnoot' nose, the RS2000 was shunted along by a snorty 110bhp Pinto engine whose power was sent, famously, to the rear axle. Many was the RS2000 owner who came a cropper on the road pretending to be the great Ari Vatanen. Talkative steering, one of the best manual gearshifts in the business and that rear-wheel drive balance makes the hot Escort rewarding to drive even now.
Ford Focus RS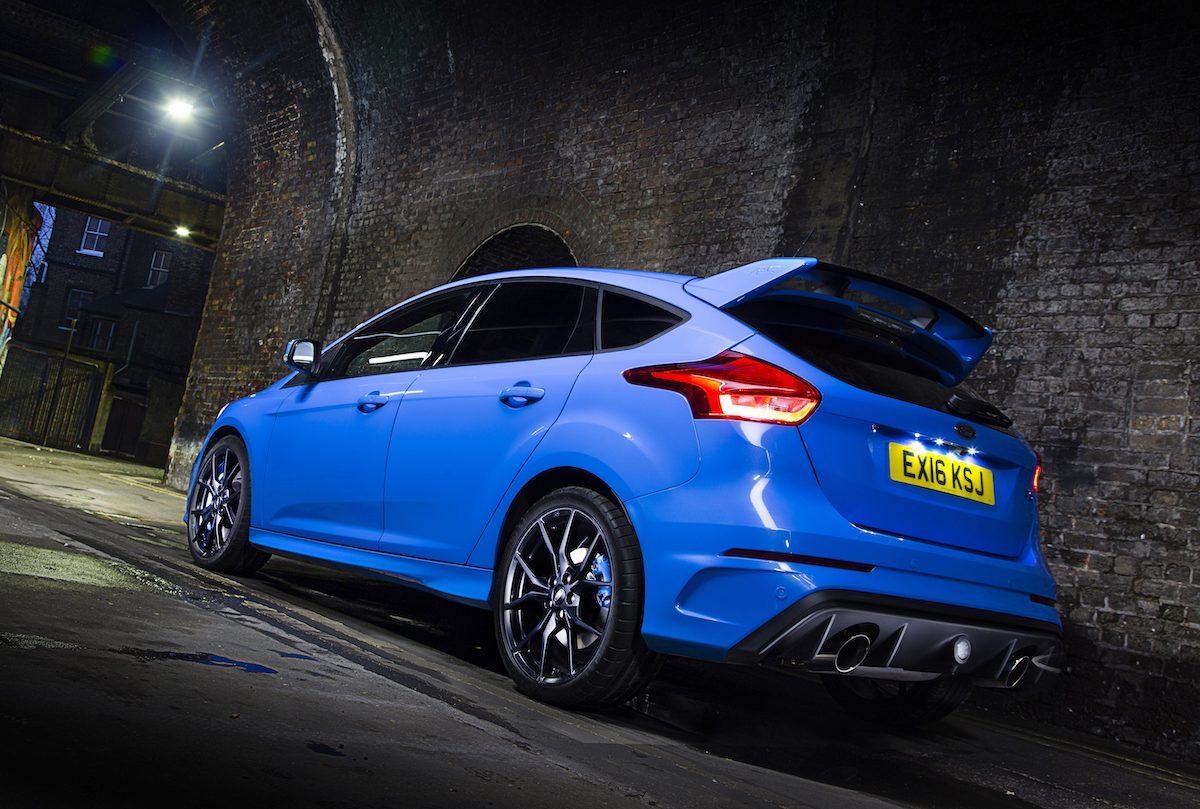 Best for: Hot hatch fun for the whole family
Built between: 2018-2018
Price from: £23,000
Probably the most over-hyped performance car of recent times. Some reviewers declared it the finest hot hatch ever, which it demonstrably wasn't. A tough ride, an irritatingly lofty seating position and a lifeless turbo engine all counted against the first four-wheel drive Focus RS, but it wasn't all bad. In fact, on the right road and with the requisite level of commitment from the driver, it could be spectacularly exciting to drive.
The clever four-wheel drive system, which favoured the rear rather than the front axle, and an in-built agility that's typical of Ford's hot hatches, made the RS flow along a winding B-road beautifully. It was also astonishingly fast cross-country thanks to almost 350bhp, plus the stability that comes from deploying it through all four wheels. At close to 1600kg the RS was heavier than it should've been, though, which meant lighter, simpler, front-wheel drive hot hatches such as the Honda Civic Type R were actually more rewarding to drive.
Read our expert review on the Ford Focus
Search for a Ford Focus on CarGurus
Ford RS200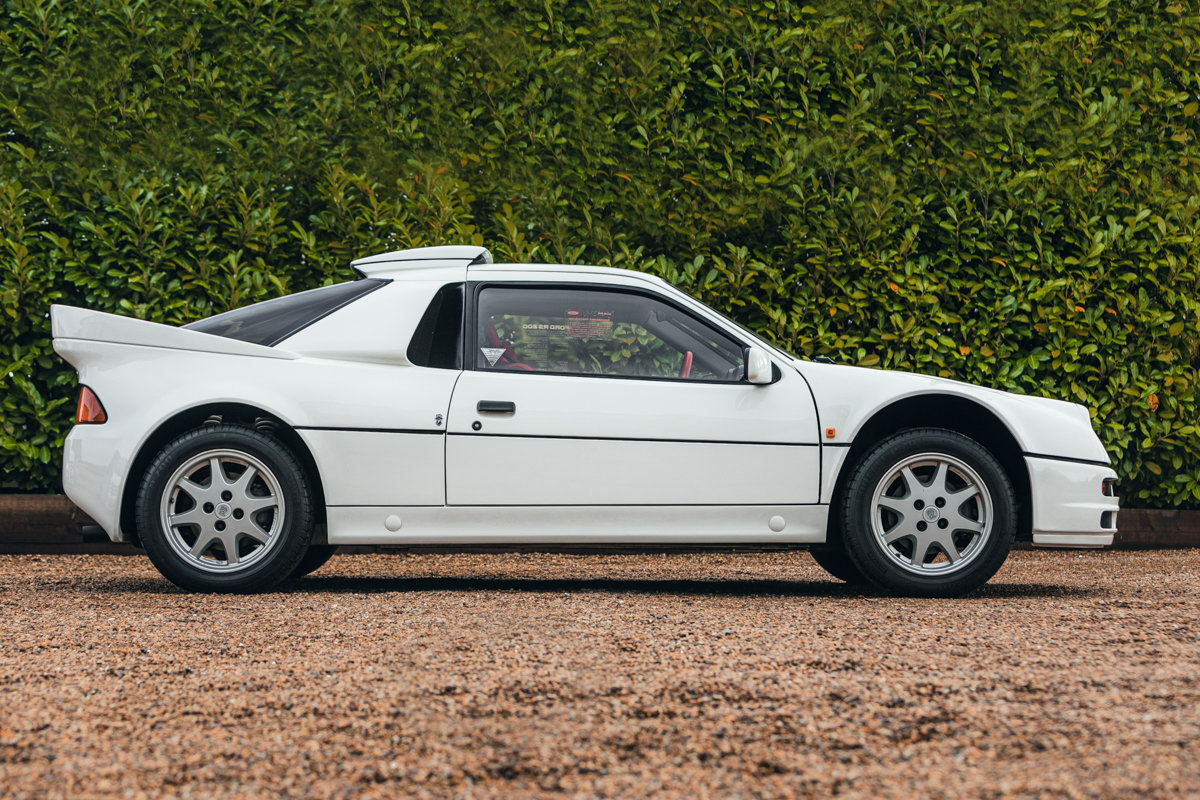 Best for: Reminiscing about Group B rallying
Built between: 1984-1986
Price from: £200,000
The RS200 was Ford's Group B World Rally Championship contender, and leaving the road-going version off a list of the greatest fast Fords would have been unthinkable. This was rallying's most explosive era, the cars frighteningly powerful and more sophisticated than ever, but also more dangerous. Following the untimely deaths of Lancia duo Henri Toivonen and Sergio Cresto in 1986, Group B's perils were deemed intolerable and the category was scrapped.
Ford was obliged to build 200 showroom RS200s to homologate the model for rallying. The pugnacious mid-engined machine featured four-wheel drive and a turbocharged four-cylinder engine that developed 250bhp (around half what the rally cars had), which between them gave the RS200 supercar-baiting performance. But the RS200, like most Group B homologation models, was built purely to satisfy the sport's regulators. As a result, its on-road manners were as inconsequential to Ford as were its aesthetics. An awkward seating position, heavy steering and laggy throttle response made the RS200 intransigent on the public highway.
Ford Mustang Bullitt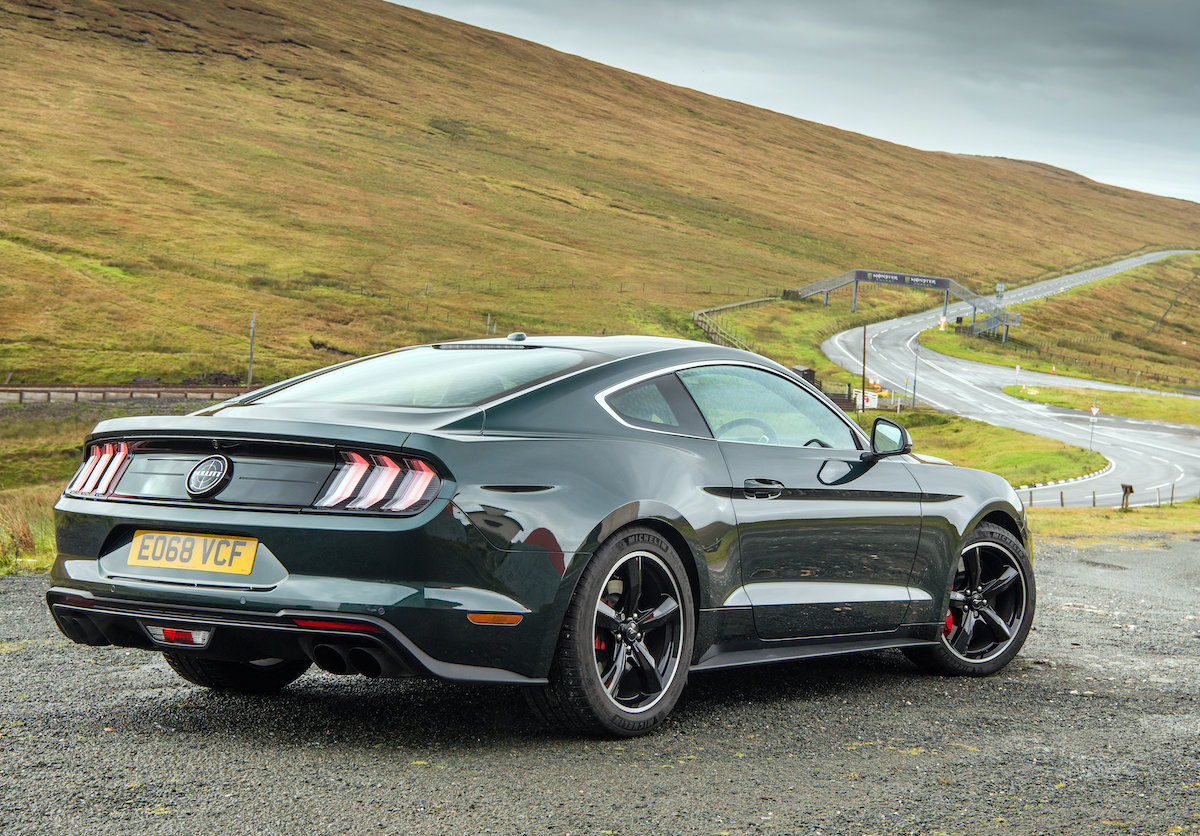 Best for: Living out your Steve McQueen fantasies
Built between: 2019-present
Price from: £45,000
Modern cars come no more characterful than the Ford Mustang GT, thanks to its enormous naturally-aspirated V8 engine that's paired, almost uniquely in this day and age, to a manual transmission. But the GT is muscle car through and through, all tyre smoke, roaring exhaust note, sloppy body control and imprecise steering. The Bullitt, however, is another matter altogether.
Built to celebrate 50 years of the Steve McQueen film of the same name, it comes with completely reworked suspension, an even more powerful yet much more responsive engine, and uprated brakes, making it almost as rewarding to drive as the best sports cars. Gone are the Mustang GT's lazy body control and unnerving sense of mass, in their place an agility that's rare in an American pony car. Best of all, the Bullitt is no less characterful than other models for being so much sharper to drive. Along with a power boost to more than 450bhp, the Bullitt also gets unique wheels and a white cueball gearknob, just like Frank Bullitt's.
Read our expert review on the Ford Mustang
Search for a Ford Mustang on CarGurus