So you want to buy a car that's right for your canine companion. Of course you do; after all, you don't want only the human members of your family to be comfortable when they're travelling.
But what does a car that's good for dogs actually look like? Well, it depends. Dogs come in a huge variety of shapes and sizes, and all have different needs. So is a big boot really the be-all and end-all? Or does your dog need more space in the back seats? And what if you want to combine dog ownership with a sporty two-seater?
I'm no stranger to questions like these. As the owner of a chunky Labrador/Staffordshire Terrier cross called Luther, I've long needed a car that has space to make him comfortable – and since I became a dad, I've had to combine his needs with those of a rapidly growing baby girl, with all the prams, pushchairs and other extra baggage that that entails.
To solve the problem, I've ended up buying the roomiest estate car I could afford – a Skoda Superb. But was that the right option? And what factors should you be considering if you're trying to choose the right car for your furry friend? I spoke to the National Animal Welfare Trust (NAWT) to find out.
Safety is King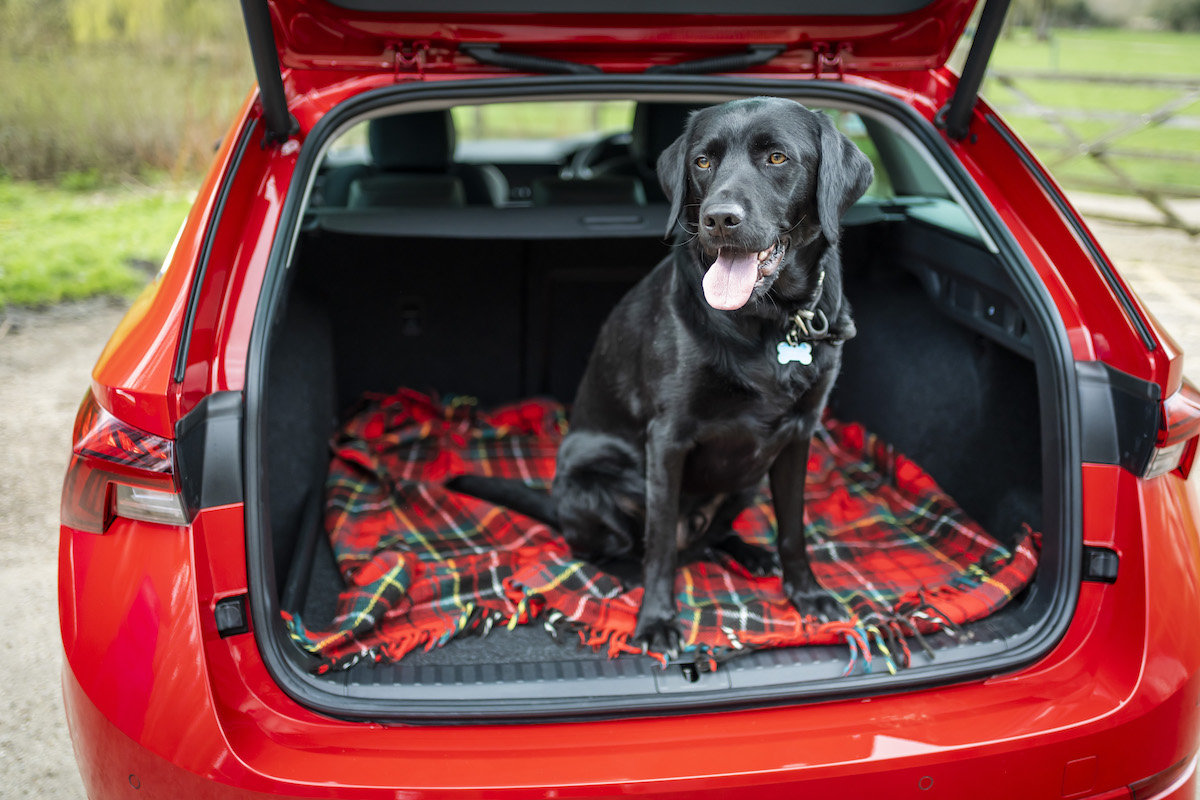 The first thing I ask Gary McKee, the Trust's fundraising and marketing manager, is what the primary consideration should be when looking for a car to suit your dog.
"The main thing is obviously the safety and the comfort of the animal, and also the safety of the owner and the passengers as well," he says.
This may seem obvious, but people's definitions of safety and comfort can vary wildly. You only need to look at the way some people carry their dog in cars to see that. It's not uncommon for them to be standing up on the front passenger seat with their head out of the window, or even completely free to roam around the interior of the car while it's in motion.
Carrying a dog like this isn't just dangerous, it's also illegal, as McKee is quick to point out. "Highway Code Rule 57 is the legal part of it," he says. "That rule says you have to make sure the dog is suitably restrained, and can't distract you while driving."
This rule is as much about the safety of the car's occupants as it is of the dog. Having an unrestrained dog in the car is incredibly distracting, but in a crash, it can be lethal – and not just for the animal. "Like anyone in the car who doesn't have a seat belt on, a dog can become a missile in an accident and potentially injure people in the car," says McKee.
An Exercise in Restraint
Clearly then, you'll need to decide where you'll want your dog to sit in your car, and how you're going to make sure they're safely restrained.
McKee says the charity has no real preference on whether a dog sits in the back seats or the boot, although he points out that in some cars, the boot will be part of the rear crumple zone, so in a rear-end impact, a dog travelling in the boot could be put at risk.
That said, in the back seat, the NAWT notes that a dog can claw at the back of the driver's seat or, worse still, reach the driver themself. Seating them on the passenger side then, is a sensible precaution, if it's possible to do so.
Of course, you'll also need to check the back seat is big enough for the dog to sit on comfortably and remember that this will need to be the case while they're tethered to a seat belt or Isofix point by a harness.
You'll also need to consider whether you want to find a car with childproof window and door locks, in case an errant paw catches a switch or handle.
If you decide your dog will go in the boot, you'll still need to think about proper restraint. For starters, you'll need to fit a dog guard or, better still, use a dog cage or carrier in order to keep your dog from leaping over the back seats into the passenger areas of the car. What's more, the NAWT recommends that you keep your dog tethered using a suitable harness even when you've taken this precaution.
"You can obviously have a dog guard between the boot and the rest of the car," says McKee, "but if you do have to turn a corner very fast, or if you have an emergency stop, the dog is still loose, and can potentially hurt itself, or even break through the guard and cause injury to the human occupants."
McKee also points out that no type of restraint should ever be attached to the dog's collar. "We would advise a harness instead, because if something's attached to the collar and the animal is jerked forward in a crash or emergency stop, it could seriously injure the animal," he says.
Give Your Dog Some Space...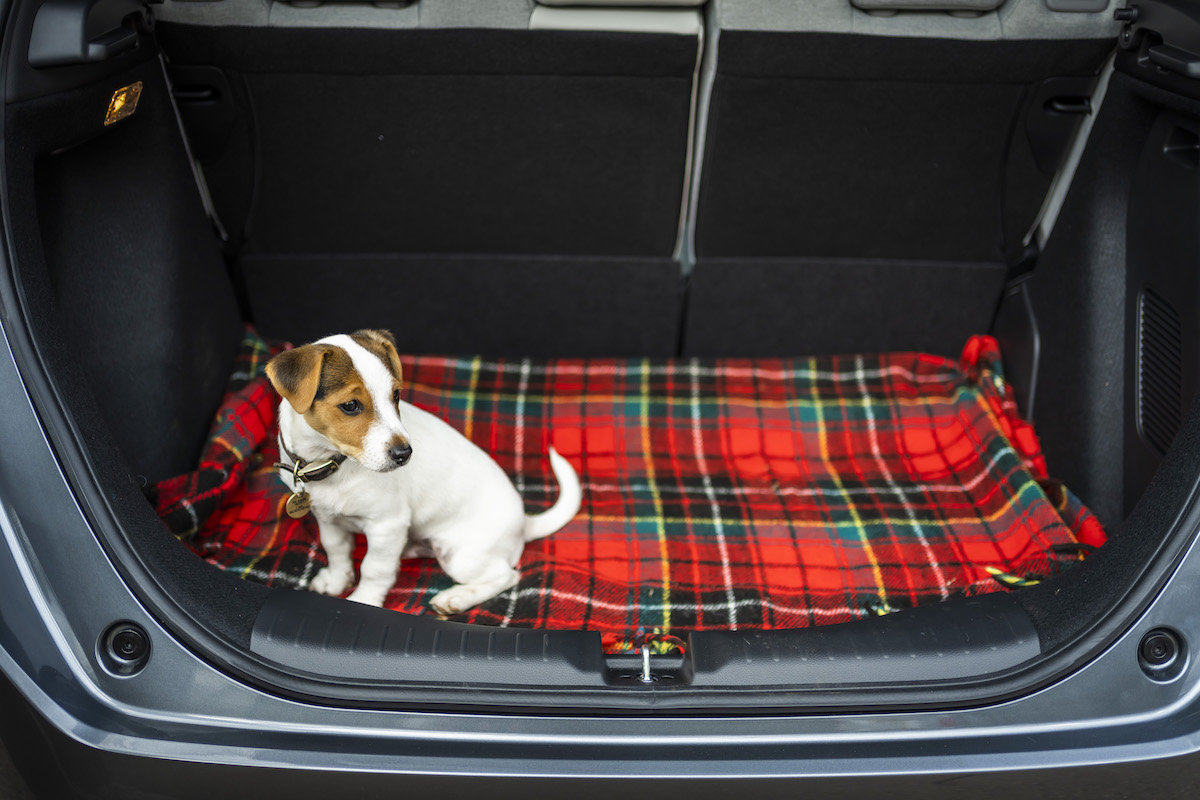 If you want to know whether your dog will fit into a certain car, you'll first need to know how big they are. The NAWT recommends a certain set of measurements you can take, to compare with the boot or rear seat space.
"There's a rule of measuring your dog's sitting height and length," says McKee. So sit your dog down, and – once you've managed to get them to stay still – measure from the ground to the top of their head (or ears, if they stick up), and then along from the end of their tail to their paws or nose, whichever protrudes the most.
"Once you've got that measurement, you'll need to add at least 5-10cm to allow for the dog to have some space," says McKee, though you may want to add even more than that to the length measurement if your dog likes to lie down on car journeys.
Armed with this information, you can use car manufacturers' brochures, or technical specifications found online, to work out which cars will offer you enough space. And of course, if you've got a puppy, don't forget to allow room for your dog to grow – otherwise you might find yourself car shopping again far sooner than you expected.
...But Remember, Size isn't Everything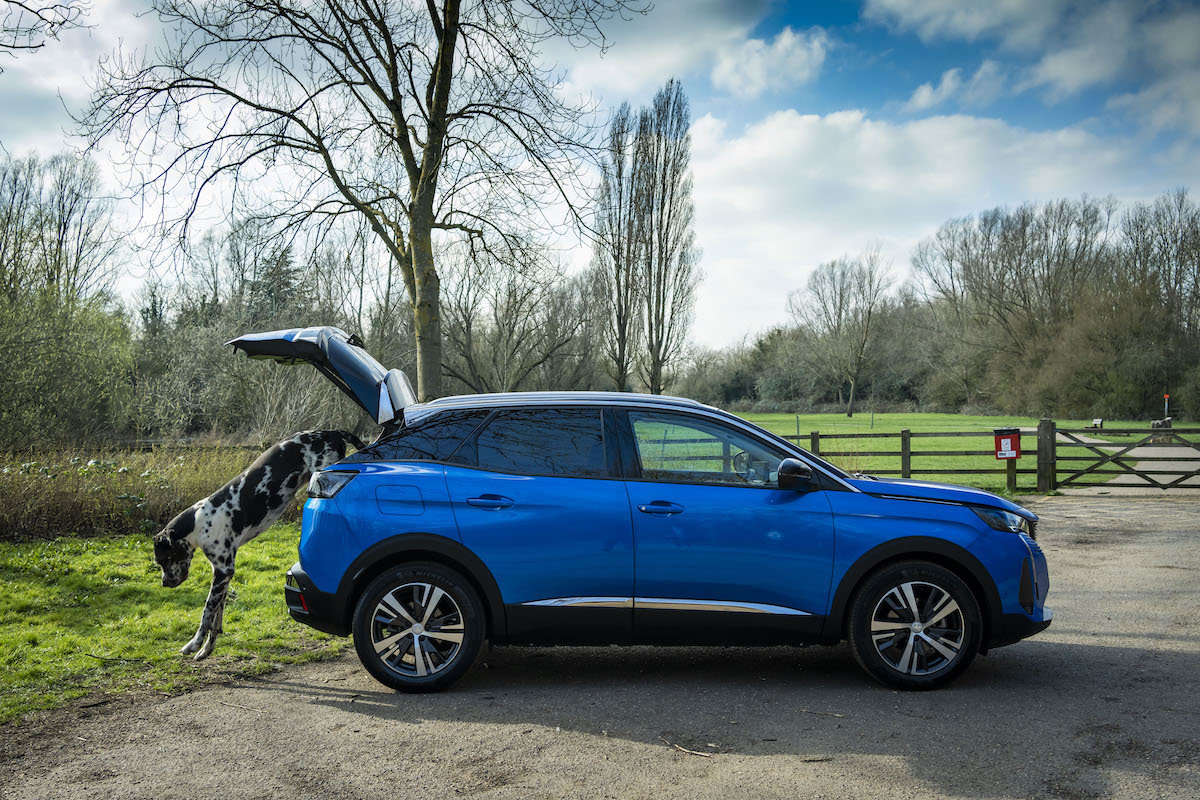 Mind you, space isn't the only consideration. For one thing, if you're going to sit your dog on the back seat, you'll need to consider how happy you are to get the seat dirty in the winter, and whether you want to look for a type of upholstery that's easy to clean and/or resistant to claw scratches. You might even want to fit a waterproof cover to the rear seats, in which case it's worth checking whether there's one available to fit the car you want to buy.
And if you want your dog to travel in the boot, one dimension that's less frequently discussed – but no less important – is the height of your car's boot lip; that is to say, the distance between the lower edge of the boot opening and the ground.
It's this distance that your dog will have to leap if they're going to travel in the boot. And while that might not pose an issue for larger dogs or more active breeds, smaller dogs might need a ramp to bridge the gap.
What's more, a lower boot lip will reduce the impact of jumping out of the car on to a hard surface for your dog's joints, and make life easier for your dog as it grows older and potentially less mobile.
It's something to consider especially if you're looking to buy an SUV. These cars might have big, tall boots that work well for dogs, but they also sit higher off the ground, so it's natural that their boot lips tend to be higher too. So you'll want to make sure you buy an SUV with a boot opening that cuts lower into the rear bumper, to reduce the gap, or if not, buy a ramp so your dog can get in and out more easily.
Junk in the Trunk
Of course, if you're going to put your dog in the boot, you'll also need to work out what you're going to do with all the luggage you'd otherwise carry there. If you've got a family, you'll be aware just how much needs to be packed even for a simple weekend away.
That said, simply surrounding your dog with bags is a no-no, because they could easily fall over and injure your dog. "Think of your dog like a human," says McKee. "If you're sitting in the back seat and you have loads of heavy boxes piled on the seat next to you, you're potentially putting yourself at risk.
Instead, the best option is to make sure luggage is secured tightly, and that the dog is protected by a cage or crate. "If you secured your dog inside a cage, and then had the luggage securely fastened alongside the cage, that would work, though obviously, you wouldn't want to pile stuff on top of the cage and make the dog feel really hemmed in," says McKee.
Bear in mind though that to do this you'll need a car with a very big boot – big enough to take a dog cage as well as the luggage you want to pack in.
If you haven't the space for a large car with a big boot, you could always consider adding a roof box on the occasions you need to carry extra luggage. Stowing your belongings on the back seat is an alternative option, though you'd need to make sure they were strapped down securely so that they didn't fly around the car in the event of a crash.
Sunshine Through My Window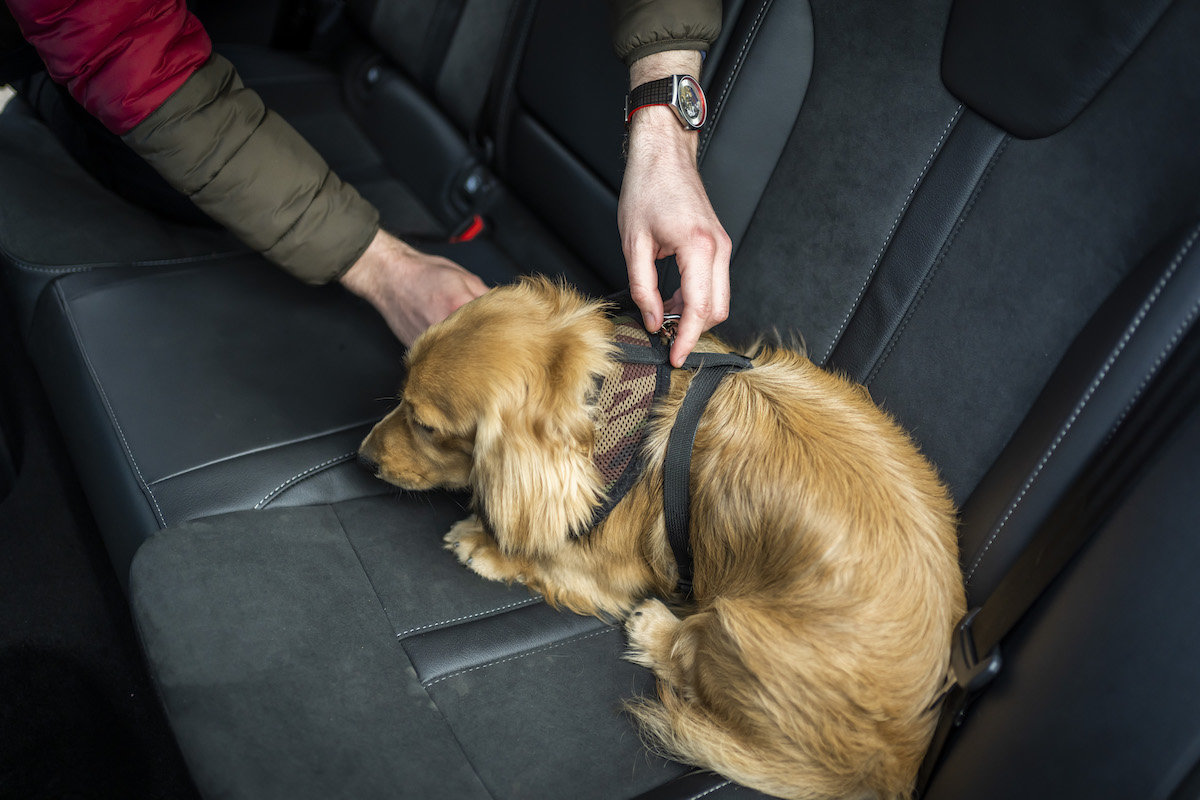 Wherever your dog sits, don't forget to consider the effect of sunshine flooding in through the windows. McKee points out that you can assuage this somewhat by fitting window shades, of the sort parents use to shield their newborn babies from the sun. And if your car has a panoramic roof, don't forget to close the integral shade on sunny days, so that the intense sunlight doesn't cause your dog to overheat.
You'll need to pay particular attention to the weather if your dog sits in the boot, and you're buying a car which has a sloping rear screen – for example, a large hatchback, a coupe, or a "shooting brake"-type estate.
Screens like this can act as a greenhouse, amplifying the effect of the sun, and because they often cover a large area of the boot, they can leave your dog without a shady spot in which to cool off. So if you're thinking of buying a car like this, you might want to consider whether you might be better off placing your dog on the back seat instead, especially on sunnier days.
Fronting Up
What about putting your dog in the front passenger seat? Some dog owners prefer to have their dogs travel up front with them. And of course, owners of sportier cars might feel there isn't enough room elsewhere – indeed, they might only have two seats.
"The law doesn't specify that a dog can't sit in the front seat or anywhere else – it just says they need to be suitably restrained and not a distraction," says McKee. "However, as a charity, we would not recommend you putting dogs in the front seat if possible, because they can be distracting for you."
Not advisable then, and to be avoided if possible. Even if you do go ahead and travel with your dog up front though, there's an important precaution to consider: "If they do have to go in the front seat, we would say please disable the passenger airbag, because obviously it can be very bad for the dog if you do have a crash and the airbag goes off," says McKee.
Summing Up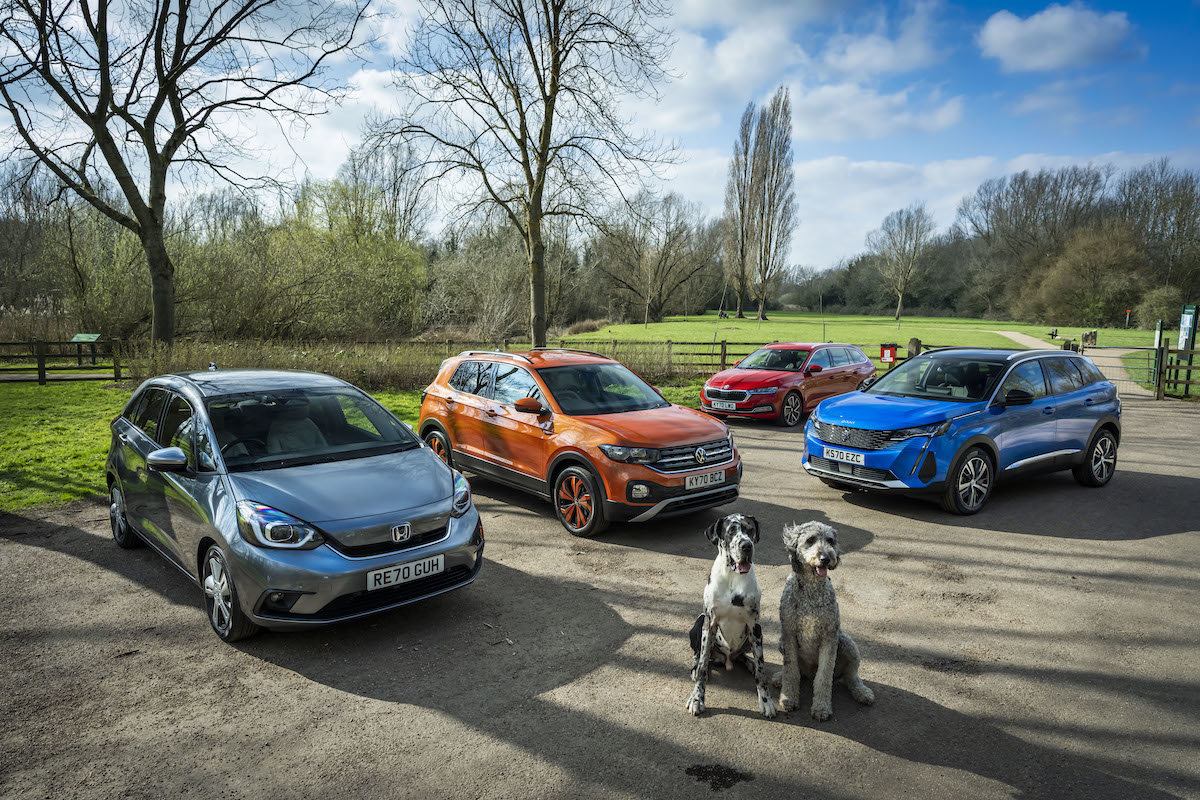 In summary then, there's a great deal more to think about than simply boot size when working out which car is best for your pampered pooch.
Work out where your dog will sit; make sure they have enough room, and also, that they can climb in and out with ease.
Make sure your dog is suitably restrained at all times, whether they're in the boot or in the back seat
If you want to carry luggage alongside your dog, make sure it's strapped down, and that the dog is separated from the luggage by a cage that's strong enough to protect your dog if the luggage falls
Don't let your dog get too hot beneath a large rear window or panoramic glass roof
Choose a car with upholstery you'll be able to clean easily – or fit a cover for the rear seats
Avoid putting your dog in the front seat, but if you have no other option, make sure you can disengage the passenger airbag
With all the above in mind, I'm quite happy that my Superb will be a good choice for my dog and family – but I will be investing in a cage, to make sure Luther and our luggage don't mix on longer journeys.
Taking simple steps like these – not to mention choosing the right car for your dog in the first place – can help make our pets' time on the road not only safer, but also more comfortable.
Related Topics: