If one of your family members is a dog there's a good chance you'll want to take it with you in the car. Whether it's short trips for walks, a visit to the vet, or en route to doggy day care, or a longer car journey when going on holiday or to visit friends and relatives, there are laws and best practice you should to follow to maximise safety for you, your dog and your passengers.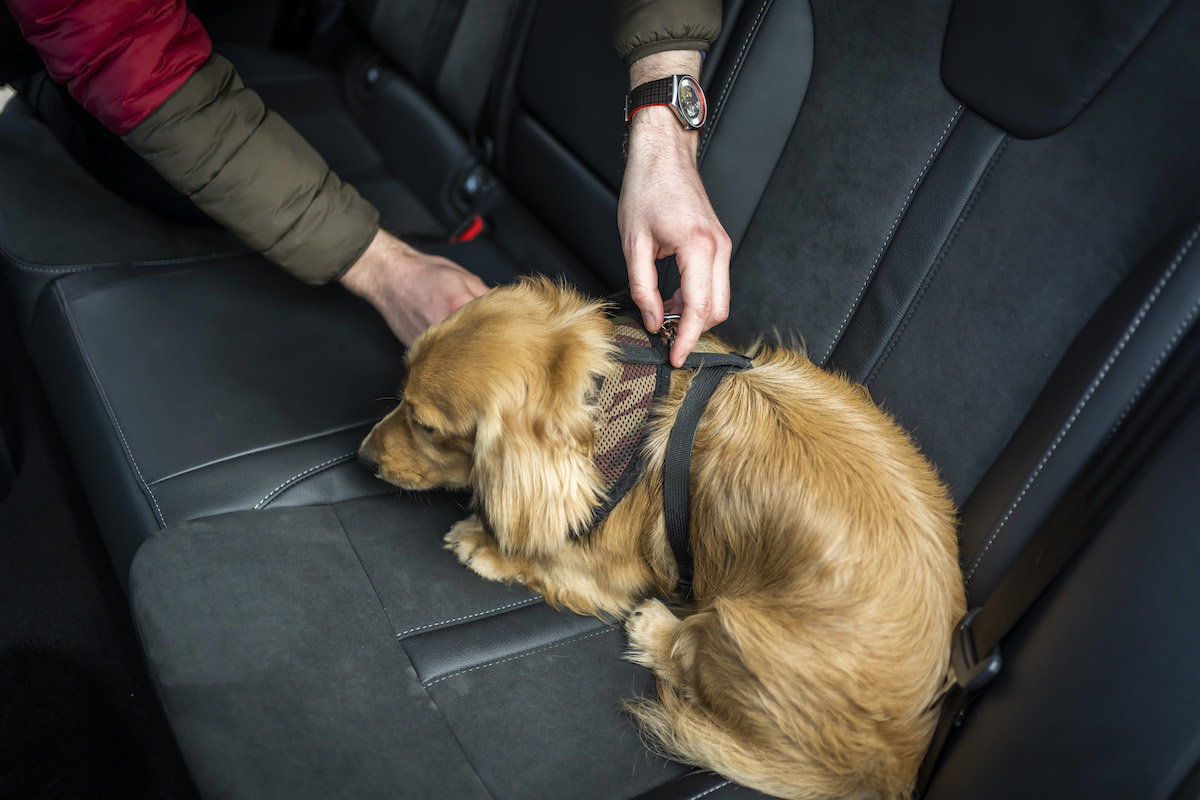 What the Highway Code States:
Rule 57 of the Highway Code relates directly to travelling with animals in the car. It states: "When in a vehicle make sure dogs or other animals are suitably restrained so they cannot distract you while you are driving or injure you, or themselves, if you stop quickly. A seatbelt harness, pet carrier, dog cage or dog guard are ways of restraining animals in cars."
While the Highway Code outlines these broad guiding principles, there's plenty more that dog owners should be aware of when it comes to car travel with their pet. To help dig into the detail, we turned to the National Animal Welfare Trust (NAWT), an independent charity founded in 1971, that now re-homes around 1,200 animals every year.
As per the Highway Code, the NAWT recommends that your dog (or dogs) are secured for car trips, either via a dog harness in the back seat (preferably behind the passenger seat), or in a crate in the boot.
Importantly, the NAWT highlights that using a dog guard that separates the boot from the passenger compartment is not enough on its own, but needs to be paired with a harness or pet carrier. Not only will this prevent the dog from being thrown around the boot in the event of a sudden stop or swerve, but it also removes the risk of your dog jumping out the moment you open the boot.
When it comes to choosing an appropriately sized crate, The NAWT recommends measuring your dog's sitting height and length and then adding 5-10cm. This will ensure your dog has enough room to move inside the crate so that it can travel comfortably when you're on the road.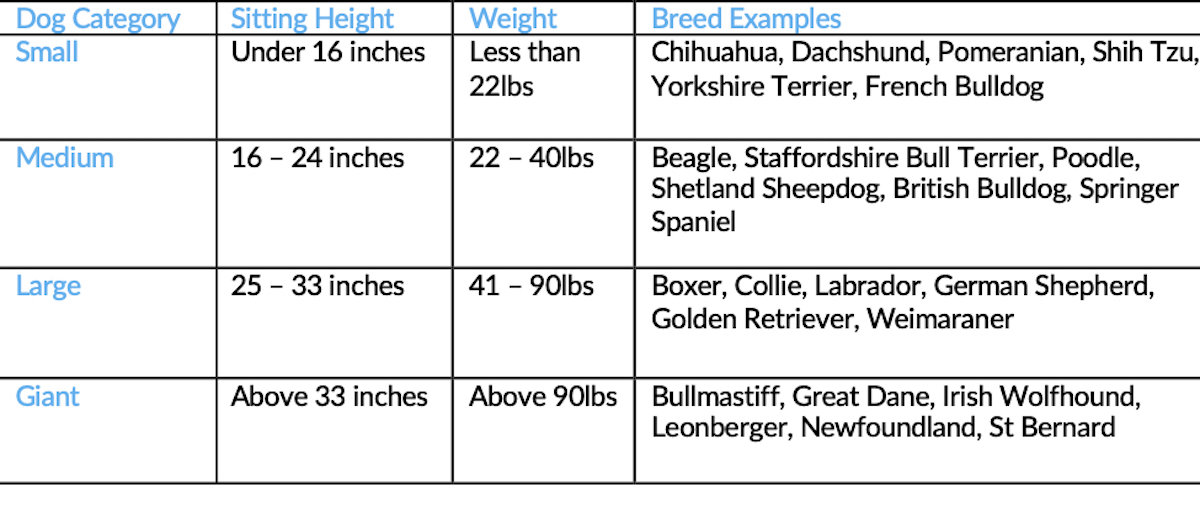 The table above outlines the four sizes of dog, as suggested by the NAWT, as well as sitting height, weight, and breed examples. Please note, not every dog of a certain breed is the same size so please do measure your dog to see which category it fits in.
Carrying Your Dog in the Back Seat
The back seat of your car can also be a safe place for your dog, but only if it's securely fastened to the car's seatbelt with either a dog safety belt or harness. Fail to do this and not only could your dog be a dangerous distraction to you, the driver, but in the event of an accident or emergency stop an unrestrained pet could injure itself or the car's other occupants. The NAWT also points out that there's a risk of your car insurance being invalid if your dog is not suitably restrained in the vehicle.
Getting Your Dog Used to a Car
If you are one of the thousands of people in the UK who bought a dog during one of the COVID-19 coronavirus lockdowns, you might be wondering how to acclimatise your new family member to travelling in the car. The NAWT recommends getting a dog used to being in a car from the earliest possible age, starting with exploring a stationary vehicle and then moving onto short journeys. As with other elements of dog training, using treats as a reward can be an effective method of teaching.
If you have discovered your current car is too small for your dog, or are in need of a new car and not sure what's best, CarGurus has created a detailed guide on how to choose a car for your dog, as well as an interactive tool that highlights what our experts recommend as the best cars depending on the size of your dog (or dogs).
Safety Advice for when your Dog's in the Car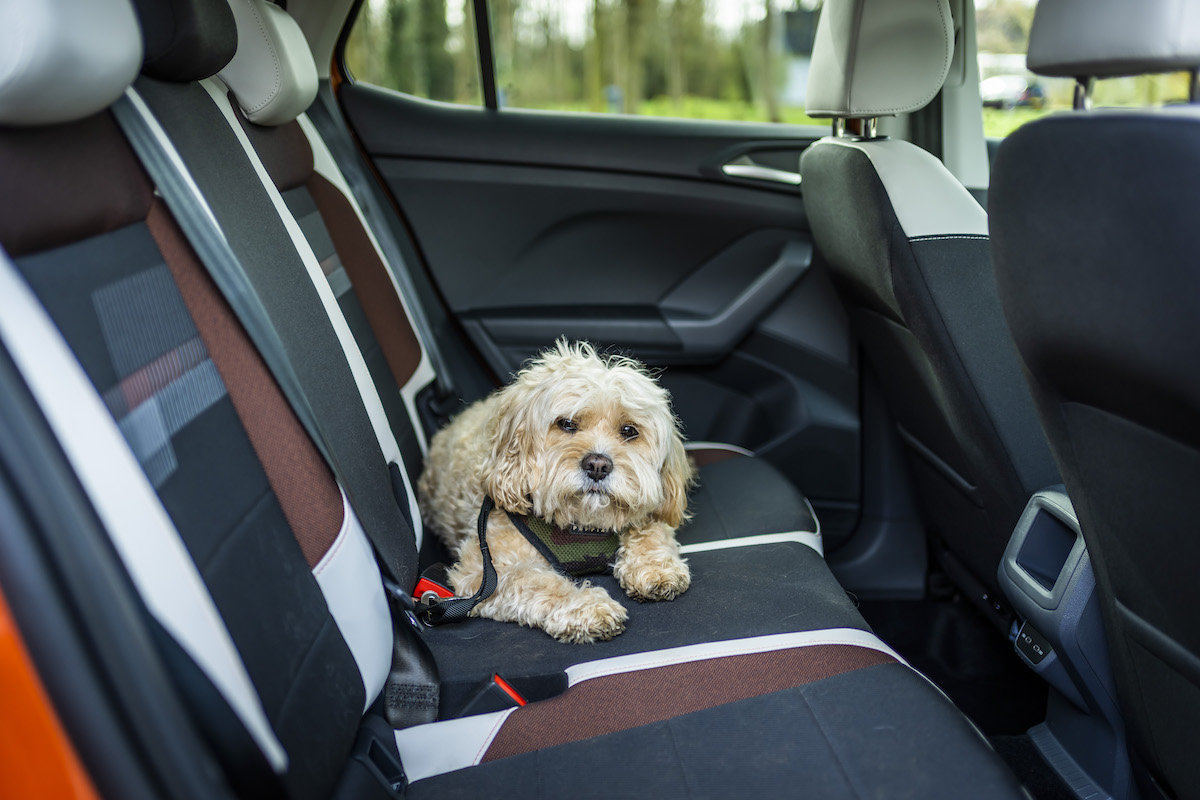 While not legal requirements, the NAWT recommends the following steps are adhered to in order to keep your dog safe in the car:
Do not travel with your dog in the front seat. Even if properly restrained your dog could be a distraction.
If there's no other option but to put your dog in the front seat, ensure the passenger airbag is deactivated (consult your car's handbook to find out how to do this).
Use a proper dog harness or dog safety belt rather than a lead that goes around your dog's neck. These devices spread support across the dog's upper torso, limiting the chance of injury.
Switch on child locks for the rear windows and door handles.
Should You Leave Your Dog?
The NAWT advises against leaving your dog in the car if it can possibly be avoided. First and foremost, a car's interior can soon become very hot; the NAWT states that when the outside temperature is 22 degrees C a car's interior can heat up to 47 degrees C within an hour, even when parked in the shade. If it's trapped in a hot car, a dog won't be able to regulate its body temperature by panting as it usually would, which can lead to – potentially fatal – heatstroke.
Regardless of the temperature, leaving your dog alone in the car also puts it at risk of being stolen. Unfortunately the pandemic has seen a rise in dog thefts due to demand.
More Top Tips from the National Animal Welfare Trust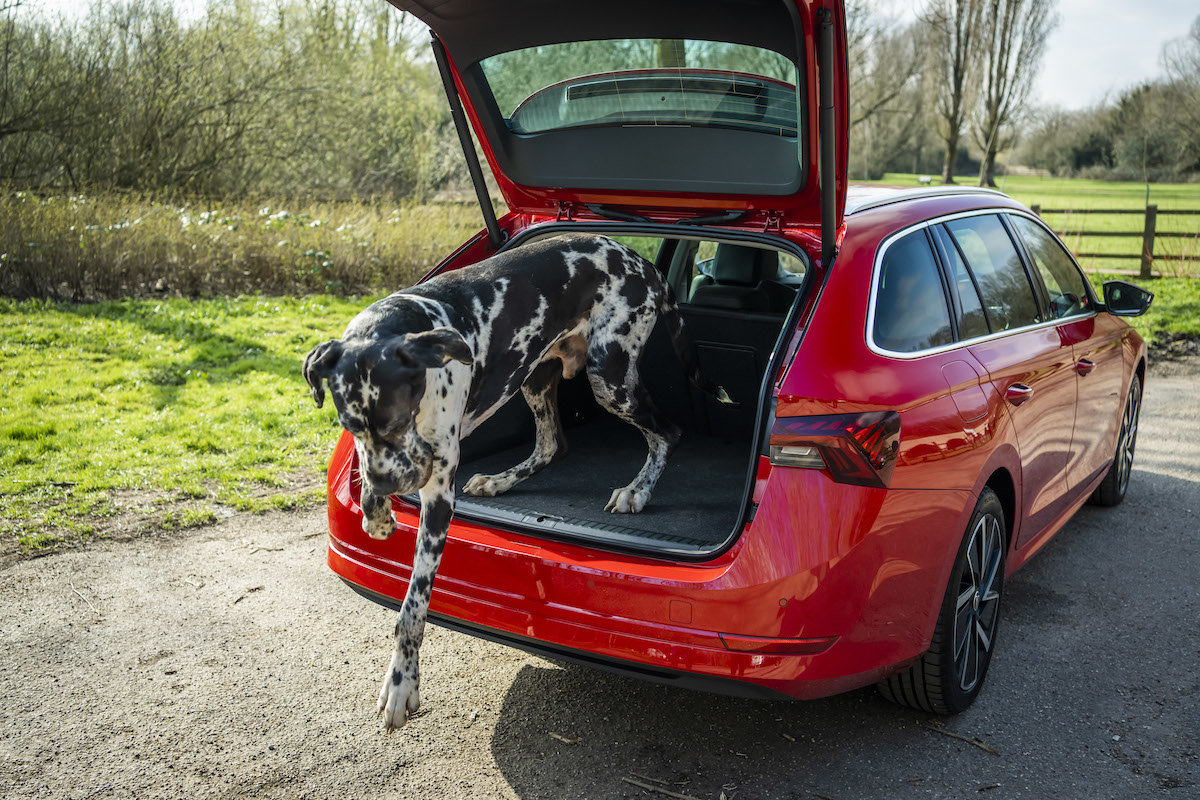 If you have emergency breakdown cover contact your provider to see how your dog would travel in the event of your vehicle being recovered. Also keep some dog food or treats in the car in case of a breakdown.
Take regular stops for comfort breaks, including a chance for your dog to stretch and drink water. If you want your dog to be able to drink when on the move, use a non-spill water bowl.
Use the air-conditioning and sunshades to keep the car at a comfortable temperature for your dog while travelling.
If you're undertaking a long journey avoid feeding your dog in the two hours before you set off in order to reduce the chances of motion sickness. Exercising your dog before travel will also help to tire them out.
Consider taking a favourite toy or bedding to help your dog feel relaxed in the car.
Consider using a double-sided boot mat and/or seat covers to protect your car from claw marks and mud.
If your dog is unable to jump into a car (or simply doesn't want to) consider investing in a dog ramp.
With thanks to the National Animal Welfare Trust for its help compiling this guide.
Related Topics: