Audi more or less invented the four-wheel drive performance car in 1980 when it launched the original Quattro. Only a handful of fast Audis in the four decades since have strayed from that blueprint and powered a single axle: for the most part, wet-weather stability and flawless traction have been Audi lodestars. The Ingolstadt company is typically at its best when building very fast estate cars, but the likes of the R8 and RS3 demonstrate it can turn its hand to performance cars of all types.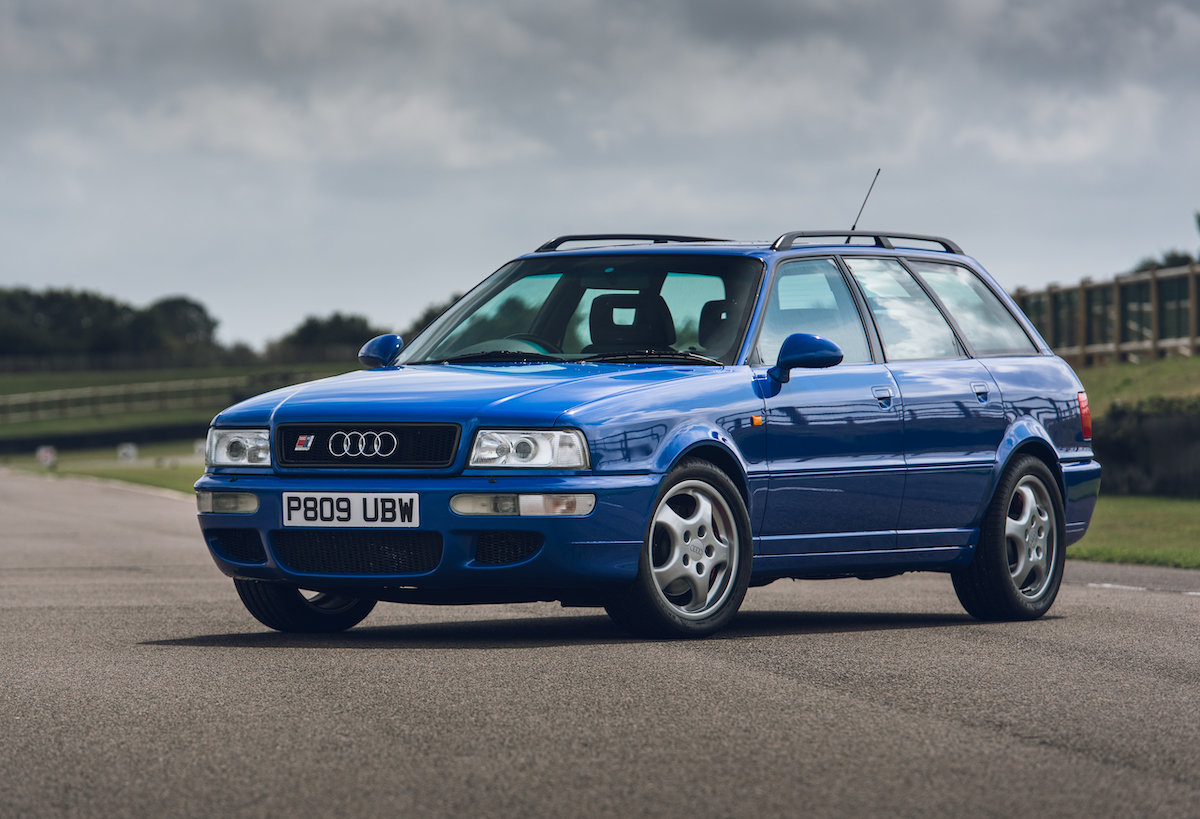 Best for: Creating a new breed of performance car: the fast estate Built between: 1994-1995 Price from: £70,000
The original RS Audi and one of the first performance estates. It was developed in partnership with Porsche (hence the 'Porsche' script on the brake callipers and the tiny, teardrop-shaped door mirrors from a 911) and was no half-hearted first effort as a result. Its 2.2-litre five-cylinder turbo engine produced 315bhp, a staggering amount of power at the time. Combined with four-wheel drive, it meant the RS2 Avant was one of the most accelerative cars on the road, and certainly the fastest vehicle capable of transporting a wardrobe. In fact, it still feels quick to this day. There is a fair degree of turbo lag and when you start flinging the RS2 around, you realise just how short on body control it really is. Better to stroke it along at pace rather than wring its neck, enjoying the oily slick gear-change, the warbling five-pot soundtrack and the bright blue interior upholstery as you do so.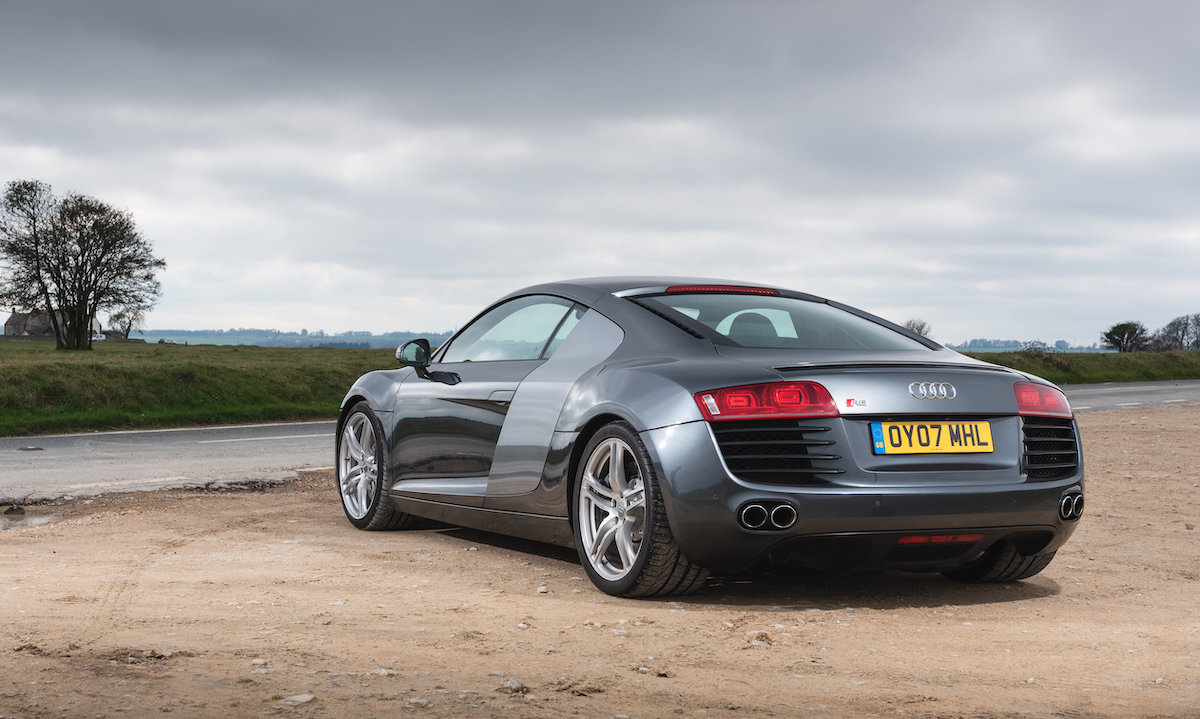 Best for: Proving Audi really is capable of building world-beating sports cars Built between: 2006-2015 Price from: £35,000
You can pore over an R8, turn it upside down and pick it apart piece by piece, but you won't find a single RS logo anywhere. The R8 was designed and engineered by the same division that's responsible for all RS Audis (formally Quattro GmbH but now called Audi Sport), though, and leaving it off a list of the best Audi performance cars on a mere technicality would have been daft. After all, the German marque excelled itself with the original R8, which is at its best with the V8 engine and a manual gearbox, and it's yet to scale the same heights with any successive model, be it a newer version of the R8 or anything with an RS emblem on it. Audi's first mid-engined sports car arrived in 2006 with the kind of ride quality, chassis balance and steering precision that we all assumed Audi simply wasn't capable of engineering into its cars. Given that it hasn't managed to do so again since, perhaps it was fluke. Read our expert review of the Audi R8 Search for an Audi R8 on CarGurus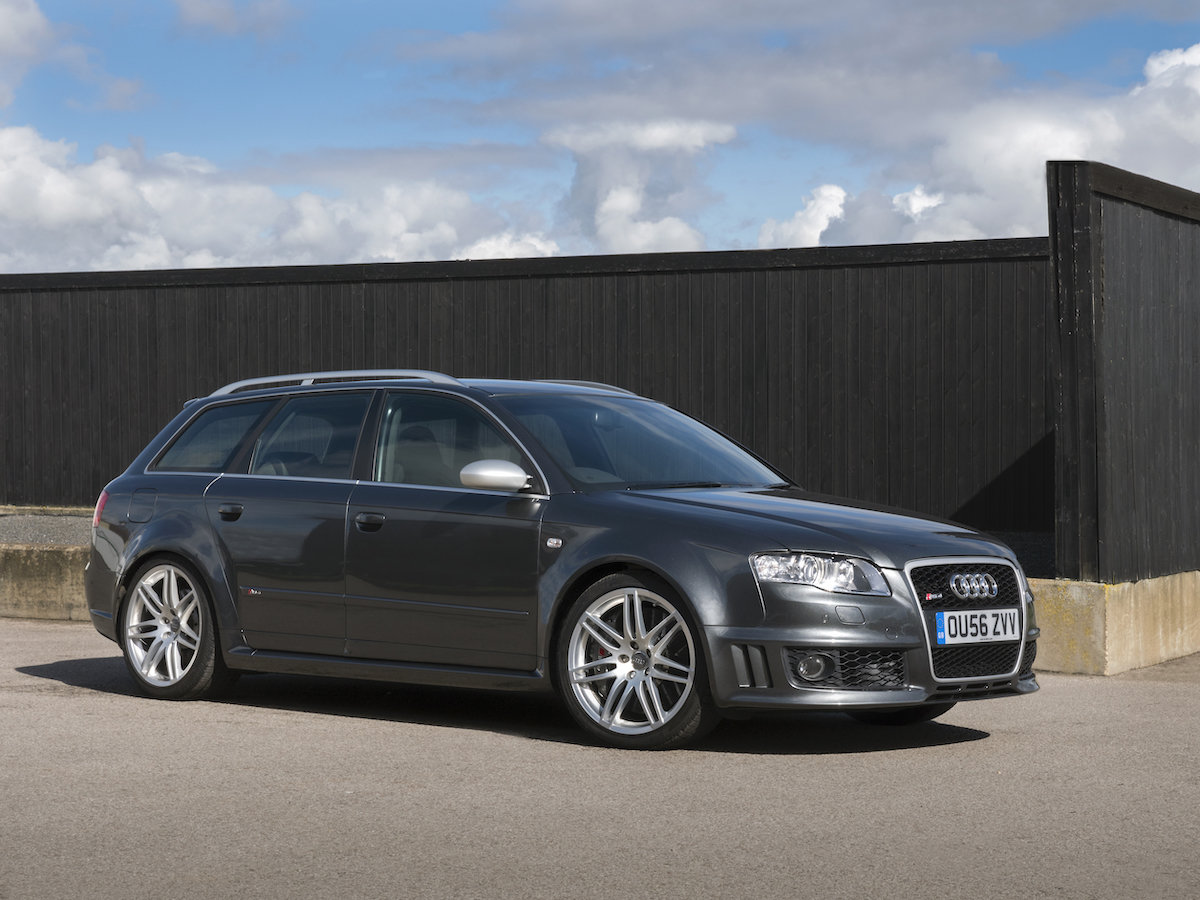 Best for: Everyday driving duties, but with a soaring V8 soundtrack Built between: 2006-2008 Price from: £15,000
Later RS4s are faster and more sophisticated, but the second in the series, the B7, remains the best of the lot. Whether you prefer the saloon or the estate (Avant in Audi-speak) the B7 looks muscular without being overtly aggressive, a nuance very much lost on more recent models. Its 4.2-litre V8 is the same as that found in the original R8. It's a high-revving unit rather than a torque-rich sledgehammer, which means you really have to gets down the gears and chase the redline to hurry the RS4 along a road. Peak power of 414bhp arrives at 7800rpm, which is where the exhaust note rises to its stirring eight-cylinder crescendo. Like most high-performance Audis of the time the B7 RS4 feels very nose-heavy, but four-wheel drive gave it the kind of wet-weather performance a BMW M3 driver could only dream of. Crisp steering, a comfortable ride and an exceptionally well-built cabin made the RS4 more compelling still. Search for an Audi RS4 on CarGurus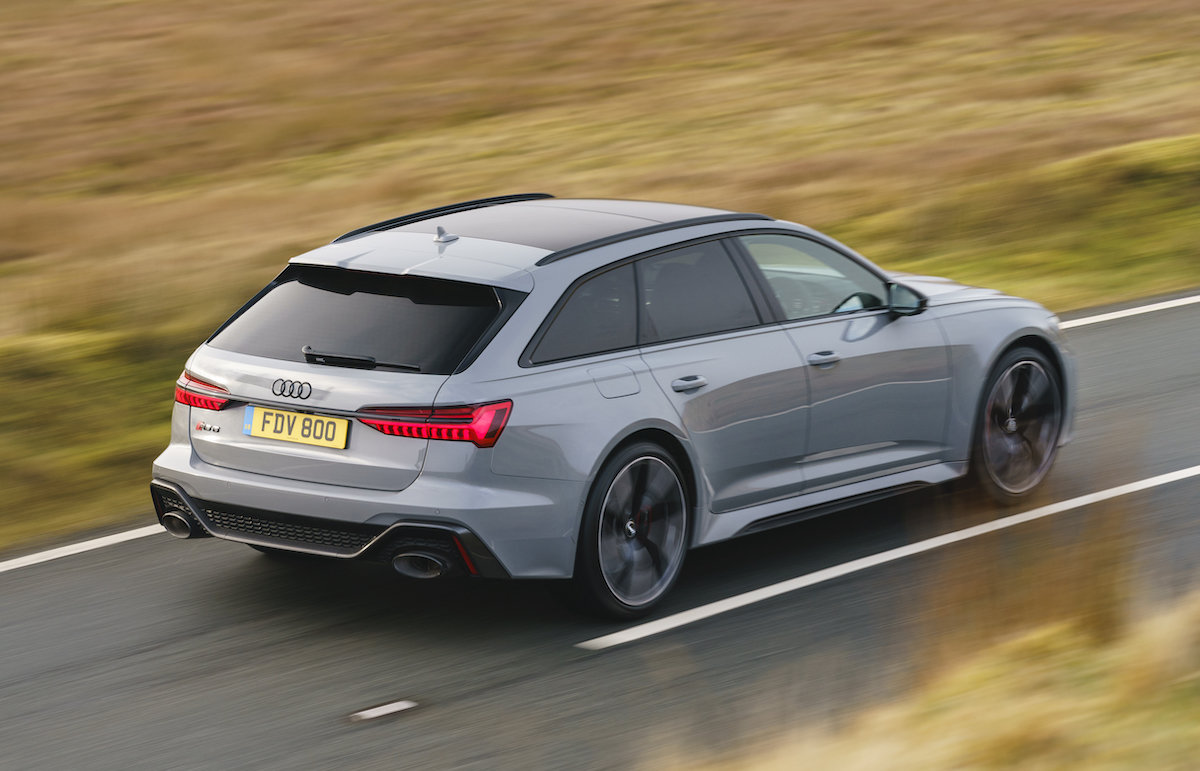 Best for: Making 1000-mile journeys slip by in an instant Built between: 2020-present Price from: £92,550
For almost 20 years the RS6 was thunderously powerful, good-looking, built to the highest standards and sure-footed whatever the weather. But only with the arrival of the C8 version in 2020 did it become genuinely rewarding to drive. A trick four-wheel drive system, a locking differential in the rear axle and four-wheel steering made the RS6 much more than just a one-dimensional point-and-squirt device. It is true, however, that this most recent RS6 Avant has forsaken the understated design of its predecessors in favour of in-your-face styling and cartoonish proportions. You will at least be able to console yourself with what is probably the best interior of any estate car on sale today: the material quality, design and functionality are unmatched in the class. If the cockpit doesn't do the trick, the fearsome 4.0-litre twin-turbo V8 certainly will. The better part of 600bhp and a soundtrack that could cause avalanches on the next continent makes the RS6's motor even more irresistible than its exquisite handling. Read our expert review of the Audi RS6 Avant Search for an Audi RS6 Avant on CarGurus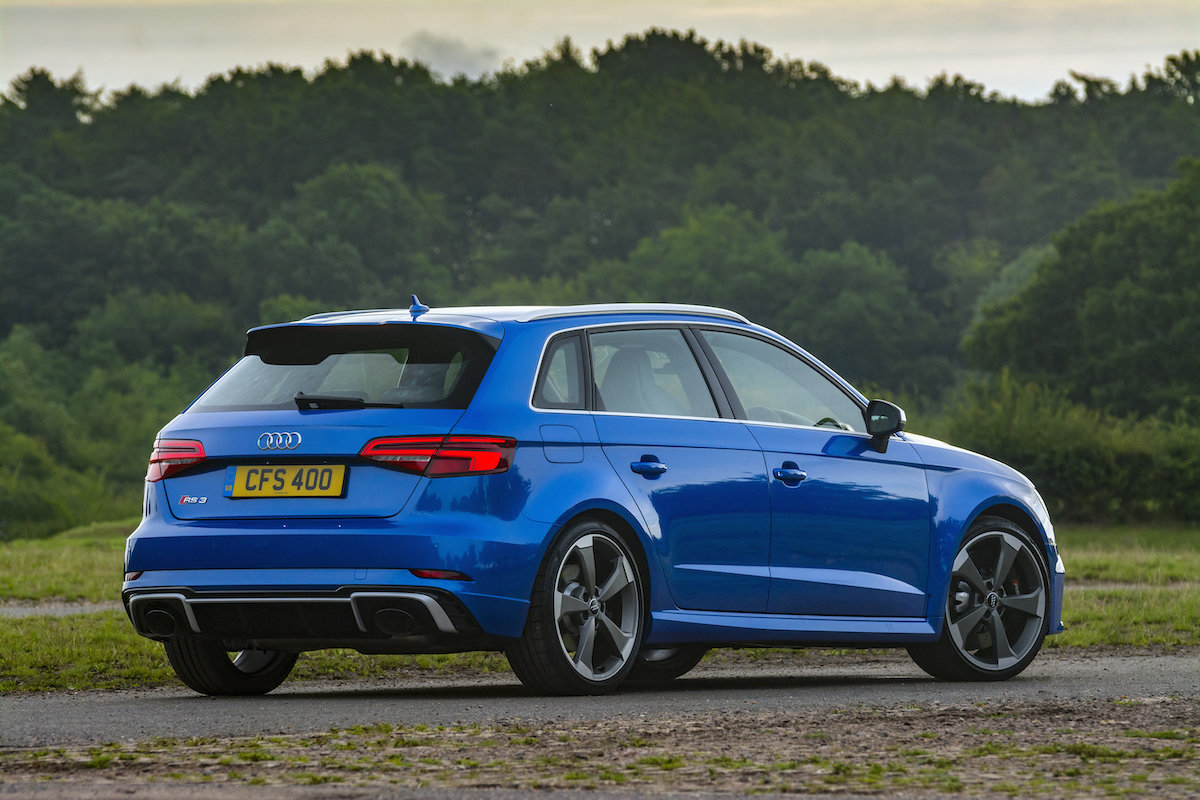 Best for: Proving the RS3 really could be good to drive Built between: 2017-2019 Price from: £35,000
The RS3 has tended to be leaden-footed and blunt to drive, but when Audi updated the third-generation model in 2017 it unlocked the potential that had been lurking within. A new crankcase reduced the weight of the engine by more than 20kg, which improved the car's weight distribution and balance, while revisions to the four-wheel drive system meant the RS3 was no longer defiantly nose-led. Better steering and a decent ride help make it far and away the best small RS Audi ever. The long-serving and brilliantly flexible five-cylinder turbo engine is better than ever thanks to a power boost to very nearly 400bhp. Against competition that made do with characterless four-cylinder motors, the RS3's five-pot is a real point of difference. It has a great cabin, too, and you can choose between the five-door Sportback body and the four-door Saloon. Never the sharpest car of its type, but in terms of overall appeal the RS3 is up there with the best. Read our expert review of the Audi RS3 Search for an Audi RS3 on CarGurus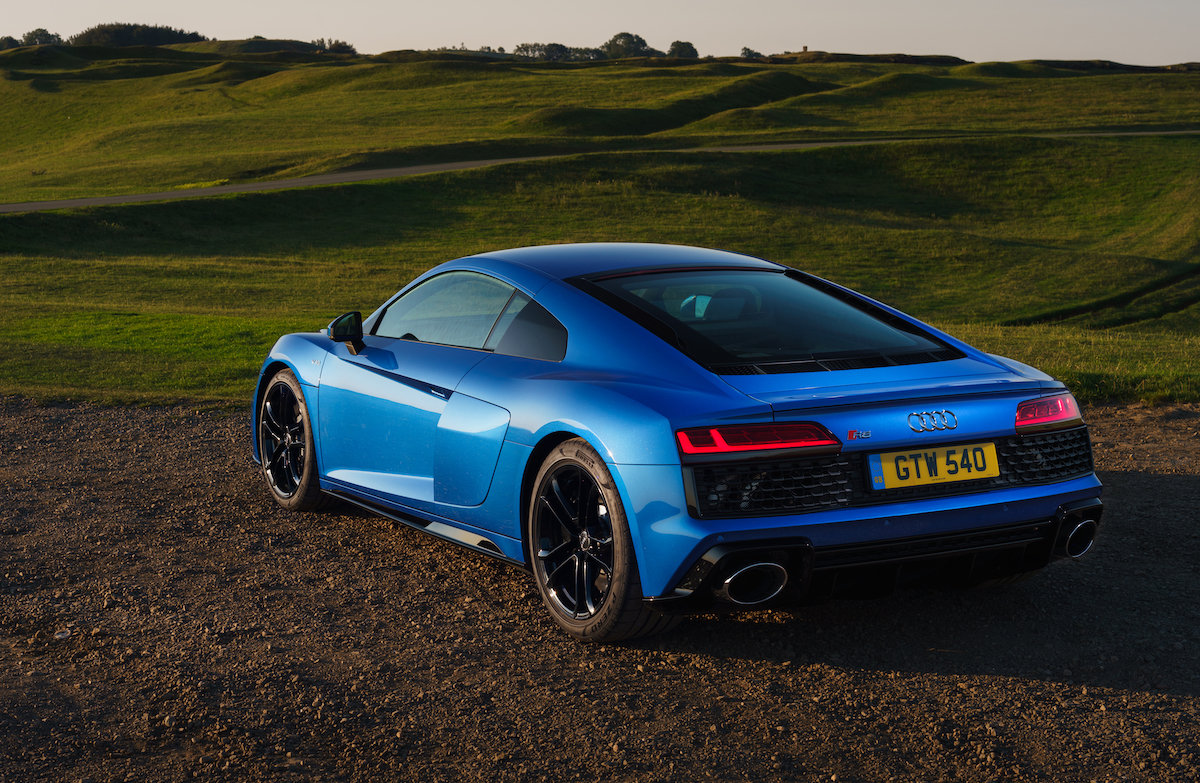 Best for: Capturing a dash of the magic of the original R8 Built between: 2020-present Price from: £114,435
Audi built its brand on four-wheel drive technology. The word Quattro has become as much a part of the company's identity as its four-ring logo, and yet one car on this list powers only two of its wheels rather than the full set. The second-generation R8 is a fearsomely accelerative and supremely capable machine, but it lacks the poise and delicacy that made the original such a bewitching car to drive. The R8 V10 RWD, however, is the exception. Without four-wheel drive, adaptive dampers and dynamic steering, the RWD is far simpler than other variants and more rewarding to drive as a result. What's more, its 5.2-litre V10 is a real showstopper. The RWD picks up where the limited edition RWS left off. Also rear-wheel drive, the RWS was a more engaging kind of R8 because of its relative simplicity. Only 999 examples were built in total, split between coupe and roadster body styles. Read our expert review of the Audi R8 Search for an Audi R8 on CarGurus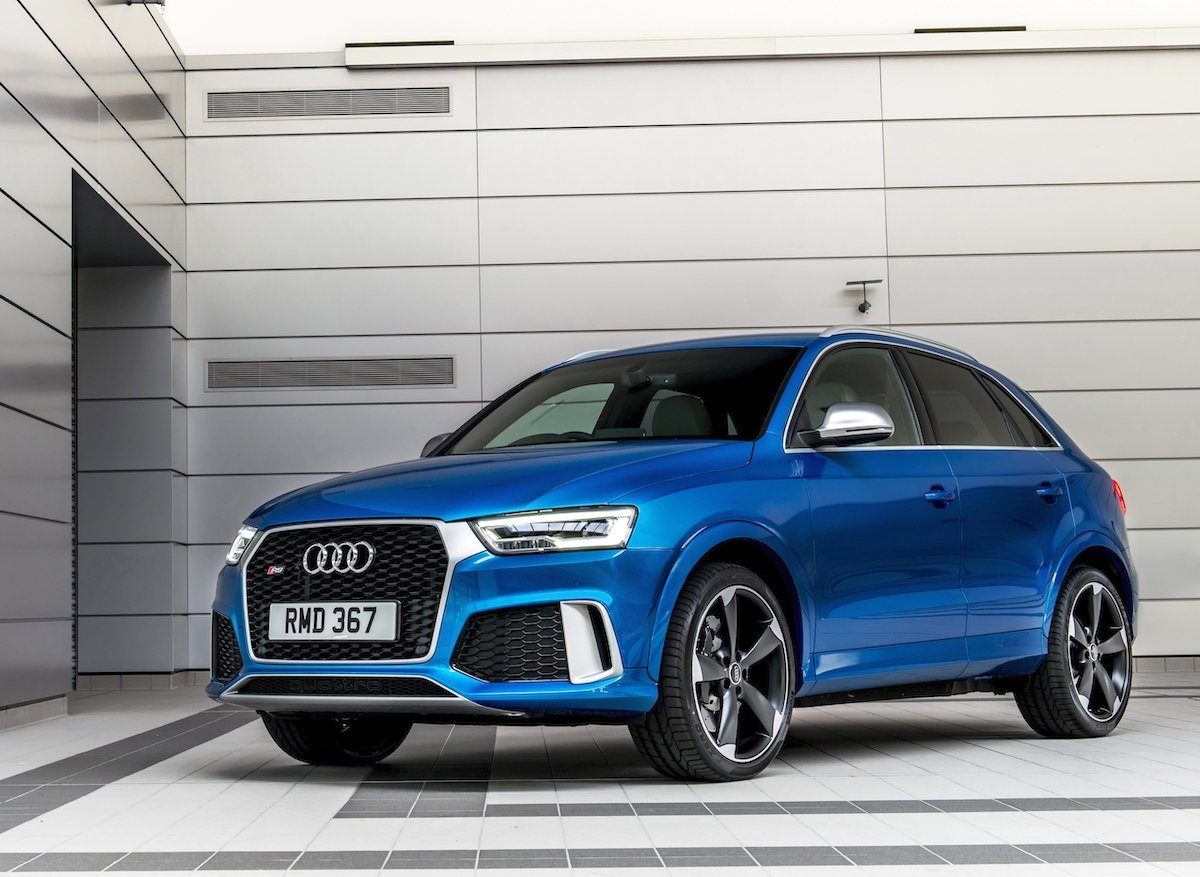 Best for: Conquering B-roads while looking down on everybody else Built between: 2013-2016 Price from: £19,000
Essentially an RS3 on stilts, the RS Q3 isn't the sort of car that would normally appeal to enthusiast drivers. But it has a supple ride and a more playful balance than its lower-set stablemate, which ultimately makes it even more entertaining to drive. The same 2.5-litre engine as the RS3 means it is frighteningly quick in a straight line, although it's the broad-chested power delivery and bassy exhaust note that amuse more than the sheer force of the RS Q3's acceleration. Those in the know will spot an RS Q3 a mile off – the enormous exhaust tips, the big wheels, the body styling kit… – but to most onlookers it's just another SUV. They'd never know this Audi 4x4 has enough power beneath its bonnet to startle BMW M-car drivers. A high-quality cabin and effortless day-to-day usability top off an already compelling package. Read our expert review of the Audi Q3 Search for an Audi RS Q3 on CarGurus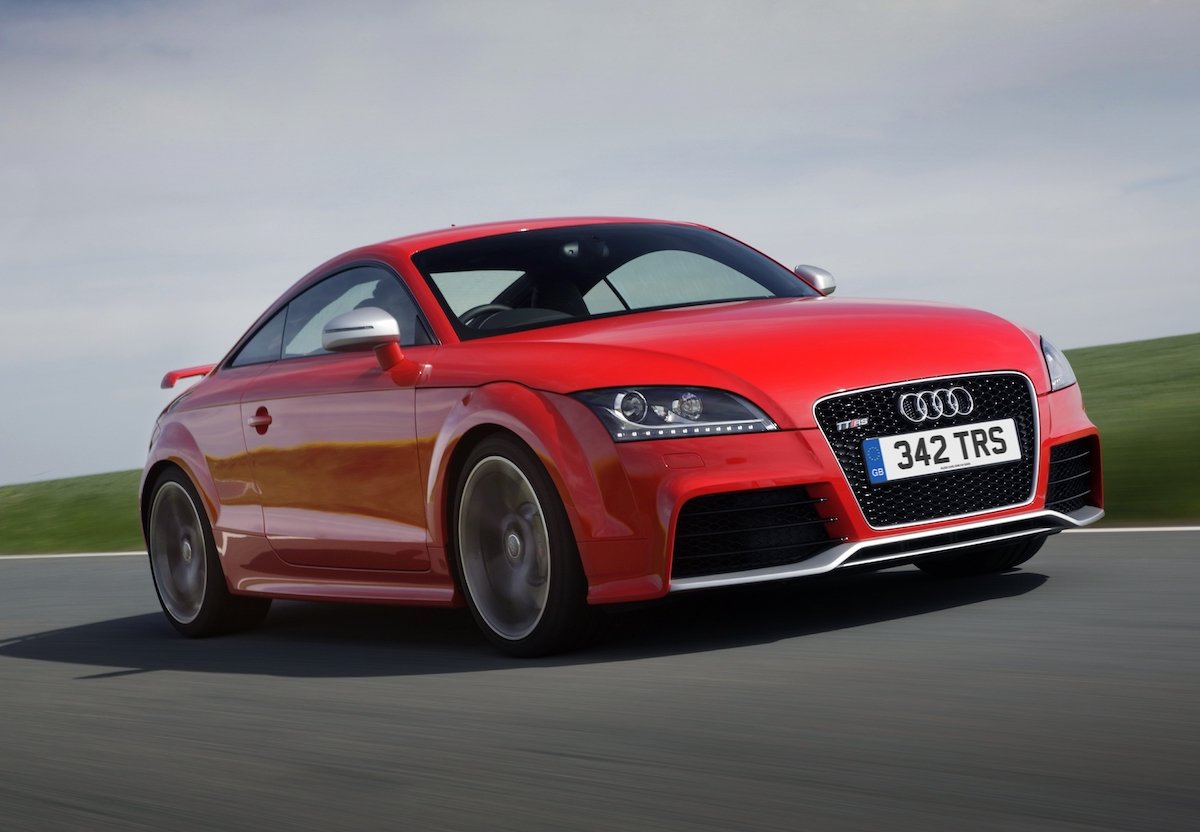 Best for: Frightening Porsche Cayman drivers in the wet Built between: 2009-2014 Price from: £17,000
The first TT RS, which was actually based on the second-generation TT, was one of only a handful of Audi performance cars to combine the company's five-cylinder turbo engine with a manual transmission (DSG was available as an option). It isn't truly thrilling to drive – in fact no TT has ever troubled more exotic sports cars like the Porsche Cayman in that regard – but that powertrain is enough on its own to make the TT RS a quietly appealing proposition. With four-wheel drive and bundles of stability, it has a kind of indomitability in poor weather and a turn of pace along a challenging B-road that few cars in the class can match. Add to that a fine cabin (always a TT trump card) and handsome styling, and it's little wonder so many owners swear by them. Ultimately, though, the TT RS shares its underpinnings with the Volkswagen Golf, which means it goes up against purpose-built sports cars like the Cayman with one arm tied behind its back. Read our expert review of the Audi TT Search for an Audi TT on CarGurus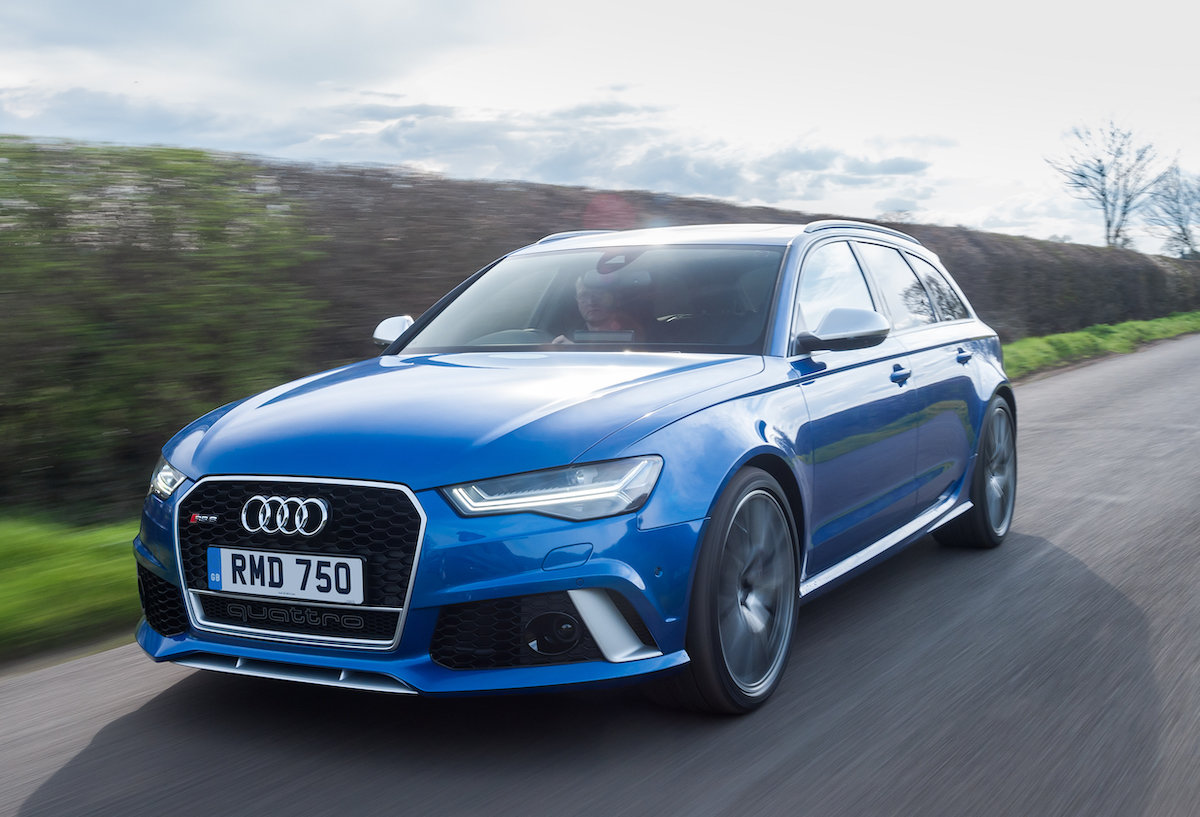 Best for: Moving furniture at 155mph Built between: 2013-2018 Price from: £35,000
The RS6 makes a second appearance on this list, but this time we're acknowledging the previous shape model rather than today's version. The C7 variant isn't as engaging to drive as the current RS6, but it nails the super-estate thing in its own way. After all, what more could the fast-wagon buyer realistically expect than boundless traction, unimpeachable grip, massive performance, peerless luxury and subtle good looks? In time, this RS6 may in fact be recognised as one of the most attractive super-estates there has ever been. The Performance version appeared towards the end of the C7 RS6's life with a whisker under 600bhp, and it remains the one to look out for today. Four-wheel drive means it'll hit 62mph in just 3.7 seconds, making it faster off the line than many mid-engined supercars. Cleverly, though, the RS6 is effortless and comfortable in normal driving, making it luxury car one moment, supercar-slayer the next. Read our expert review of the Audi RS6 Avant Search for an Audi RS6 Avant on CarGurus
Best for: Bringing Audi Sport into the modern era Built between: 2021-present Price from: £120,000 (estimated)
At the time of writing, nobody outside of Audi has driven the RS e-tron GT. A bold move including it in this list, perhaps, but given that it's very closely related to the exceptional Porsche Taycan, perhaps not. The all-electric RS e-tron GT uses two electric motors, which between them produce just a little under 600bhp, to slingshot Audi's first RS-badged EV to 62mph in just 3.3 seconds. Like the Taycan it uses an 800-volt electrical architecture, which means its batteries can be charged much more quickly than those of a typical electric car. The real-world range will be limited to 250 miles or so, meaning the RS e-tron GT won't work for everybody. Knockout styling and what appears to be a first-rate cabin, however, will have plenty of buyers clamouring to get their hands on one. Can it possibly be as good to drive as the game-changing Porsche? Audi Sport will have to be at its very best to even come close to matching the brilliant Taycan Turbo for steering response and handling balance.
Related Topics:
Related topics
The best BMW M cars ever
Best Mercedes AMG cars ever
Best muscle cars