Small cars are perennially popular among British car buyers. Yes, we've all gone a bit crazy over SUVs in the last decade or so – including compact ones that sometimes share mechanical parts with small cars – but the market for superminis continues to thrive.
Ideal for young drivers who are finding their feet on the road, owners who live in more urban environments, those with a keen eye for fuel economy, or families who want a second car as a shopping/school run runabout, small cars appeal to many car buyers.
We've chosen the best ones on the market, from daily drivers to something more specialist.
Ford Fiesta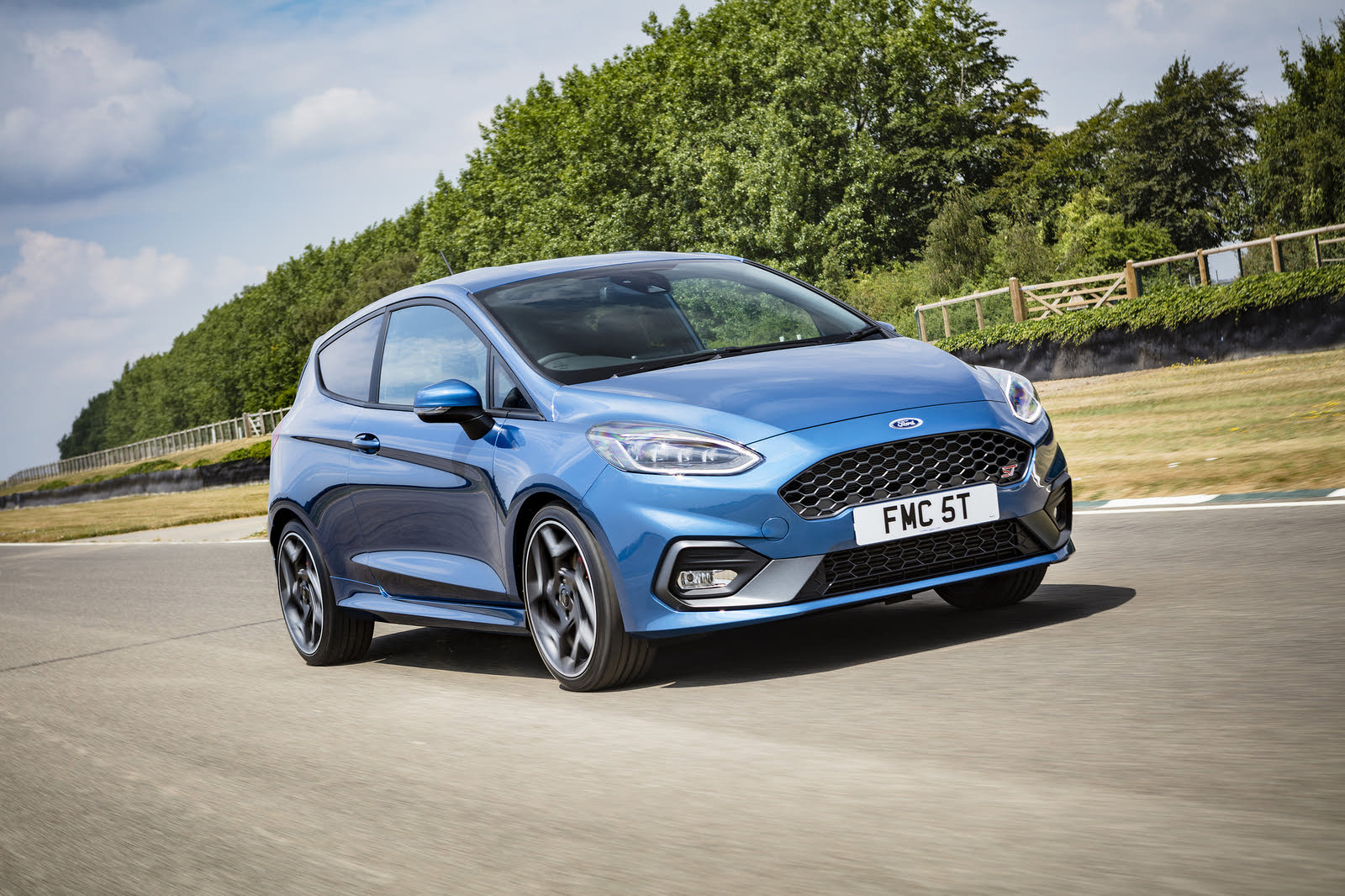 Best for: Anyone, anytime
Built between: 2018-
Price from: £7,500
The Ford Fiesta is pretty much the daddy of the supermini small car market. Month in, month out, the official UK sales chart is topped by the Fiesta, a position it has held every month since 2008. Not only that, the Fiesta has been the UK's best-selling car every year for the last 12 years.
So what is the secret to Ford's success? Quite simply, the Fiesta is a very good car. In terms of the driving experience it fits perfectly into the mould that Ford has established for many years, which means that it's responsive and accurate, the body is well controlled, there's lots of grip, and the car feels balanced and agile. The ride is equally well resolved, with the suspension feeling supple and compliant.
In addition, the exterior design has evolved again for this generation, creating another five-door car with real appeal. Perhaps the interior quality isn't the best in the class, but it's well put together and the infotainment options are bang up to date. And, there's enough space and practicality, with a decent-sized boot. There's also a wide range of engines, with the petrol EcoBoost turbocharged engines our picks. And if you want a proper hot hatch, the punchy Fiesta ST is hard to beat.
It might not be all things to all people, but it's pretty darn close.
Read our expert review of the Ford Fiesta
Search for a Ford Fiesta on CarGurus
Skoda Fabia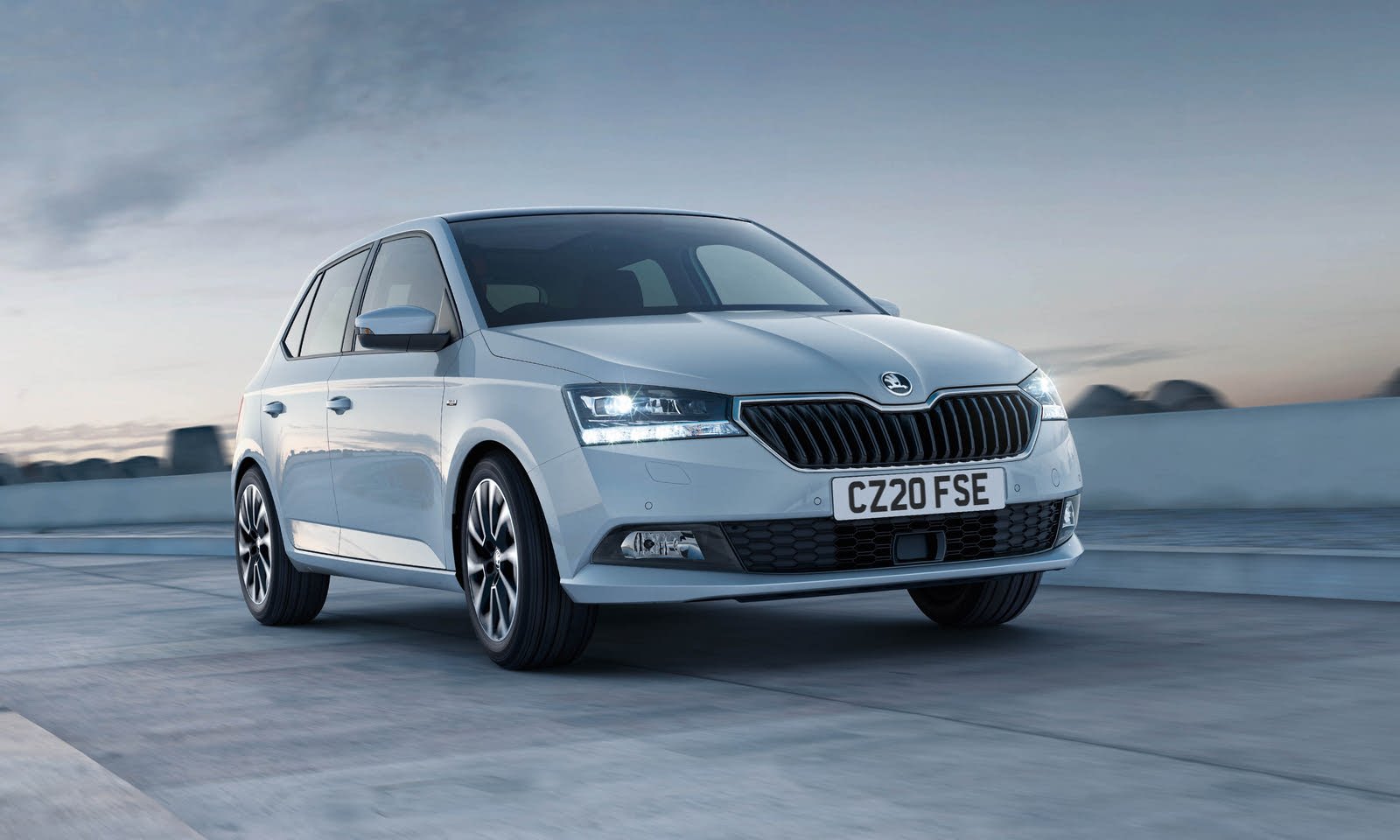 Best for: Space exploration
Built between: 2015-
Price from: £6,000
Space might be the final frontier for the Starship Enterprise, but it's the first thing you notice when you get inside a Skoda Fabia, which is a supermini pretty much in name only. It does have the same footprint as the other cars in the supermini class, but its more upright body panels mean that there's not only more headroom in the Fabia, but there's just more interior space all round, especially the generous legroom in the rear seats. Not to mix our sci-fi metaphors too much, but it is like a Tardis inside, with a 330-litre boot space that is almost as commodious as those you'll find in some cars in family hatchback class above.
The Fabia is an incredibly practical car, but its qualities don't end there. There's plenty of standard equipment on the different trim levels, even on the entry-level model. It's a car that, while not the most dynamic machine in the class, is comfortable to drive and like pretty much all Skodas these days, it has a reputation for reliability. All of which makes it a really solid choice.
Read our expert review of the Skoda Fabia
Search for a Skoda Fabia on CarGurus
Seat Ibiza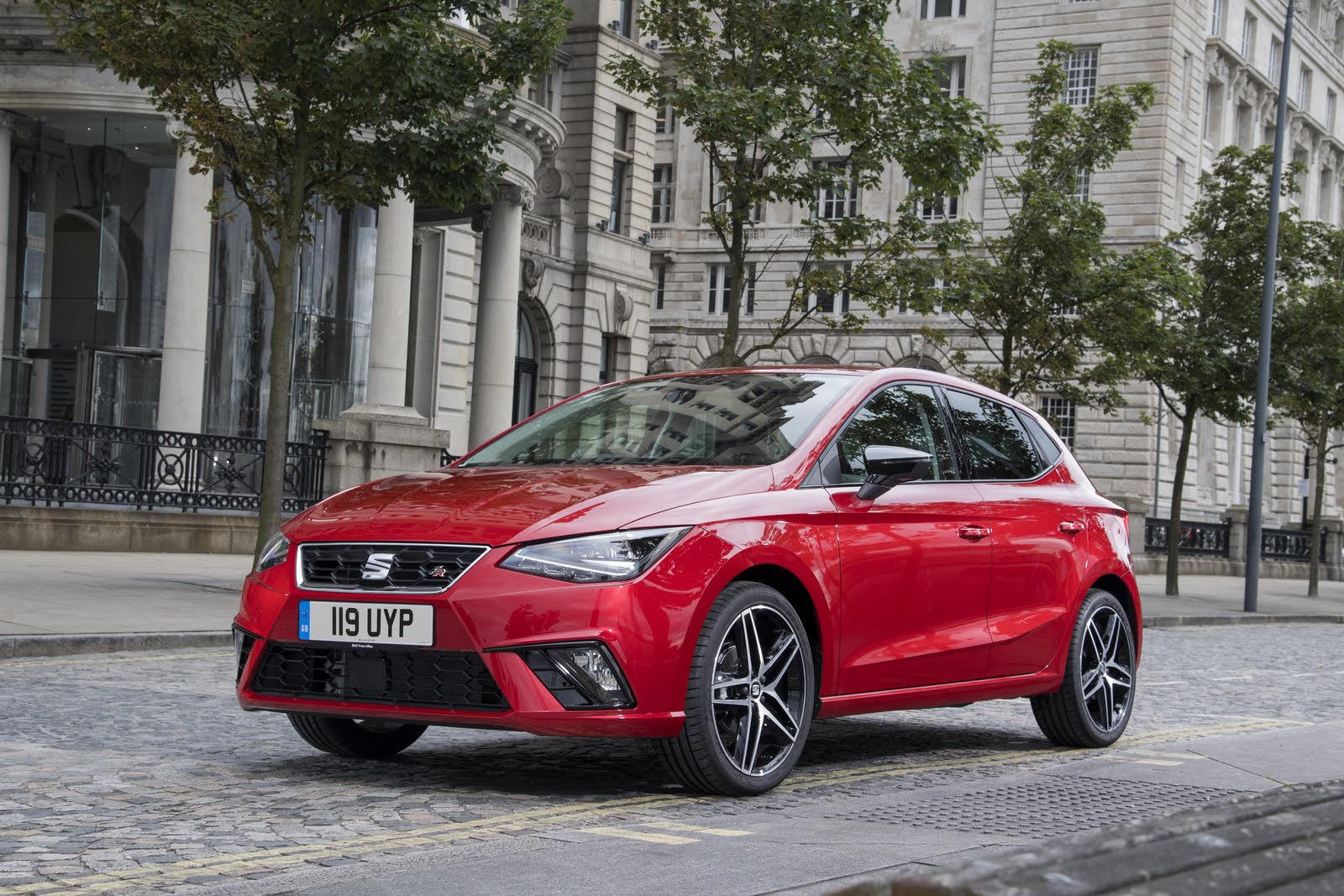 Best for: A sense of style
Built between: 2017-
Price from: £8,000
The Seat Ibiza has long been a favourite of younger drivers, thanks to successive generations offering neat, compact styling, a sporty personality and affordable running costs. It's a formula that has served the Spanish supermini well, and continues to do so.
The current Ibiza has been on sale since 2017 and the latest model is a sharp-looking car, sharing lots of the stylish Catalan accents and design cues found on other Seat models. The interior is well built and the simplified trim levels offer plenty of useful features, including the smartphone connectivity that is pretty much mandatory for younger drivers these days.
Space is decent, without being exceptional, and the boot is deceptively capacious, so there's plenty of room for a few bags for a two-up road trip. And it is on the road where the Ibiza excels. It now runs the Fiesta pretty close for the best supermini to drive, with fine handling characteristics and a well resolved ride quality. There's also a useful line-up of turbocharged petrol engines that suit the Ibiza's character perfectly.
Read our expert review of the Seat Ibiza
Search for a Seat Ibiza on CarGurus
Volkswagen Polo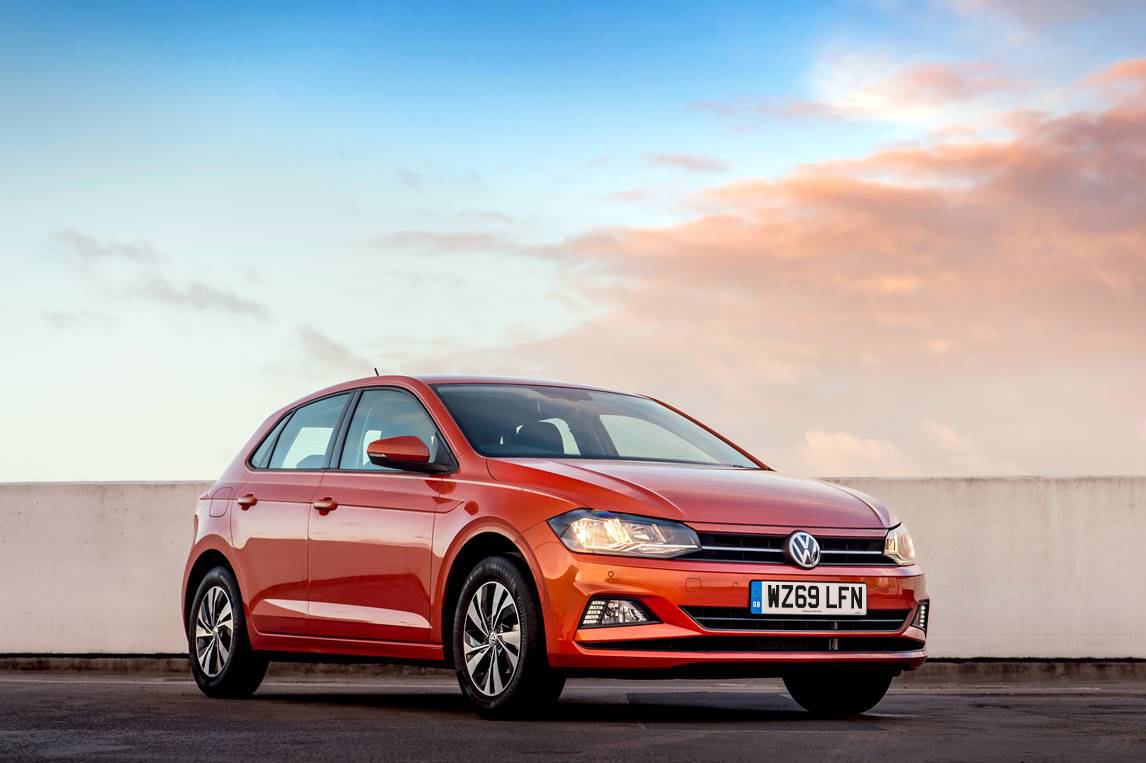 Best for: A sensible choice
Built between: 2018-
Price from: £10,500
The VW Polo is another of Volkswagen's hatchbacks, like the Golf, that has a long and distinguished history. Originally launched in 1975 and now in its sixth generation, the car has consistently been, well, consistent over the last 45 years, making it a much-loved all-rounder. Owners love its small-car sophistication, its strong build quality and the sense that this is somehow a 'grown-up' supermini.
The current generation has taken a significant step up in a number of departments. For example, the onboard technology has been increased, with a new infotainment system controlled via an eight-inch touchscreen display – which is standard fit in every trim level – that is easy to use.
The driving dynamics have also been tightened up but handling is still traded off in the pursuit of ride quality: the Polo has sharp steering but it doesn't feel as adept as its close cousin, the Seat Ibiza, with which it shares its platform. On the other hand, the Polo is very comfortable and refined, especially on the motorway.
Read our expert review of the Volkswagen Polo
Search for a Volkswagen Polo on CarGurus
MINI Cooper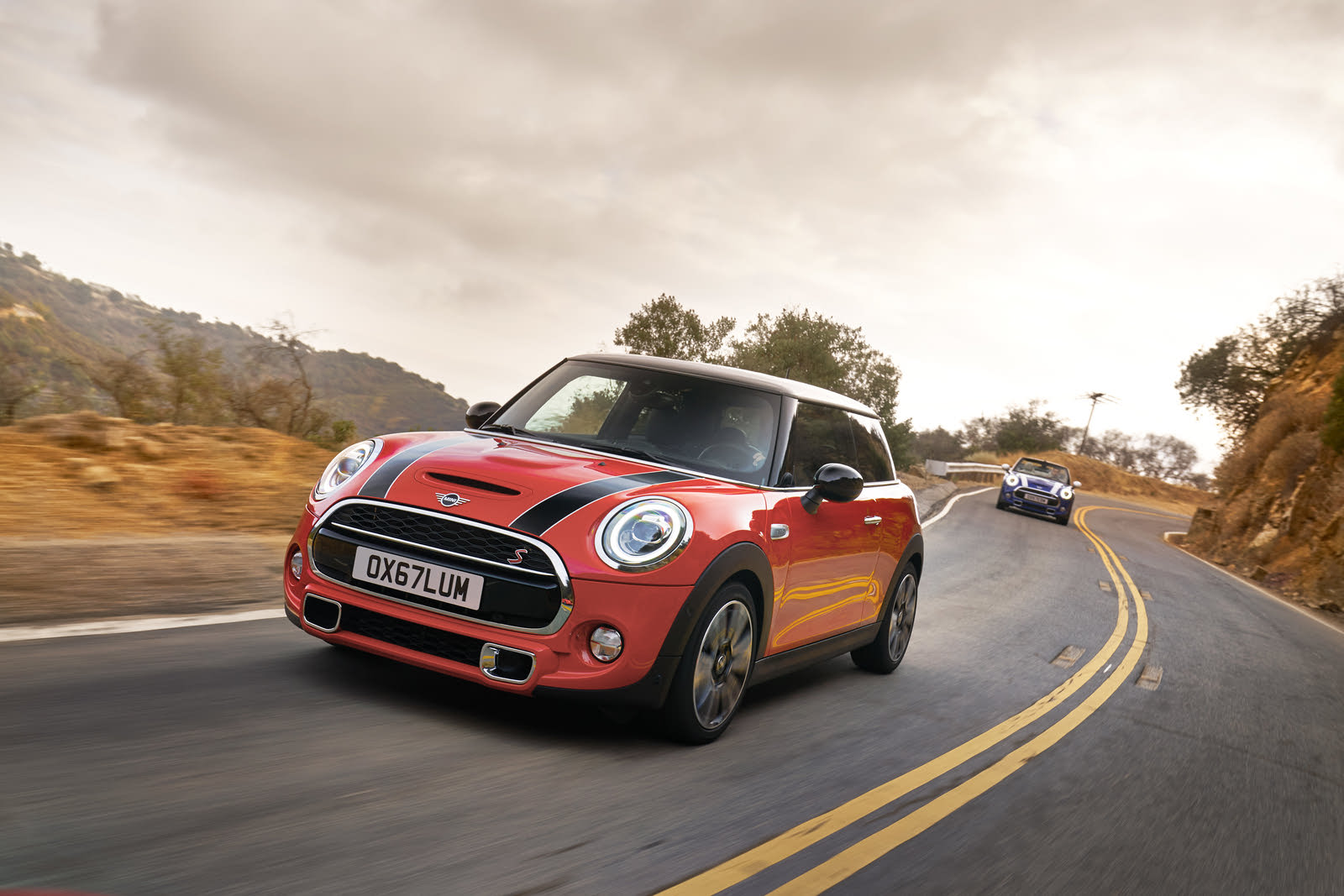 Best for: Cool cruising
Built between: 2013-
Price from: £8,300
Re-emerging in 2001 from the ashes of BMW's takeover of Rover, the new MINI received a similar kind of reaction to the 1960s original: it was the hippest car around, the one that everyone wanted to be seen in.
Almost 20 years later, the strength of feeling for the current generation of the MINI is largely undimmed. The same iconic shape, albeit on a larger scale (there are three-door and five-door versions now), and the seemingly endless personalisation possibilities with paint colour combinations and decals, has ensured that the MINI remains beloved and hugely popular.
The latest version has all the technology that you'd expect from a parent company such as BMW, but at the same time it retains the quirky, retro details in the cabin, such as the central circular display for the infotainment system (which has Apple and Android smartphone connectivity).
But perhaps the main reason why drivers love the MINI is the way it drives. The company talks about the 'go-kart feel' of the MINI's handling and, for once, that isn't just marketing hype: the MINI does feel incredibly nimble and responsive on the road, making it a very engaging car to drive. And with a selection of turbo petrol engines providing the power, there's even more to love.
Read our expert review of the MINI
Search for a MINI on CarGurus
Audi A1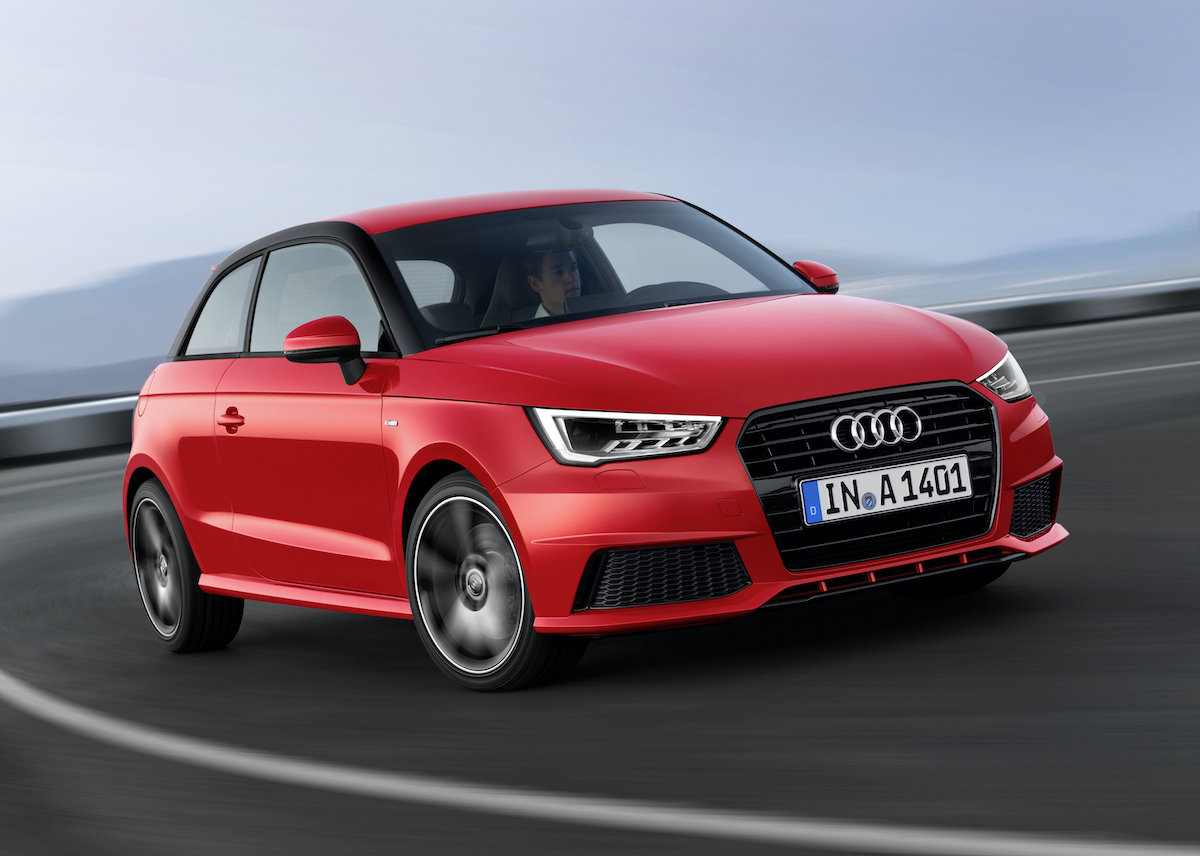 Best for: That premium feeling
Built between: 2019-
Price from: £18,000
When the original Audi A1 appeared on the scene in 2010, its quality made everyone sit up and take notice. If we were going to have the level of fit and finish associated with the Audi brand in the supermini segment of the car market, everyone else was going to have to up their game to compete.
But it's the A1's quality that sets it apart, and while standards have improved across the board, they've been incremental and no other brand has really tried to match the A1 and compete with it on equal terms.
Then again, you could argue that the A1 is priced above most other superminis, effectively putting it in a class of one, but there's no arguing with the attention to detail found in the A1. There are soft-touch materials on the upper surfaces, solid-feeling switchgear and a high-tech dashboard, complete with digital driver display and 8.8-inch touchscreen (as standard, with a 10.1-inch upgrade possible). There's a decent amount of space, too, with back seats big enough for adults, and the exterior design is also very handsome.
Read our expert review of the Audi A1
Search for an Audi A1 on CarGurus
Suzuki Swift Sport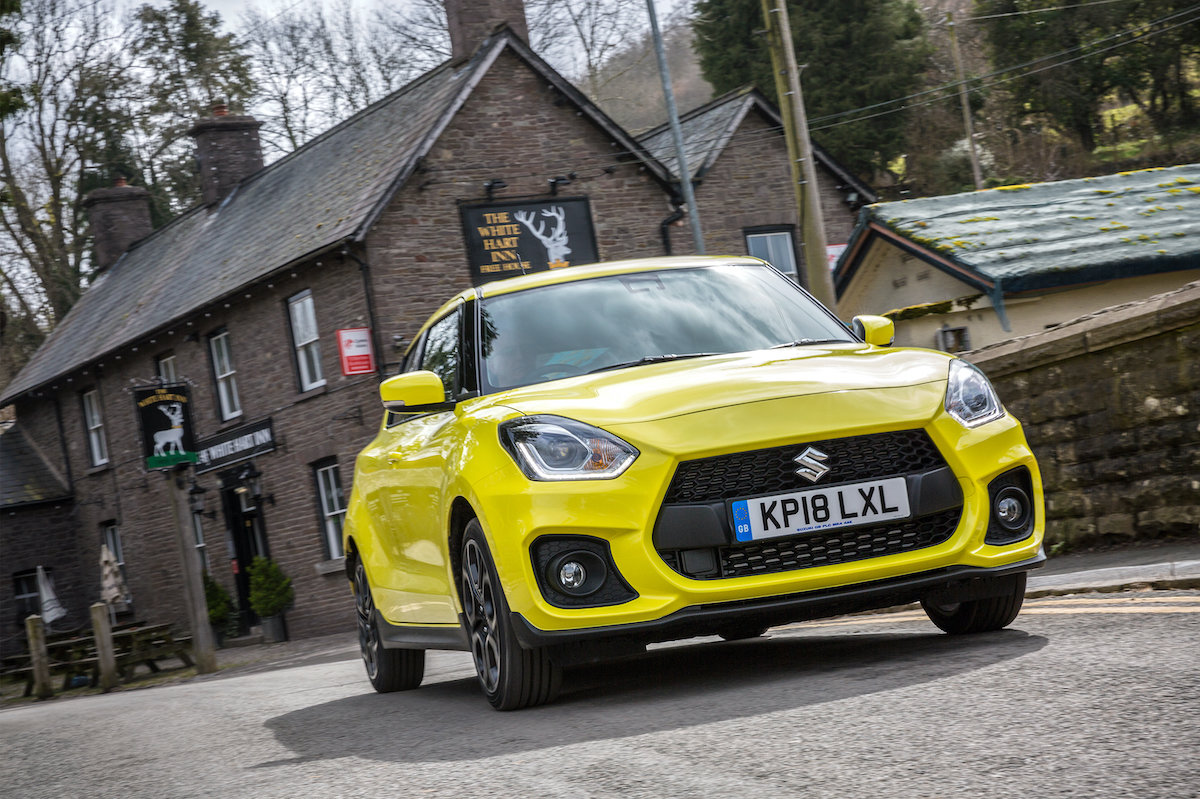 Best for: Affordable fun
Built between: 2018-
Price from: £15,500
Suzuki is an oft-overlooked car brand in the UK. It has its fans and there are many serial customers with a long history of Suzuki ownership, but for most, the Japanese brand largely goes unnoticed. That's a shame, especially in the case of the Suzuki Swift supermini. The car itself is very good: sure, it's built to a budget, which will limit its appeal among many buyers, but it's well built and many variants have all the equipment you need.
The real USP of the Swift, though, is its lightness and agility, which is best experienced in the range-topping Sport model. The Swift Sport is incredibly good fun to drive, and while not perhaps up to the standard of the Fiesta or Ibiza, it's certainly not far off. It feels very nimble, nippy and easy to drive, with an obligingly comfortable ride quality to match. The Swift Sport might not be the first hot hatch you think about, but once driven, it won't be forgotten. Young drivers beware, though, because for some reason, the Swift Sport is very expensive to insure compared with most rivals.
Read our expert review of the Suzuki Swift
Search for a Suzuki Swift on CarGurus
Toyota GR Yaris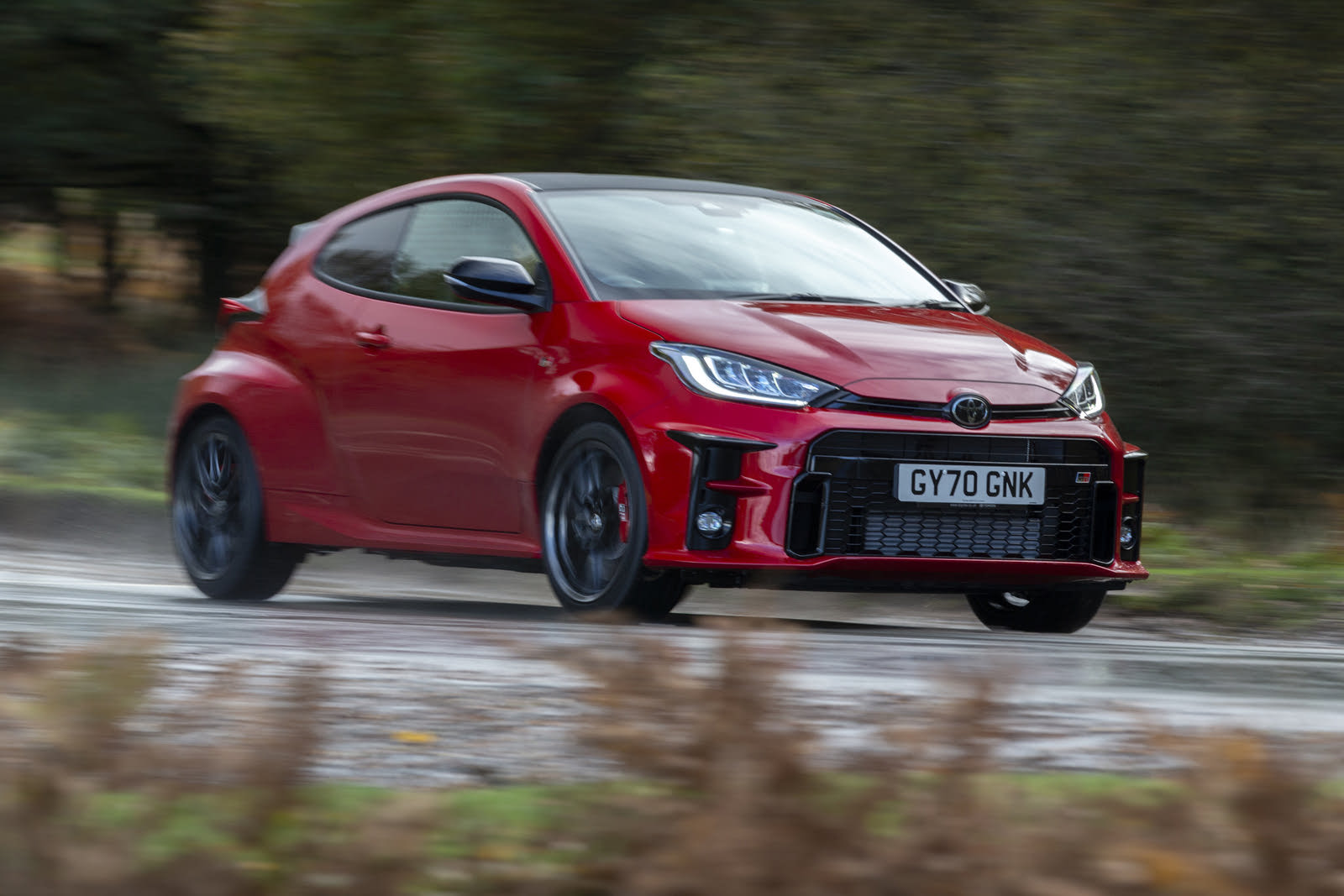 Best for: Out-and-out fun
Built between: 2020-
Price from: £30,000
There's a new kid on the supermini block that is demanding attention thanks to its eye-watering cost and even more outrageous levels of power: the Toyota GR Yaris.
It's hard to know quite where to start with a car like this, but let's first establish that, to all intents and purposes, it isn't a Toyota Yaris. Yes, the name suggests that it is, but the reality is that this specialist race car-related hot hatchback only shares lights, door mirrors and a roof aerial with the standard car.
The GR (for Gazoo Racing) Yaris has been developed from the ground up with the knowledge gleaned from motorsport competition. So there's a four-wheel-drive system, reminiscent of '80s Group B rally cars, and a 1.6-litre, three-cylinder petrol engine that produces 257bhp, which - Toyota claims - makes it the most powerful production engine of its type.
All the expectation that these facts create is met by the car when you take it on the road, too. It delivers some of the most exhilarating driving you're likely to experience.
Read our expert review of the Toyota Yaris
Search for a Toyota Yaris on CarGurus