For a long time now, picking the best electric cars in any given year has been not much different to picking the only electric cars; the selection's been that limited. Not so for 2021. While 2020 is the year that EVs have truly gone mainstream, 2021 is the year when buyers wanting a battery vehicle start to have real choice thanks to an influx of new models. From city cars to family SUVs and luxury GTs, from next year the pure electric car is starting to become an option whether you're shopping for the functional, the fun or the fashionable. To help you make sense of the explosion of new plug-in cars, here's our pick of the best EVs arriving in 2021...
1. BMW i4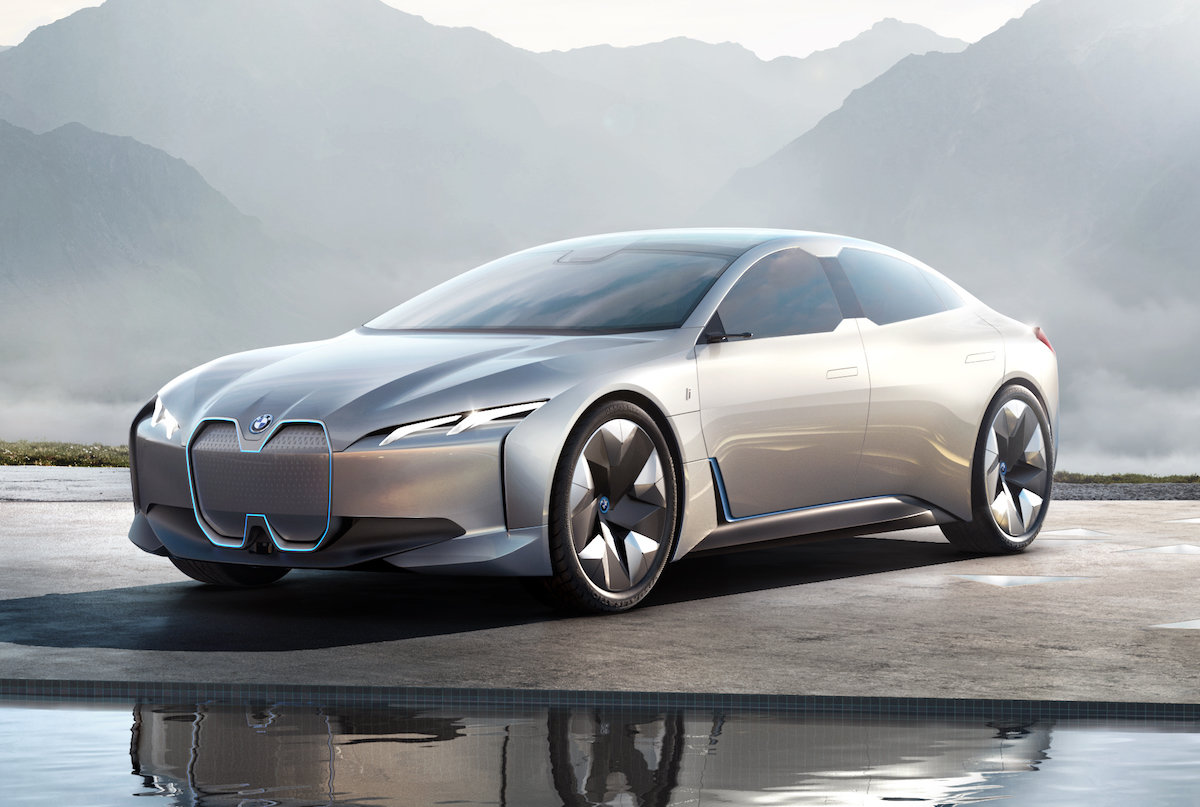 Price*: £40,000 - £55,000 (est)
Range: 373 miles
Performance: 4.0sec, 523bhp, 4WD
On sale: Autumn 2021
The BMW i4 is the German brand's answer to the Tesla Model 3 and Polestar 2; a pure electric saloon that will look very similar to the company's new BMW 4 Series. Shown here in concept form, the i4 is set to get 80kWh battery that feeds 523bhp electric motors, with BMW claiming an impressive official range of 373 miles. While there's no confirmation of any other models, we'd expect some lower-powered, more affordable models to join the range. Pricing is yet to be confirmed, but with the i4 targeted very closely at the Tesla Model 3, expect a similar price range of between £40,000 and £55,000. There are no details on charging speeds, yet, but expect the BMW to offer a rapid charge rate of at least 150kW in order to keep up with rival cars from Audi and beyond.
2. Tesla Model Y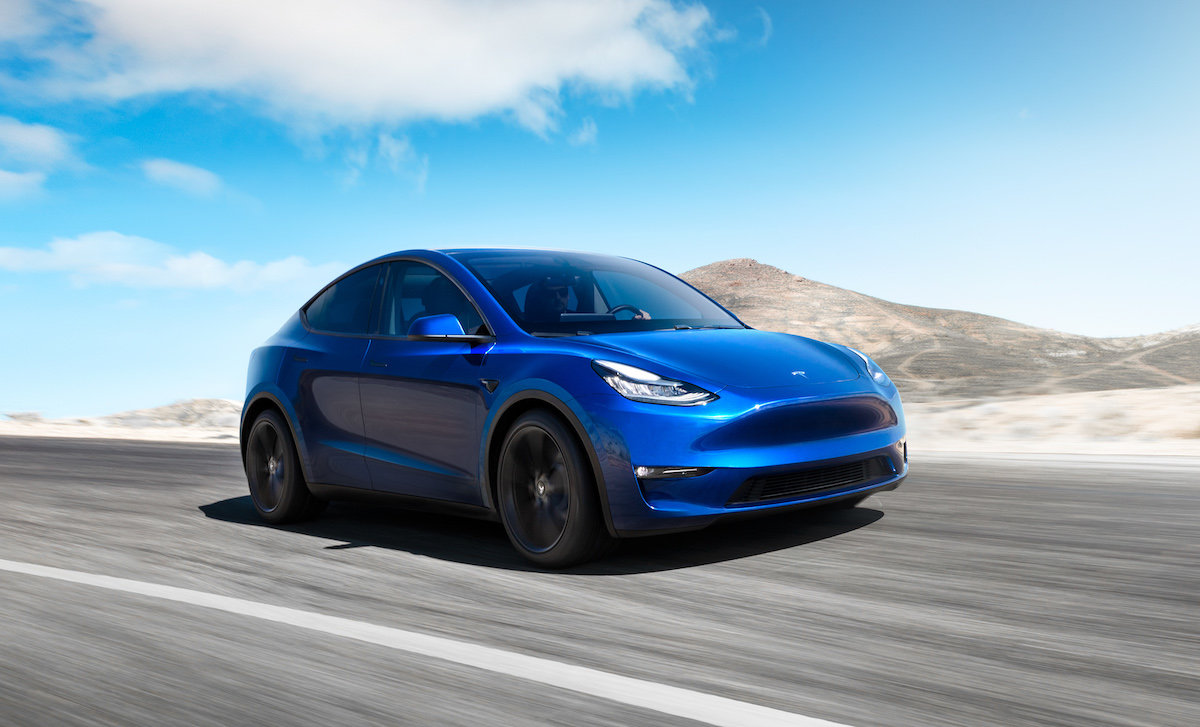 Price*: £45,000 - £60,000 (est)
Range: 280 - 314 miles (est)
Performance: 3.5sec, TBC, RWD or 4WD
On sale: Summer 2021
The Tesla Model Y is a mid-sized SUV that's based on an extended Model 3 platform. It comes in at roughly the same size as a BMW X3, making it a rival for similarly sized EV SUVs such as the Mercedes-Benz EQC and Jaguar I-Pace, but the Tesla will seat up to seven people thanks to an optional third row of seats. It'll be offered in Standard, Long Range and Performance variants. UK specs haven't been confirmed yet, but expect the cheapest model to be rear-wheel drive, with four-wheel drive on the others. The Performance model is sure to live up to its name, too, with a claimed 0-62mph time of 3.5sec; expect the others to offer a sprint time of closer to 5.0sec. Tesla's website states an estimated 314 miles of range (according to WLTP standards), but expect the Performance and Standard models to offer a driving range of more like 280 miles on a single charge. An ultra-rapid charging rate of 250kW will also mean that you could have an 80% battery top-up in under 15 minutes. The Tesla Cybertruck might be the vehicle Elon Musk is using to grab all the headlines, but this car is far more important, because this is the one customers in the UK will actually buy.
3. Ford Mustang Mach-E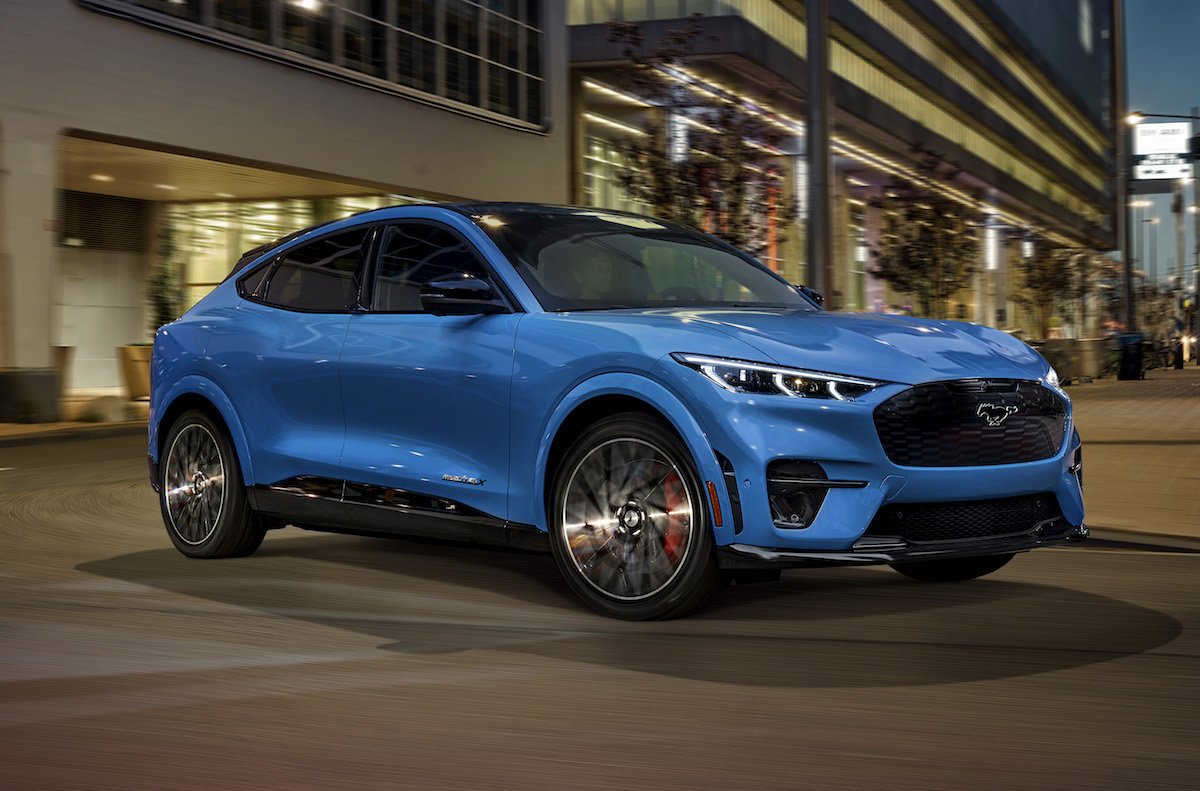 Price*: £40,350 - £57,030
Range: 260 - 370 miles
Performance: 3.7 - 8.0sec, 254bhp - 459bhp, RWD or 4WD
On sale: Spring 2021
It's controversial, putting the much-beloved Mustang name on an electric SUV, that's for sure. But this is a brave new world where the wild horse logo is more brand than model name, and this mid-sized, five-seat SUV is the start of this new era for Ford. It's a good start, too, complete with storming performance and an all-new cabin design that features a 15.5-inch touchscreen, complete with smart voice control, internet connectivity and phone integration. There are two battery options in the Mach-E; 76kWh or 99kWh, and you can have rear- or four-wheel-drive powertrains on either. The rear-wheel drive 99kWh Extended Range model offers the longest range in the line-up, at 370 miles. A performance-oriented GT model will arrive in summer 2021, and offer a big jump in performance from the circa 7.0-sec sprint in the normal models, to a Tesla-rivalling 3.7sec.
4. Skoda Enyaq iV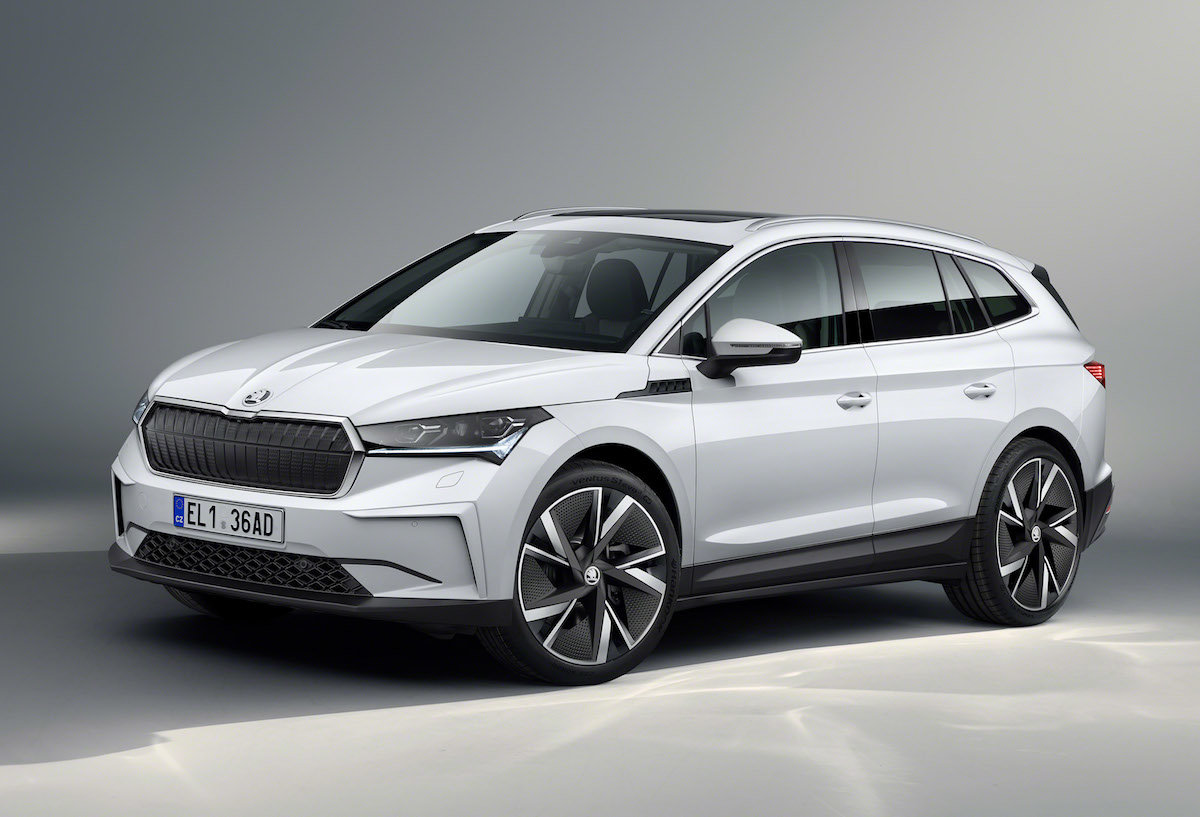 Price*: £30,450 - £35,995
Range: 242 - 316 miles
Performance: 8.7 – 8.9sec, 176 - 200bhp, RWD
On sale: Spring 2021
The Enyaq is the latest car to sit on VW's new MEB platform, which also underpins the Volkswagen ID.3. This gets a scaled-up version of the platform, in order to make it comparable in size and roominess to a Kodiaq, but the Enyaq won't be offered as a seven-seater as the Kodiaq is. Battery options are 62kWh or 82kWh, badged 60 or 80 respectively, and offering a range of 242- or 316 miles. Confusingly, both will be rear-wheel drive despite the SUV looks and attitude of the Enyaq, but they are well equipped and decent value, as you'd expect from the Czech brand. The Enyaq 80 is likely to be the most popular given its range, generous equipment and a price of just under £36,000 after the government's £3000 grant, although you'll want to add the optional rapid charging of 125kWh to make long journeys easier in the Enyaq. At the price, this certainly looks like it could shake up the electric family SUV class. A sporty vRS model with four-wheel drive will arrive after the Enyaq's launch in early 2021.
5. Fiat New 500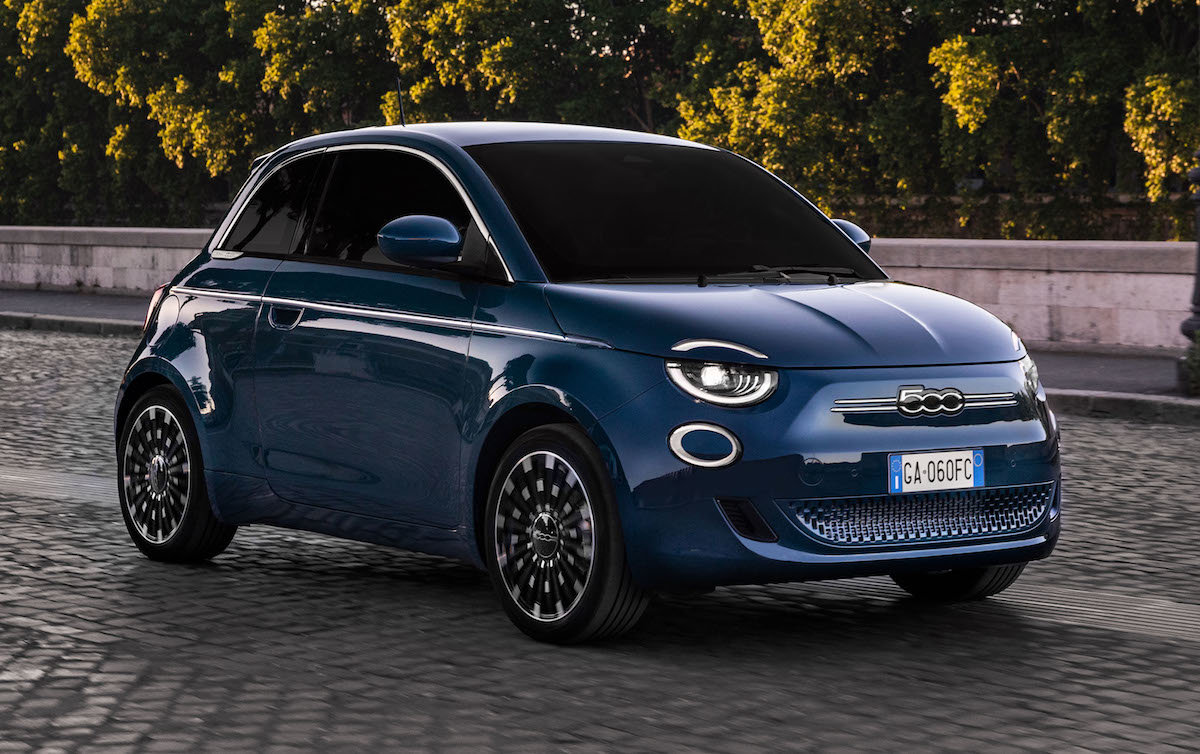 Price*: £19,995 - £29,995
Range: 115 - 199 miles
Performance: 9.5 – 9.0sec, 94 - 117bhp, FWD
On sale: Dec 2020
Technically, the New 500 goes on sale very late this year, but we've included it in our 2021 roundup since cars won't reach dealers until then. And because it looks brilliant, does up to 199 miles to a charge and will cost from only £20,000. Mind you, that entry price is for the lower powered 'Action' model, which will cover 115 miles from a 23.8kWh battery. You have to go for the Passion trim to get the bigger 42kWh battery pack, with its 199 mile WLTP range, but from £23,495 that still seems good value next to alternative stylish electric city cars like the Honda e and Mini Electric, which both cost more despite their shorter ranges. Ultimately, the New 500 is a great design evolution from its fantastically popular predecessor, and sticks to similar values of style and affordability, only with vastly better interior finish, driver comfort and infotainment.
6. Mercedes EQS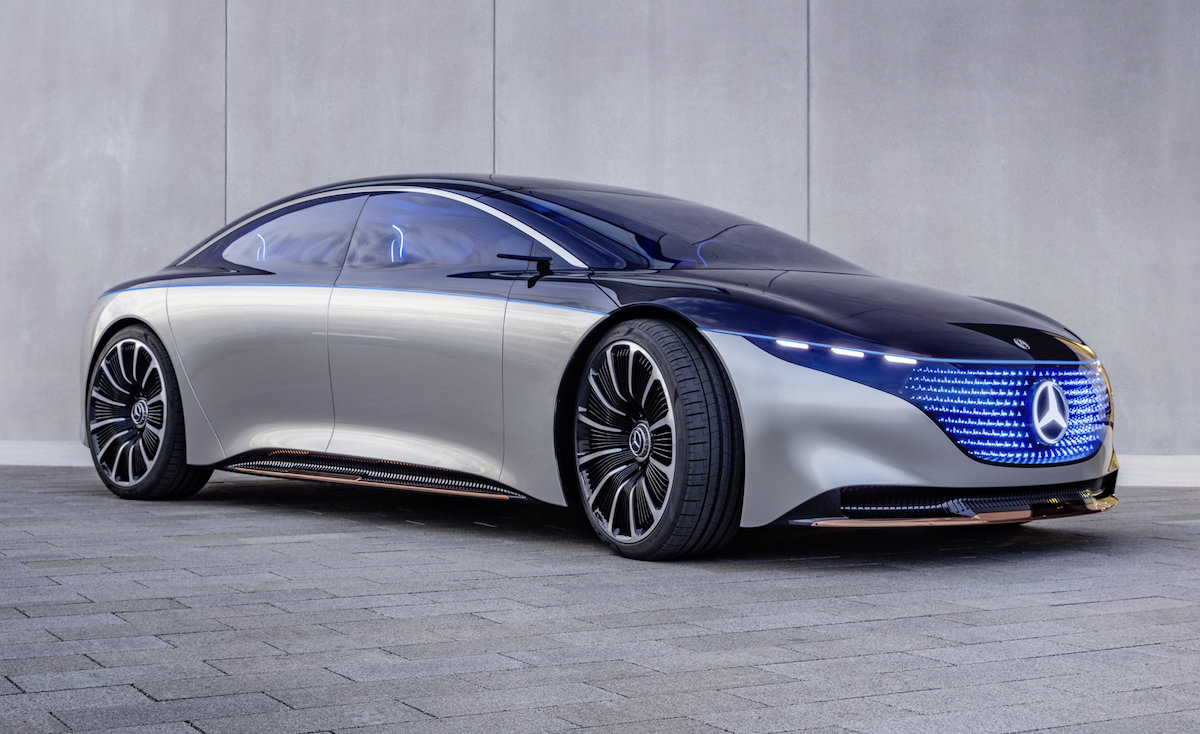 Price: £90,000
Range: 435 miles
Performance: 4.2sec, 469bhp, 4WD
On sale: Winter 2021
The EQS is to be Mercedes' flagship electric vehicle: a full-sized, pure electric limousine that will look distinctly different to the conventional S-Class that will be sold alongside it. As the Vision EQS concept car indicates, the production version will have a shorter bonnet and more smoothed-out look, as well as an optional black panel grille. It's also said to offer more space inside than the S-Class, yet it'll be sportier to drive courtesy of dual electric motors that produce 469bhp to send to all four wheels. A 100kWh battery achieves a 435 mile WLTP range, and could support 350kW ultra-rapid charging, which could mean an 80% battery top-up in around 20 minutes despite this being one of the largest batteries on sale. An AMG model with over 600bhp is also rumoured to be in the works, promising performance to rival that of most supercars, but it won't arrive until 2022.
7. Cupra el-Born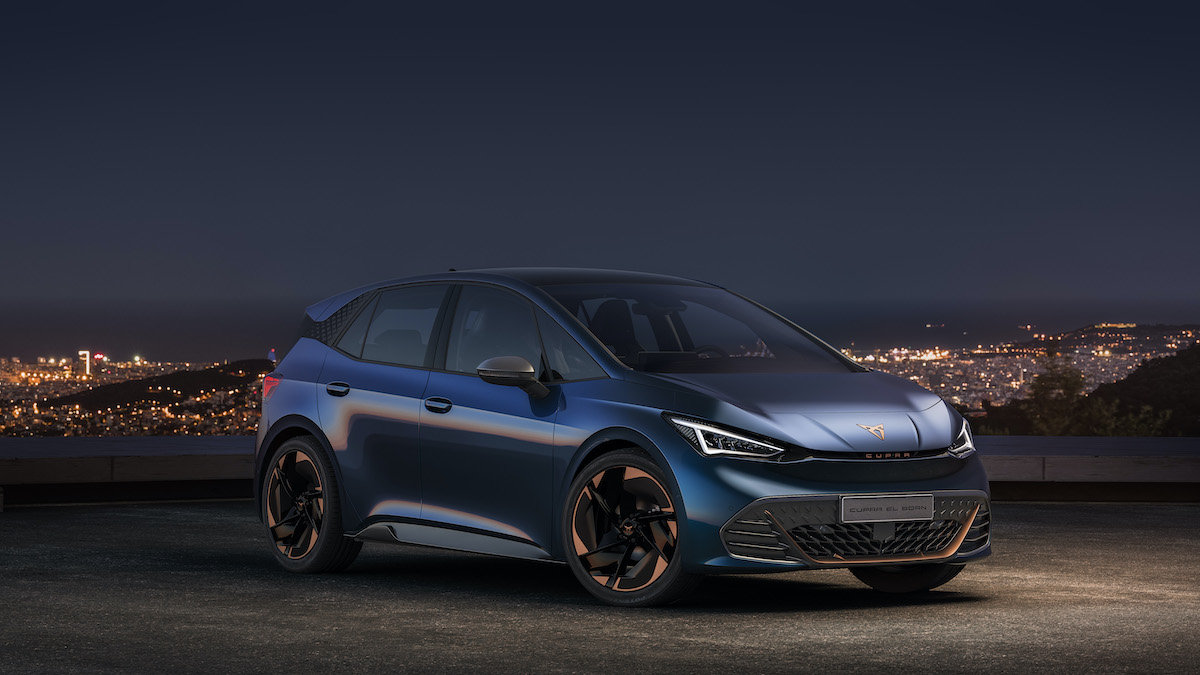 Price*: £38,000 (est)
Range: 310 miles
Performance (est): 6.0sec, 250bhp, 4WD
On sale: Spring 2021
A Cupra isn't just a fast Seat any more, it's a brand in its own right, and the el-Born will be its first pure electric model. Based on the VW ID.3 (and also much the same size) the el-Born is a five-door hatchback that promises to be a sportier, hot hatch take on the Volkswagen. The company has confirmed that it gets an official range of 310 miles courtesy of an 82kWh battery, which is a larger pack than any on offer in the VW. While Cupra hasn't confirmed any tech specs other than a 0-31mph time of 2.9sec, we'd expect the range-topping el-Born to get four-wheel drive and a 0-62mph sprint in around 6.0sec, making it a plug-in alternative to cars like the Golf GTI. We'd also be surprised if a cheaper, rear-wheel drive model with a smaller battery didn't join the range.
8. Renault Megane eVision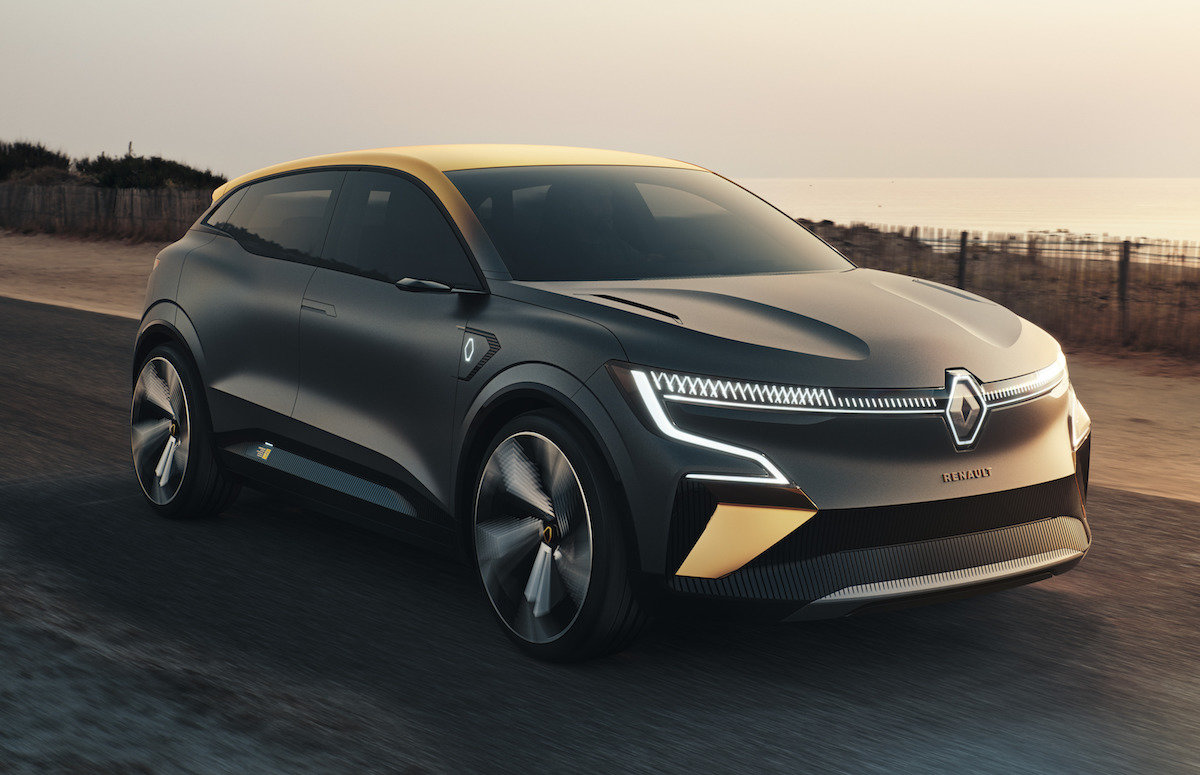 Price*: £30,000 (est)
Range: 280 miles (est)
Performance: 8.0sec, 214bhp, FWD
On sale: Summer 2021
If a more conventional family hatchback is more your thing than the swoopy, deliberately futuristic-looking VW ID.3 and Seat el-Born, the new Renault Megane could be worth waiting for. The eVision concept shows a slick, evolutionary design, and a 280-mile range from a 60kWh battery also promises to make this a convincing alternative to rivals like the Kia e-Niro. Rapid charging of up to 130kW would also exceed the charging rates of most alternatives, so if Renault can keep the price down – as it has done with its popular Zoe hatchback – this could be a great family car.
9. Nissan Ariya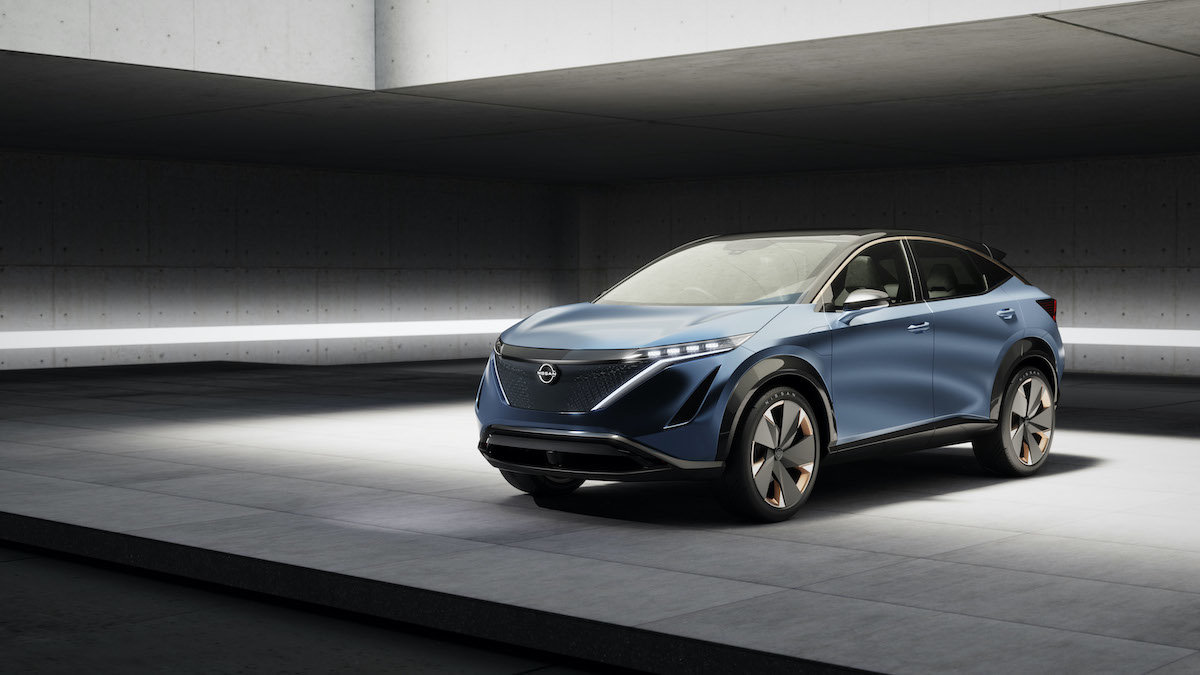 Price*: £38,000 - £55,000 (est)
Range: 223 - 310 miles
Performance: 5.1 – 7.6sec, 217 - 394bhp, FWD or 4WD
On sale: Spring 2021
The Nissan Ariya is another rival to the Tesla Model Y and Ford Mustang Mach-E. Nissan has a lot of experience in EVs courtesy of its decade-and-more of selling the Nissan Leaf, but the Japanese maker's take on the spacious, mid-sized family SUV-crossover looks slicker and more grown up than its popular family hatchback. The Ariya showcases a new design language for Nissan, with the tapering windowline, contrasting roof and super-slim headlights all likely to appear on other future Nissan production cars. The Qashqai-sized Ariya doesn't have the option of a seven-seat layout, but you do get to choose between a 63kWh or 87kWh, and front- or four-wheel drive. There will also be a performance model with 394bhp and a 5.1sec 0-62mph time, but it won't be in showrooms until later in 2021, after the launch of the standard models.
10. Audi e-tron GT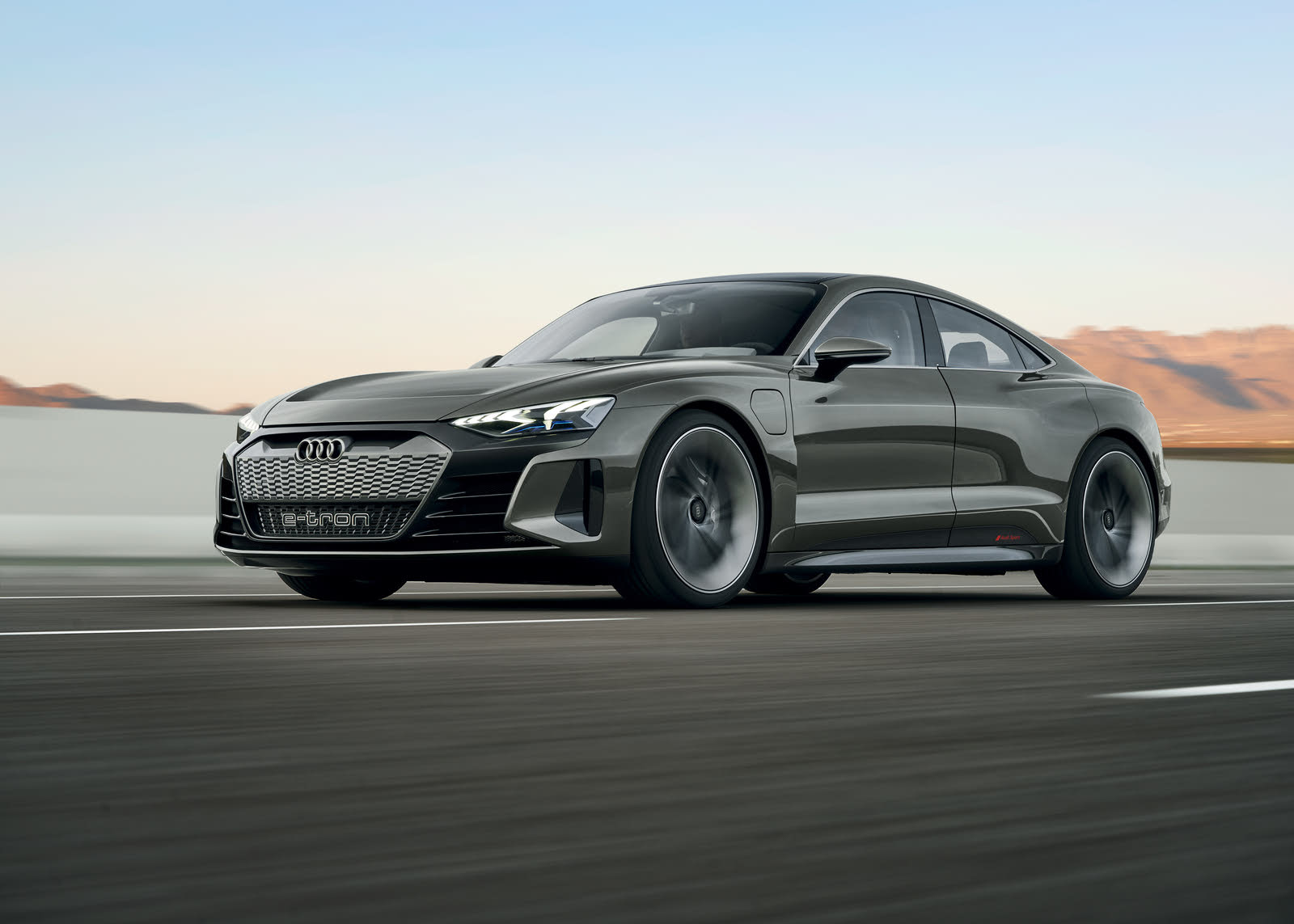 Price: £85,000 - £120,000 (est)
Range: 248 miles (est)
Performance: 2.9 – 4.0sec, 582 - 700bhp, 4WD
On sale: Winter 2021
This is Audi's take on the excellent Porsche Taycan. Based on the same platform, Audi's luxury four-door zero-emission sports car will get a 90kWh battery for an estimated range of around 250- to 280 miles depending on the spec of the car. It will also debut new wireless charging technology that will deliver a charge of up to 11kW when you park over the charging pad, although most homes in the UK will be limited to 7kW charging speeds (whether the charging station is wireless or not) due to the single-phase electrical system in most domestic residences. Audi also says that the all-wheel drive GT will deliver an 80% charge in 20 minutes, which means that it'll match the Porsche's 270kW ultra-rapid charging rate. An RS model will also follow in 2022, offering a sub-3.0sec 0-62mph time.
*Including government £3000 plug-in car grant
Search for a used electric car for sale near you
Related Topics:
Should I Buy a Petrol, Diesel, Hybrid or Electric Car?
Buying a Used Plug in Hybrid Car
Hydrogen Fuel Cell Cars Explained