Think 'electric car', and 'Tesla' is probably your next thought. While Tesla might be many decades younger than rival manufacturers like Ford, Volkswagen and Toyota, it's still far from a new company; it's been in existence since 2003 and making electric models since 2005.
More than that, the Tesla Model 3 has been the best-selling luxury new car in North America since 2018, and is by far the biggest selling electric vehicle in the UK. Young it may be, but there's nothing rookie or 'start-up' about the California brand, which has been leading and shaping the transition to zero-emission electric vehicles for many years already.
Here, we'll cover all the basics that you need to know about Tesla, from its Supercharger network to the cars themselves.
Tesla Supercharger Network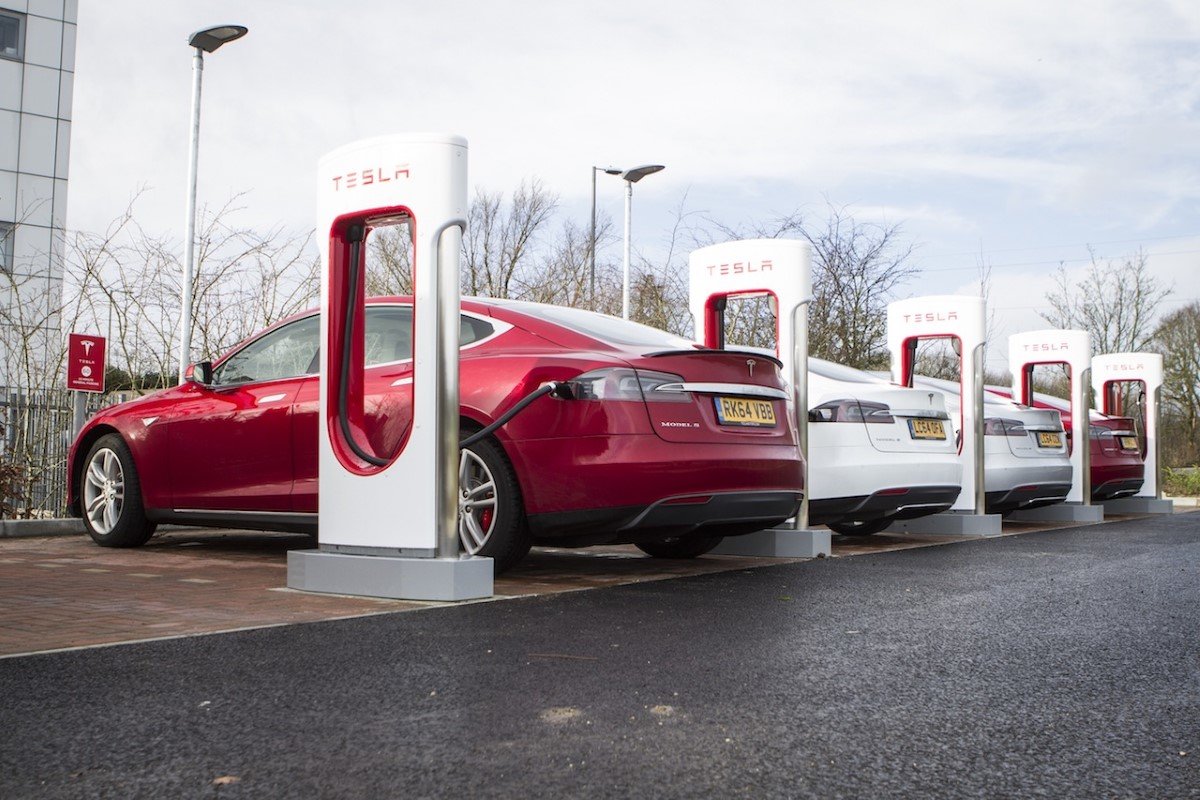 One of the key factors in Tesla's success is its Supercharger public rapid charging network. Tesla Superchargers are exclusively for Tesla cars; no other make of electric car is compatible with them.
Tesla established the Supercharger network across America and Europe very early, but it's being continuously expanded and updated. There are more than 80 Tesla Supercharger charging hubs, often with between six and 12 stations at each.
Every Tesla Supercharger is an ultra-rapid charger of at least 100kW, with many of the most recent third-generation V3 Superchargers offering up to 250kW. That means that even the slowest Tesla Supercharger will deliver 100 miles of range in around 20 to 30 minutes. The fastest will do it in 10 minutes or less, but you'll need either the Tesla Model 3 or the 2021-onwards Tesla Model S to get those sorts of charging speeds. The network isn't just fast, it's also reliable and easy to use.
Tesla Model 3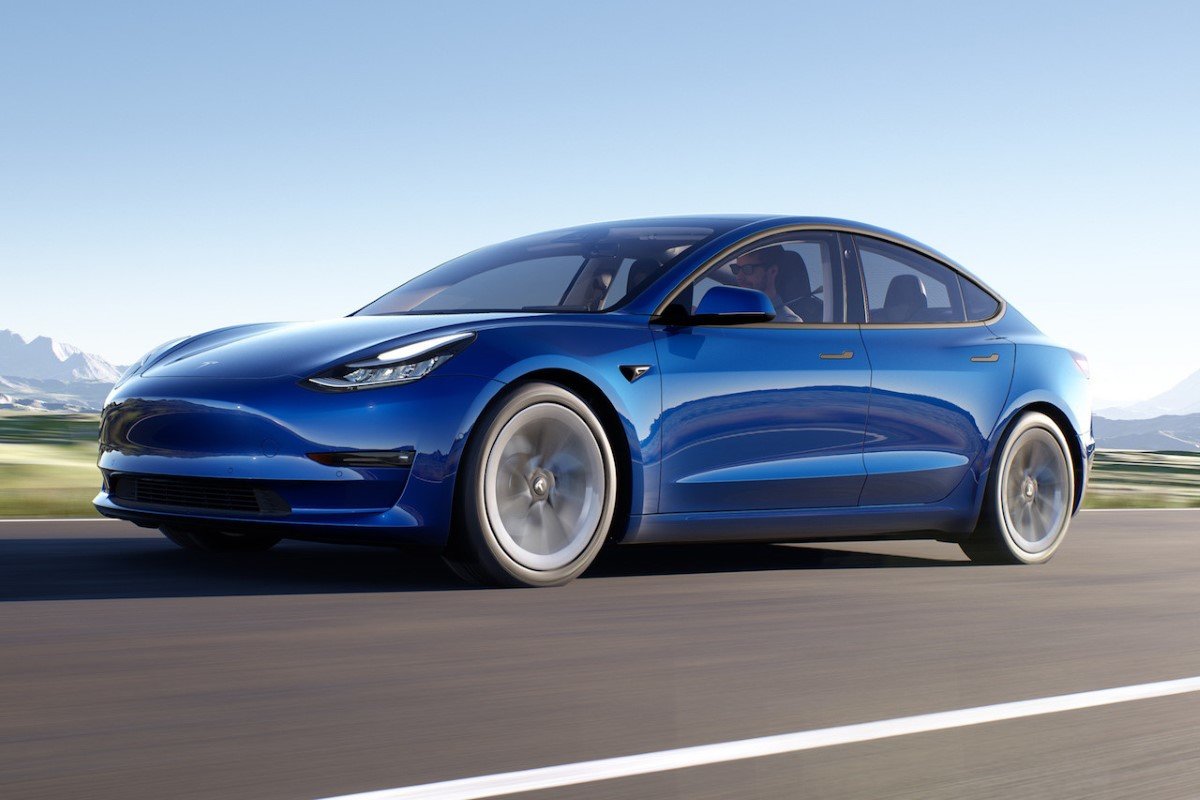 The smallest and most affordable car in the range, the Tesla Model 3 is comparable to a BMW 3 Series in size. It can seat five passengers and has a hatchback boot opening, as well as a storage cubby under the bonnet.
Available in Standard Range Plus, Long Range or Performance guise, driving range varies between 278 and 360 miles on a single charge. Our favourite is the Tesla Model 3 Long Range, since it gets all-wheel drive (AWD) thanks to its two electric motors, as well as the bigger of two battery packs on offer, yet it's still great value at well under £50,000 for an excellent premium EV.
The Model 3 also gets standard Type 2 and CCS sockets, which means that it can easily plug in to third-party public chargers that use these European standard connections. It can charge at up to 250kW, for a 10-80% battery top-up in around 20 minutes. A 7.4kW home wallbox charger will deliver a full battery in under 13 hours, or less than seven hours for the Standard Range Plus.
Even that Standard Range Plus model, which gets rear-wheel drive and substantially less power than the other Model 3 variants, does 0-60mph in 5.3sec, so performance is absolutely no issue in any Model 3. If you do want to make your passengers feel sick, the Tesla Model 3 Performance model is hilariously quick, with a 0-60mph time of 3.1 seconds.
Tesla Model S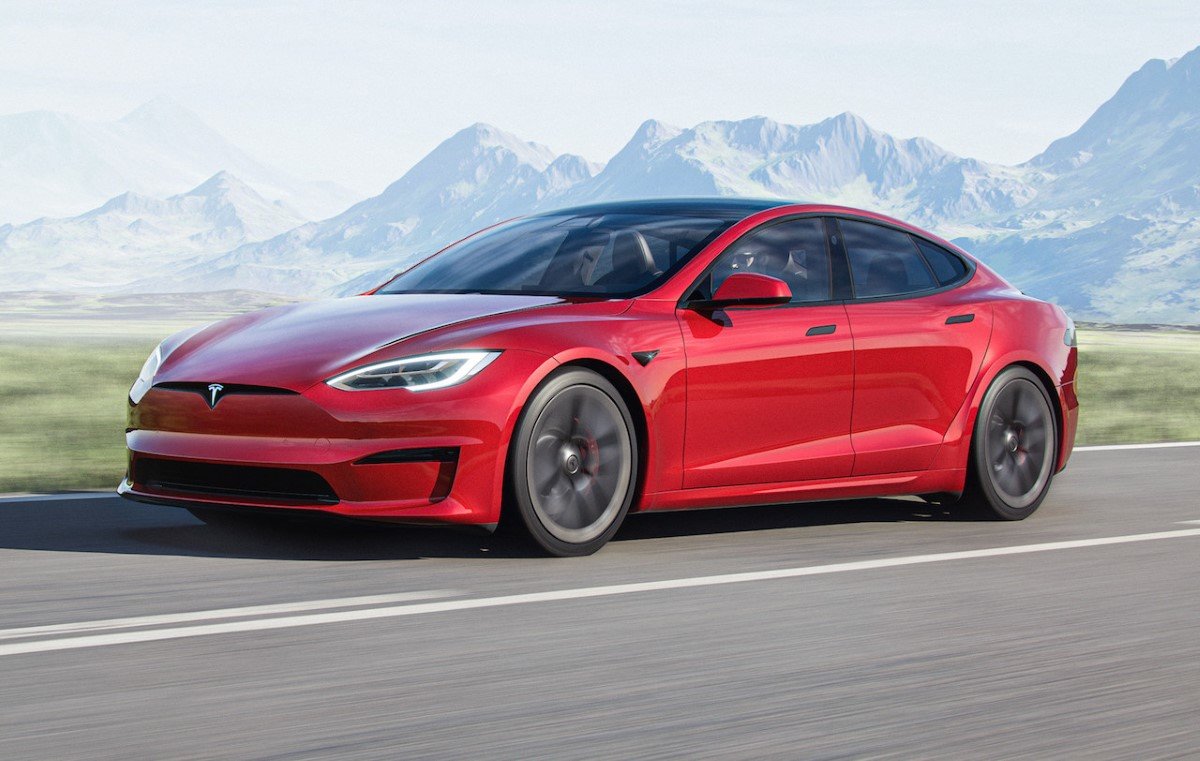 The Tesla Model S is a large executive car that competes with the likes of the Mercedes-Benz E-Class, as well as full-sized limo rivals like the Mercedes S-Class. It was the car that really solidified Tesla's grasp on the electric car market, proving that it could offer an EV that was comparable to – or even surpassed – equivalent petrol and diesel rivals in terms of performance, comfort, practicality and costs.
It seats five, although when it went on sale in 2013, it was offered with two extra rear-facing 'jump seats' in the boot. They would only suit small children, however. Everyone else has loads of room to lounge about, since the Model S has masses of legroom and headroom. In normal, five-seat spec, it's also got a big hatchback boot, as well as storage space under the bonnet.
As of the 2021 facelift, the Model S has a driving range of between 390 and 520 miles on a full charge, courtesy of a 100kWh battery pack. The longest of those range estimates belongs to the bonkers Tesla Model S Plaid, which has more than 1,000bhp and will do 200mph. Older versions of the Model S were offered with a variety of smaller batteries, and some also came with rear-wheel drive. Four-wheel drive was introduced from 2014, and as of 2017 every Model S has had the 'Dual Drive' all-wheel-drive powertrain.
The 2021 Tesla Model S gets a CCS charging port and ultra-rapid charging of 250kW as standard. Earlier cars lacked a CCS charging port, but a converter that lets you charge at the CCS rapid chargers is available separately. You'll need one to use third-party rapid chargers, although many Tesla owners never need to stray from the Tesla Supercharger network.
Tesla Model X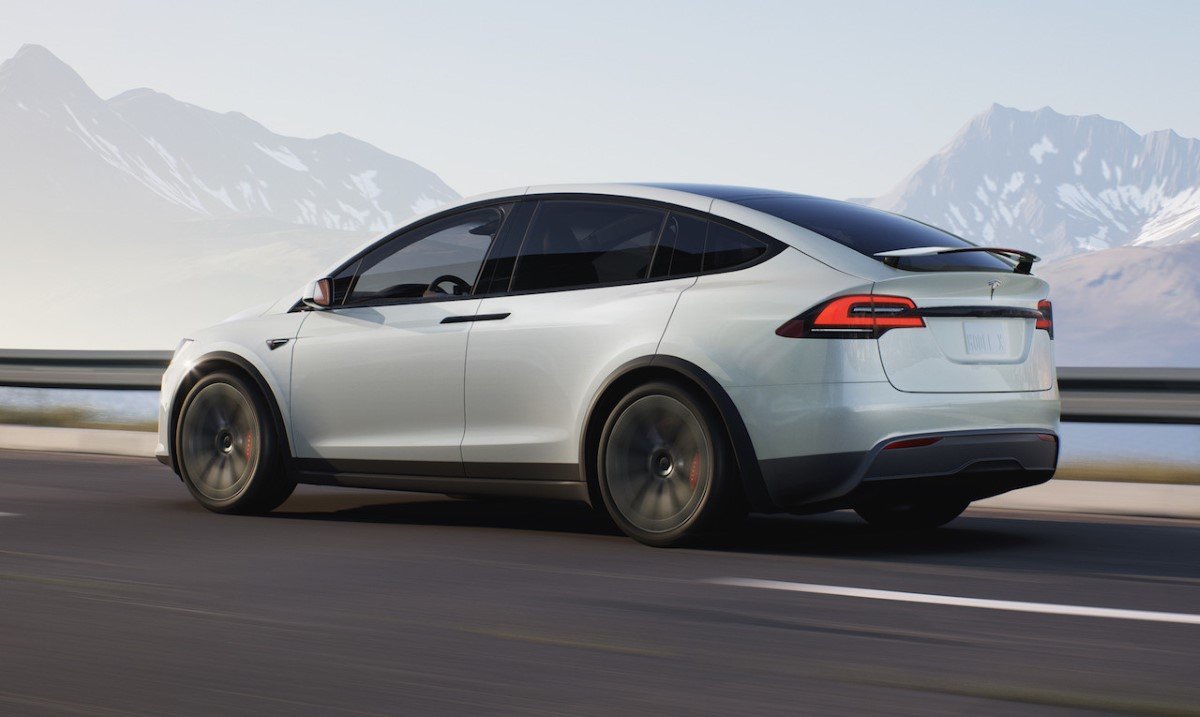 The Model X is the biggest Tesla passenger car you can buy. This huge electric SUV is offered in either five-seat or seven-seat layouts, and there's even an 'executive' six-seat layout.
Its party trick isn't just the vast amount of passenger and luggage space it offers, but also the vertically raising, 'falcon wing' rear doors, which are guaranteed to entertain the kids forever more. As with every Tesla, the Model X gets a huge touchscreen system that has automatic over-the-air software updates. This means that all of the car's systems and infotainment features can gain new functionality via the internet, letting you keep up with tech trends without ever having to visit a dealer.
The Model X has a range of between 340 and 360 miles and a 0-60mph time of under 4.0sec, even in the standard Long Range version. A smaller, 90kWh battery version was previously available, but today's Model X is only offered with the 100kWh battery. As with the Model S, older models will also require a CCS converter in order to be able to charge at third-party rapid chargers, and at the super-rapid V3 Tesla Superchargers.
Tesla Model Y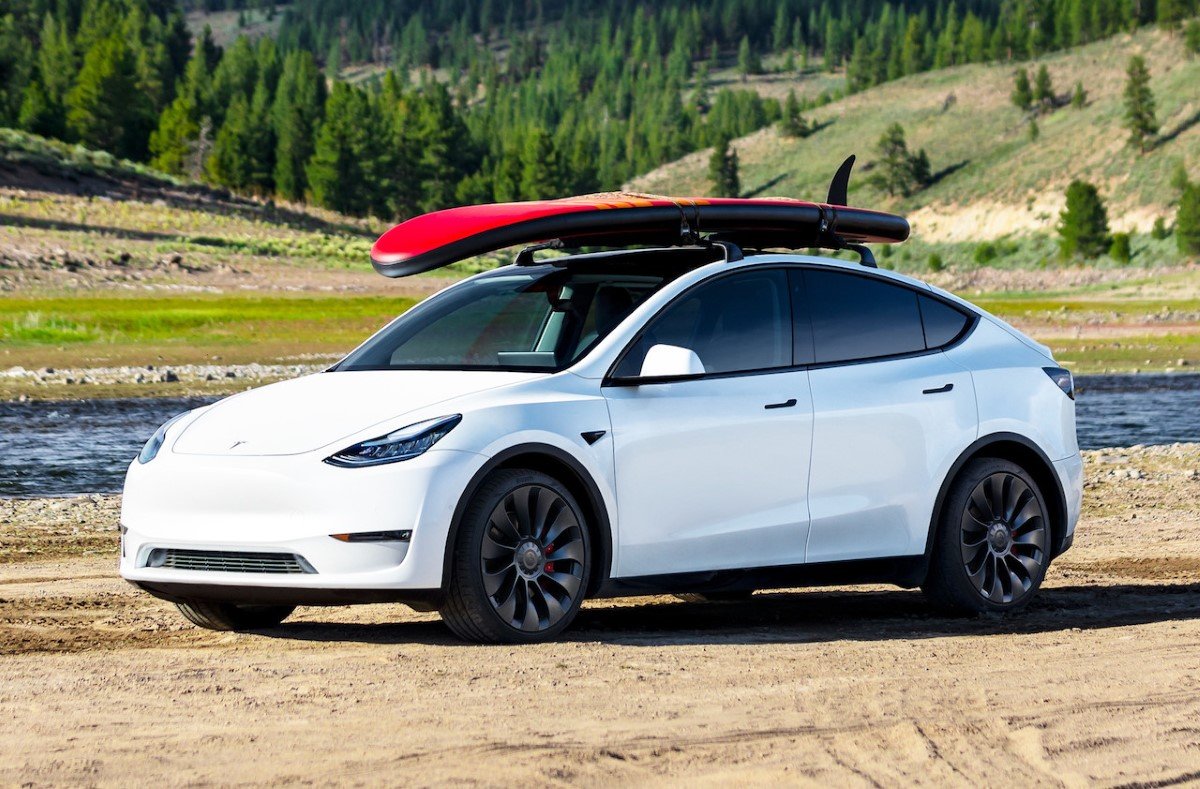 The Tesla Model Y is Tesla's new mid-sized SUV. It'll be coming to the UK from late 2021, and will rival cars like the BMW X3 and Audi Q5 in terms of size. The Model Y shares a lot of the Model 3's innards and will have a driving range of between 314 and 336 miles. Prices are expected to run from around £50,000 up to £70,000.
Elon Musk, Tesla's founder, has described the Model Y as having "the functionality of an SUV but the ride of a sports car." As you'd expect, performance is significant. Even the Tesla Model Y Long Range is likely to do 0-60mph in just over 5.0sec, while the Performance model likely to hit the mark in just 3.5sec. Added to that, the Model Y will be available with an optional seven-seat layout, so the on-paper specs certainly support Musk's claims.
Charging is via the standard Type 2 or CCS sockets, and you can expect to get an 80% top-up in around 15 minutes, or 100 miles of additional range in under 10 minutes.
Tesla Cybertruck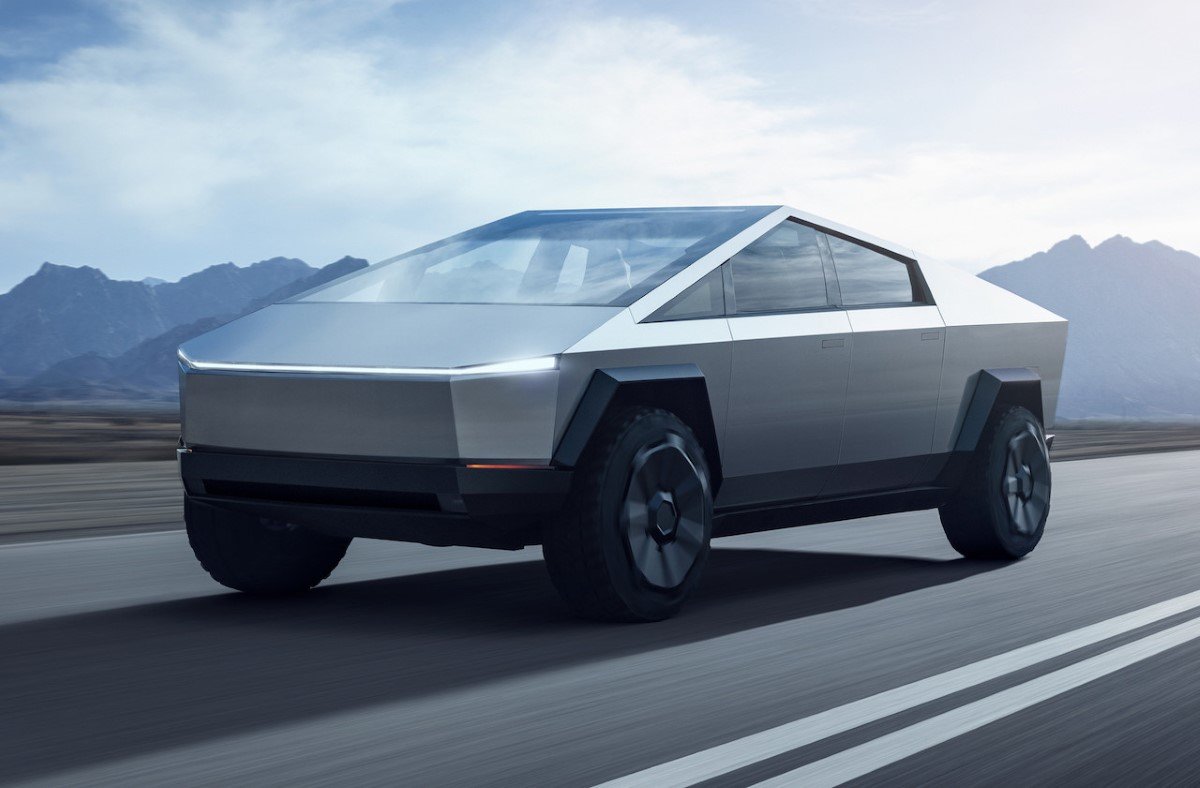 The Cybertruck is the most radical Tesla yet. Currently only seen in concept form, Tesla reckons that it'll be able to tow over 4.5 tonnes, has self-levelling air suspension and – in range-topping Tri-Motor spec – will do an estimated 450 miles to a charge, despite also accelerating to 60mph in 2.9sec. There's also likely to be a Dual Motor model that will do around 270 miles to a charge and hit 60mph in under 5.0sec. The most basic rear-wheel-drive Tesla Cybertruck will cover around 230 miles. What Tesla calls full self-driving capability, or Autopilot, will be an option costing £6,800. It's still likely to be a popular extra, as it's among the most advanced semi-autonomous driving aids in the world.
The price for the pick-up truck itself is yet to be confirmed. In fact, it's in doubt whether the Cybetruck will even come to the UK, despite Tesla accepting deposits on it. There are rumours that the UK may get a smaller version instead. If the Cybertruck does come to Europe, expect it to be late 2022 before customers see deliveries.
Tesla Roadster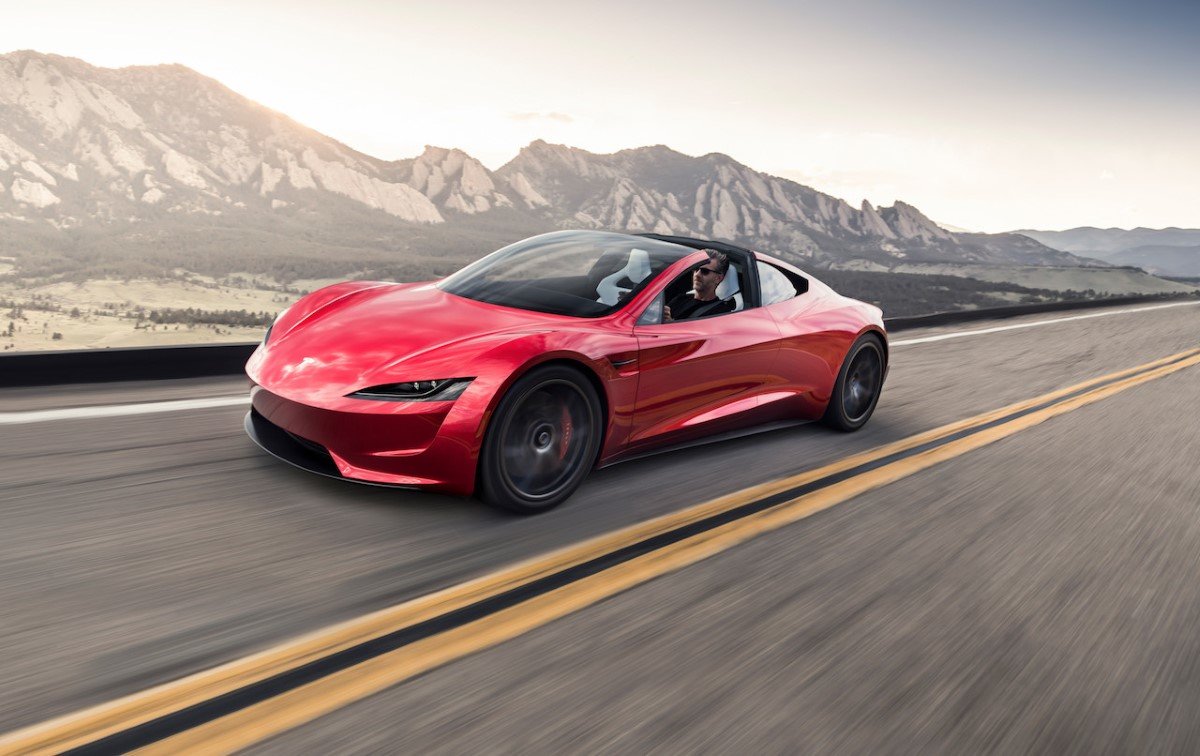 The original Tesla Roadster was the company's first model when it went into production in 2008, but this new second generation is a whole different concept from that dinky, fun Lotus Elise-based EV. The new Tesla Roadster is closer to a Porsche Taycan in nature, and has true supercar performance. Tesla boasts that it is "the fastest car in the world, with record-setting acceleration, range and performance." It promises do 0-60mph in 1.9sec with a top speed of over 250mph, and a range of up to 620 miles courtesy of a 200kWh battery. It's not a roadster in the traditional sense, but a lightweight removable glass panel gives it Targa flexibility and fresh air fun while keeping it looking very coupe-like.
There's also seating for four, although we'll reserve judgement on that until we've tried it; the slick, raked-back coupe styling certainly suggests that it's a Porsche 911-style 2+2 layout.
The first 1,000 'Founders Edition' versions of the Tesla Roadster are set to cost £189,000 each.