Shopping for an electric family SUV right now is going to feel more exciting and potentially more daunting than ever before. Why? Choice – there's just so much of it. Rewind just a year or two and the options were incredibly limited. But a flood of pure electric high-riders and crossovers have arrived throughout 2021, introducing a fantastic amount of variety. But that has also made it harder to figure out exactly which electric SUV is the one best for you.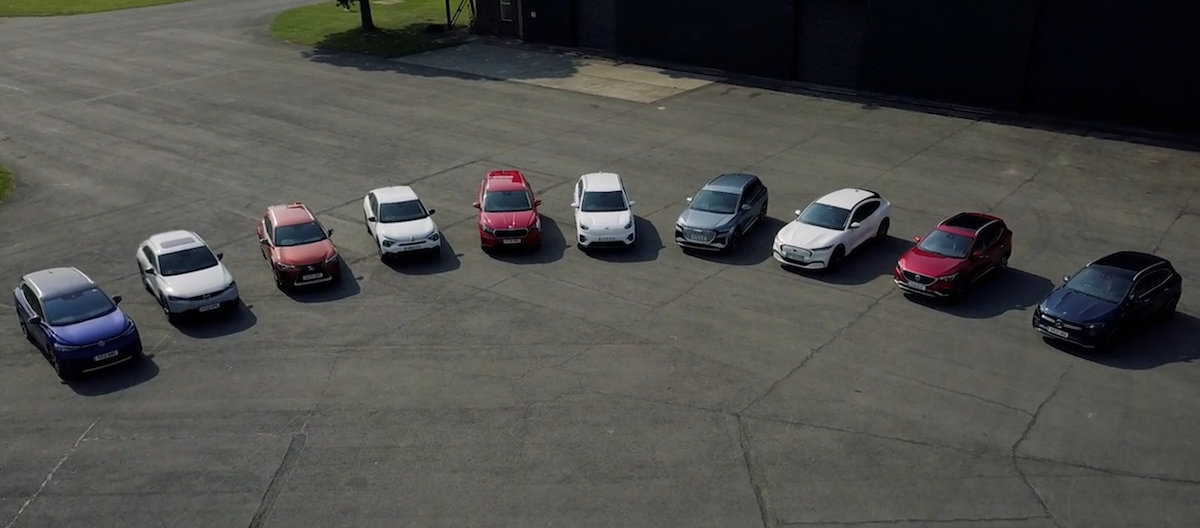 Which is why CarGurus has done the hard work for you. In this test, captured both on video and here in written form, we've brought together 10 of the latest electric family SUVs – all costing less than £45,000 – to drive them back-to-back, assess their credentials when it comes to practicality, and also to pull apart the essential cost and ownership information including estimated monthly finance. Of course, we've also looked at how far these electric vehicles go in between charges, and how easy and quick they are to charge.
If you want to know more about each of our test cars, click on the links below to read our full expert reviews. Or keep reading to find out how they fare in our Electric SUV Megatest...
The Contenders: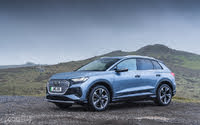 Audi Q4 e-tron 40 Sport
Price (inclusive of PICG): £44,990
Qualifies for PICG?: No
Typical Monthly PCP cost*: £654
Monthly BIK company car tax cost (40%): £180
Read the full CarGurus expert review
Search for an Audi Q4 e-tron on CarGurus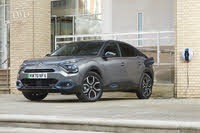 Citroen e-C4 Sense Plus
Price (inclusive of PICG): £30,895
Qualifies for PIGC?: Yes
Typical Monthly PCP cost*: £417
Monthly BIK company car tax cost (40%): £129
Read the full CarGurus expert review
Search for a Citroen C4 on CarGurus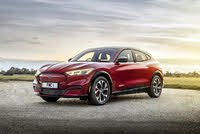 Ford Mustang Mach-E Standard Range
Price (inclusive of PICG): £41,330
Qualifies for PICG?: No
Typical Monthly PCP cost*: £620
Monthly BIK company car tax cost (40%): £161
Read the full CarGurus expert review
Search for a Ford Mustang Mach-E on CarGurus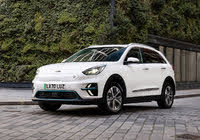 Kia e-Niro 3
Price (inclusive of PICG): £37,100
Qualifies for PICG?: No
Typical Monthly PCP cost*: £562
Monthly BIK company car tax cost (40%): £147
Read the full CarGurus expert review
Search for a Kia e-Niro on CarGurus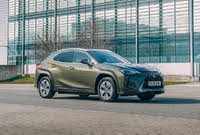 Lexus UX300e
Price (inclusive of PICG): £41,745
Qualifies for PICG?: No
Typical Monthly PCP cost*: £539
Monthly BIK company car tax cost (40%): £191
Read the full CarGurus expert review
Search for a Lexus UX300e on CarGurus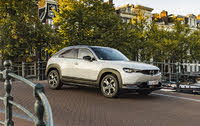 Mazda MX-30 GT Sport Tech
Price (inclusive of PICG): £30,345
Qualifies for PICG?: Yes
Typical Monthly PCP cost*: £393
Monthly BIK company car tax cost (40%): £131
Read the full CarGurus expert review
Search for a Mazda MX-30 on CarGurus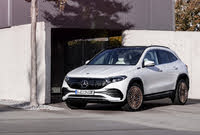 Mercedes-Benz EQA 250 Sport
Price (inclusive of PICG): £44,495
Qualifies for PICG?: No
Typical Monthly PCP cost*: £498
Monthly BIK company car tax cost (40%): £162
Read the full CarGurus expert review
Search for a Mercedes-Benz EQA on CarGurus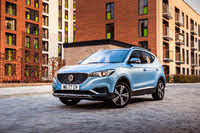 MG ZS EV Exclusive
Price (inclusive of PICG): £28,595
Qualifies for PICG?: Yes
Typical Monthly PCP cost*: £391
Monthly BIK company car tax cost (40%): £124
Read the full CarGurus expert review
Search for an MG ZS EV on CarGurus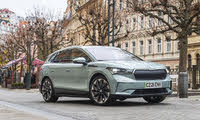 Skoda Enyaq iV 80 Loft
Price (inclusive of PICG): £39,350
Qualifies for PICG?: No
Typical Monthly PCP cost*: £600
Monthly BIK company car tax cost (40%): £156
Read the full CarGurus expert review
Search for a Skoda Enyaq on CarGurus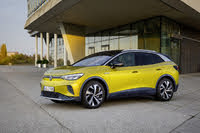 Volkswagen ID.4 Life Pro Performance
Price (inclusive of PICG): £41,570
Qualifies for PICG?: No
Typical Monthly PCP cost*: £628
Monthly BIK company car tax cost (40%): £166
Read the full CarGurus expert review
Search for a VW ID.4 on CarGurus
(*Manufacturer-sourced PCP finance deals based on 10% deposit and three-year arrangement. All figures correct at time of writing, but are subject to change.)
How Practical and Plush are our Electric SUVs?
The scores at a glance...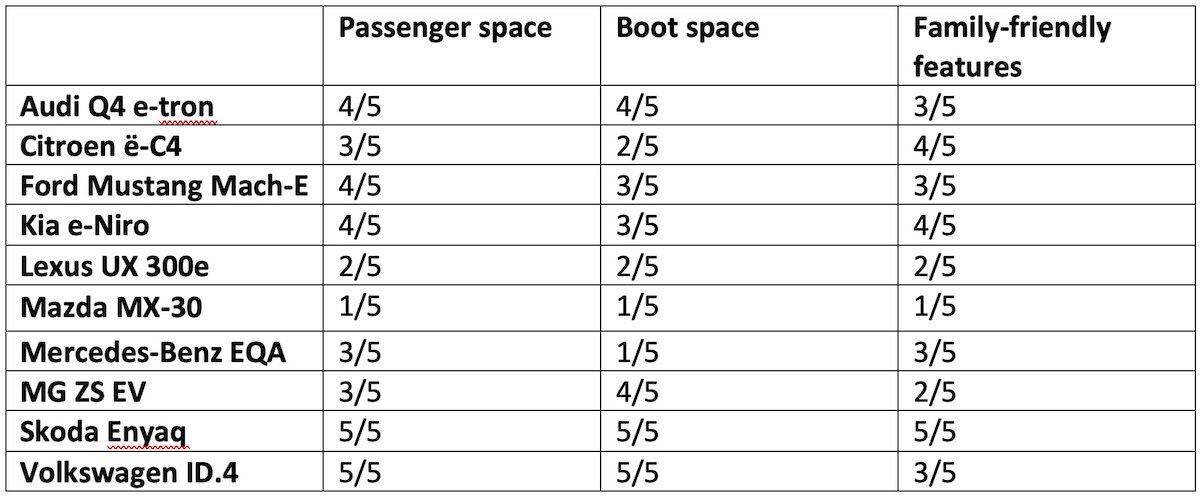 There are only two cars in this test that are small enough that a four-person family would struggle to use them: the Lexus UX and Mazda MX-30. In the case of the Lexus that's fairly hard to forgive, given that it is also one of the most expensive cars here (more of that below), but nevertheless it is sufficiently cramped in the back seats that a toddler in a bulky car seat will be kicking the seat backs endlessly, or a lanky teen will be short of headroom. Added to that, the UX300e is one of the worst cars here for boot space. An SUV it might be, but it's really not a car for people with children, dogs, friends or luggage.
The Mazda is a little different, as it is intended to be more of a compact urban SUV. However, while it is still roughly VW Golf-sized it has far less legroom than you get in an average family hatchback, never mind the electric SUVs it's up against here. In the Mazda's favour, it does have a very lovely interior with striking cork inserts that lift it to a far classier finish than you might expect, but that doesn't make up for the limited rear space or small boot.
Those two aside, the other eight cars here are all up to the task of being a family SUV. The Citroen e-C4, Kia e-Niro and Mercedes EQA are on the smaller side in this company, but they still have space enough for lanky teens to slump in comfort, and the boots will take a chunky double buggy (albeit only just in the case of the Mercedes).
The rest of our protagonists – that's the Ford, Skoda, VW, Audi and MG – are as spacious and as comfortable as you'd hope an SUV would be, with big boots and cubby storage aplenty. The Ford Mustang Mach-E's storage space in the nose is a useful trick (for cable storage or otherwise), and it has a particularly noteworthy infotainment screen that's very Tesla-like to give it an edge in terms of tech levels. The MG ZS is also worth mentioning here as it is genuinely spacious and roomy despite being remarkably cheap, so do check it out if keeping costs down and boot space up is a priority.
If classiness and premium feel are more your thing, the Audi Q4 e-tron and Mercedes EQA will impress. Both have plush, high quality interiors befitting their price, but in a comparison of aesthetic and perceived plushness, we'd have to give the nod to the beautifully-finished interior of the Mercedes.
Overall though, it is the Skoda Enyaq iV and VW ID.4 that prove to be the most spacious and family-friendly of our electric SUVs. Both have huge boots, masses of room to lounge in the back and lovely, classy cabins up front to keep the parents happy as well.
Range and Charging
The details at a glance...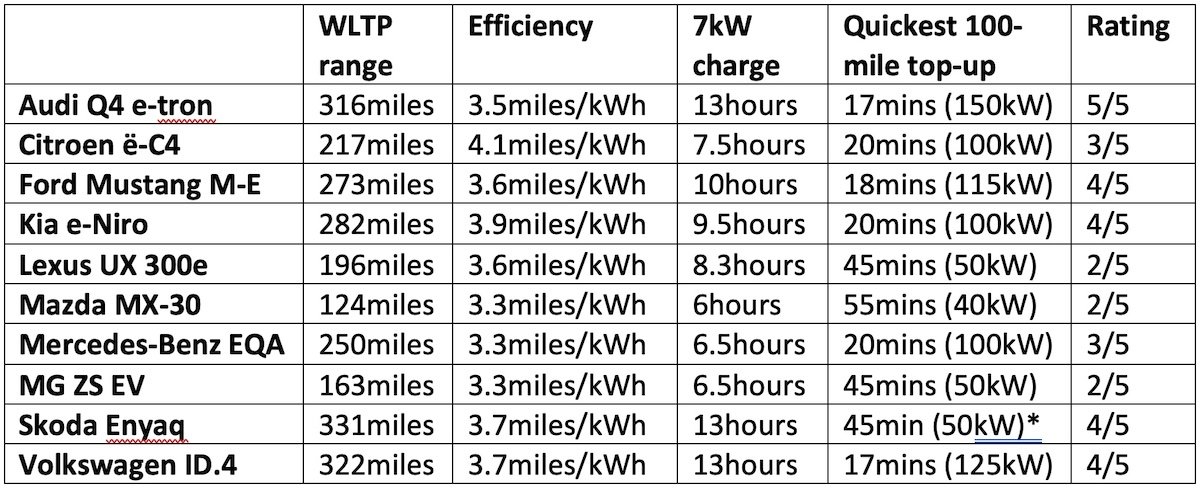 (*Or 17 mins at 125kW with optional fast-charging costing an additional £440)
On to the electric car basics, and sadly it's the Lexus UX and Mazda MX-30 that once again finish bottom of the pile. The Mazda, in its defence, is up front about being an urban-oriented small SUV that's designed for people who don't need long range. Plenty of those city-dwelling types are out there, and getting an EV with a smaller battery (requiring less hard-to-source rare earth metals) makes a lot of sense versus buying a big battery and almost never using its capacity. But, in this company the Mazda's official range of 124 miles on a single charge is just too limiting. So, while the MX-30 may still suit a small, urban family with a short-hop lifestyle, it's still the first to be eliminated here.
The Lexus's circa-200-mile range is underwhelming given that it's one of the more expensive cars here, and you'll also find a CHAdeMO fast charging socket instead of the European standard CCS socket used by every other car in this test (and almost every other EV on sale). Sure, there are CHAdeMO connections at many public chargers, but CCS promises to be more convenient as the charging infrastructure evolves, and the UX's maximum 50kW charging speeds are half that of many other cars here. That means it'll take around 45 minutes to to top[ up with 100 miles of range at a 150kW ultra-rapid charger in the Lexus, while most others here will do the same in more like 25 minutes or less.
That's not the case with the MG ZS, though, which is also capped at 50kW, and has a lower range than most others here, so joins the Mazda and Lexus on the naughty step.
The Citroen e-C4 looks a little underwhelming next to longer range alternatives like the Kia e-Niro, but the combination of 100kW charging from a CCS socket, and range of around 200 miles is becoming something of an industry standard in the £30k-£35k EV price category. Unless you routinely do long journeys, this sort of range and the use of the (rapidly improving) public charging infrastructure is likely to be enough for most families.
The Mercedes EQA and Ford Mustang Mach-E look a tad middling on range and charging speeds, given what else you can get for the £40-£45k price territory that they occupy, but they'll certainly do the job with relative ease even if you do higher mileage.
A significant nod should also go to the Kia e-Niro, which may fall short of the official range on offer in the Audi, VW and Skoda, but we've done a lot of miles in the Kia over the years, and it has routinely proven to be a benchmark for efficiency. It'll do 4.0 miles per kWh with ease in the real world, even in colder weather, which is basically the EV-speak way of saying that it'll do some 60mpg while the others will probably only do 45-50mpg. We wouldn't be at all surprised to find the Kia delivering a similar real-world range to the ID.4, Enyaq iV and Q4 e-tron despite its smaller battery. It remains a great long-range EV.
If you can stretch to the price, the Audi Q4 e-tron is the fastest charging car here but the VW ID.4 and Skoda Enyaq actually offer slightly longer range and, provided you've added the optional 125kW charging upgrade to the Skoda (that's £440 very well spent), will also deliver a very useful battery top-up in the time it takes your barista to misspell your name. And so, while the Q4 is impressive for charging speed, it's the Skoda and VW that promise to be best at keeping range anxiety and charging woes at bay.
Driving impressions
The scores at a glance...

It will perhaps come as no surprise that the three VW Group cars – the Audi, Skoda and VW – all feel rather similar in the way they drive on the road. They do, after all, share a platform, powertrain, battery and more, so all are rear-wheel drive yet deliver plentiful grip and predictable, but hearty acceleration. Peculiarly, the Audi has the lightest steering weight (not to mention a quirky, squared-off steering wheel) of the three, and actually feels a touch sloppier in terms of its body control through fast direction changes. Of course, all have variable drive modes, and more importantly all have a nicely judged balance of comfort and precision, but – and we're splitting hairs here – it is the Skoda Enyaq iV that feels the most rounded out of the three when it comes to cushy ride comfort and convincing handling. In fact, it is one of the best cars to drive of the whole lot, such is its easy, slick balance of comfort and precision.
Talking of comfort, the Citroen e-C4 is quite something when it comes to ride comfort. It is pillowy soft and wafty, in a way that not enough cars today are, especially electric cars that also have to contend with hefty battery packs. The trade-off, however, is a lot of quite ungainly lean in cornering, and the steering is so light that it's a little disconcerting when you're driving at higher speeds.
Similarly, the MG ZS EV and Lexus UX are comfy and have very light steering, although neither quite matches the Citroen for ultimate zen 'bump, what bump?' ride quality. The front-wheel-drive Lexus also commits the sin of being too eager to spin its wheels, even if you just try to make the most of the decent acceleration on offer as you exit a corner. The Citroen, MG and Lexus all deserve credit for putting comfort first, and for being smooth, easy-going steers on the motorway or in awkward town situations, but all of them deliver that at the cost of some uninspiring handling.
That's something you can't say of the Ford Mustang Mach-E, which is zingy enough to really satisfy on a good road yet also steers predictably enough and has nice, easy-to-modulate pedals for a calm swish through the school run bedlam. However, Ford has perhaps chased the performance aspect a little too much since it has also resulted in the firmest ride here. The Mach-E never quite settles, thumping and shivering around town particularly, which is not ideal for a family car, regardless of the fact that it has the Mustang badge to live up to. That said, if you're worried that the electric version of the Mustang can't live up to the name, don't be. There's truly blistering sports car performance on hand.
The Mazda has a rather sweet, oily steering response, but it is also the slowest car here and it suffers a surprising amount of body lean, too. Sadly, it continues to prove objectively rather whelming in almost every aspect of our group test.
That leaves the Kia e-Niro and Mercedes EQA. The Mercedes feels very slick and poised, with nicely tuned damper responses ironing out the worst of the road surface, while tidy handling and good body control make it feel confident on a windy country road. Sure, the Ford has the edge for performance and handling fun on a good road, but in every other aspect of daily driving, the more forgiving ride of the Mercedes and its intuitive control weights make it one of the best cars here dynamically.
You might not expect the Kia to be very noteworthy to drive given that it's certainly not noteworthy to look at, but it is actually a real joy to spend time in. Very punchy in terms of acceleration, with just about the best steering here in terms of predictable, nicely weighted responses and plenty of feedback. Yet, it's also pliant and easy-going on a bad road. The e-Niro is the oldest EV here by some margin, but it certainly doesn't feel it.
The Eliminations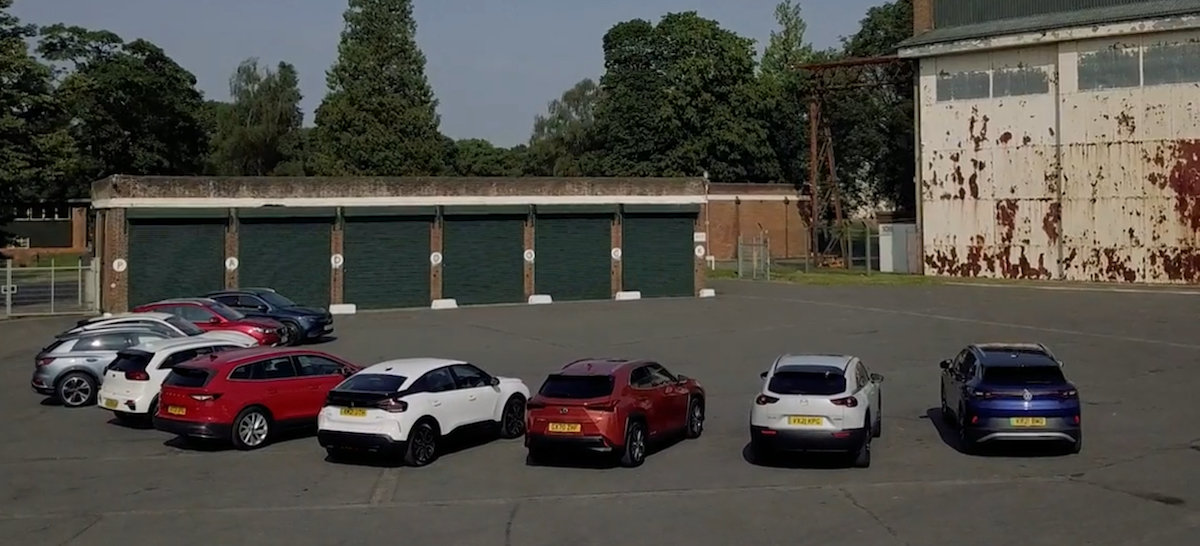 That leaves us to decide which of these electric SUVs is the pick of the lot. And it is a lot. Ten plug-in SUVs that demonstrate brilliantly how the proliferation of battery cars has now provided a fantastic array of choices for anyone wanting a pure EV right now.
However, by process of elimination, the Lexus UX and Mazda MX-30 are easy to lose from the off. Following that, the MG ZS EV is a little harder to shrug off given its excellent pricing (and for that reason we'd still recommend it), but it is outclassed here in just about every other area. Then there's the Citroen e-C4, which is actually rather charming and justifiable in its own quirky way. Putting comfort first is all well and good, but the Citroen also feels rather middling in many other respects, including driving range and handling, not to mention a fiddly infotainment system (which you can read about in the full review).
The Audi Q4 e-tron is appropriately plush to sit in and benefits from the fastest charging here, but it is actually shown up by the VW ID.4, Skoda Enyaq iV, Ford Mustang Mach-E and Kia e-Niro when it comes to various critical factors including price, handling and practicality. The VW ID.4, while very spacious, essentially feels like what it is: a considerably more expensive version of the Enyaq iV, but for little or no extra ability. So, while it's an excellent all-rounder, the VW doesn't quite make it into the top four, and the Enyaq does.
The Top Four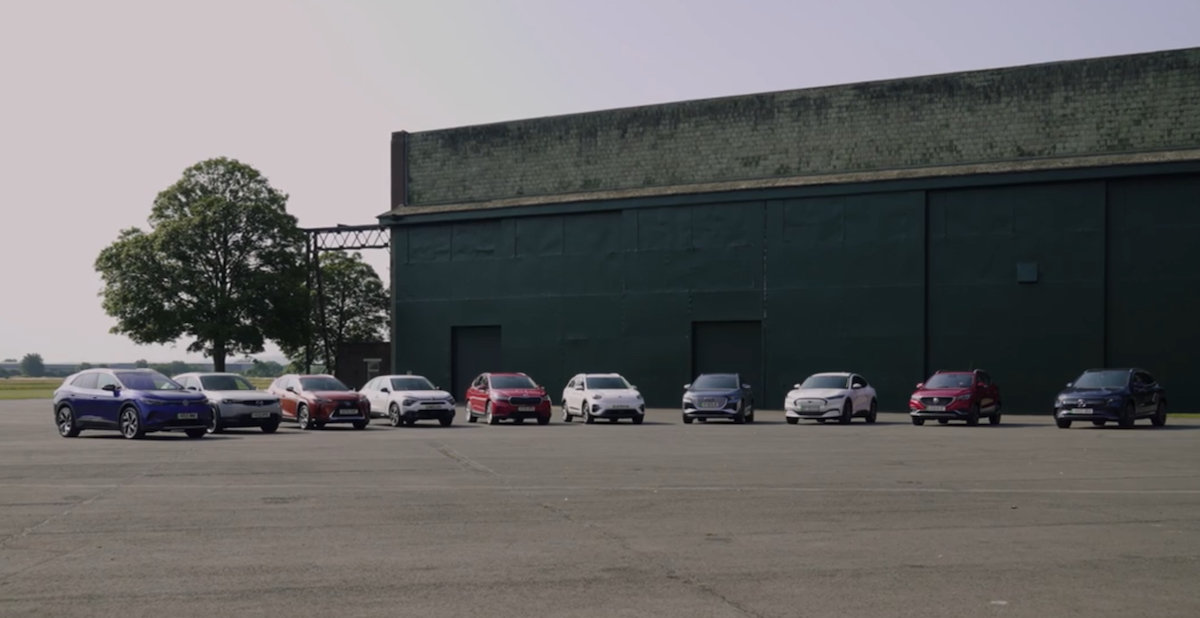 So to our top four, which reads Ford, Mercedes, Skoda and Kia. All are genuinely fantastic EVs, but we are looking for the best of the best. With that in mind it's the Ford that falls first. The Mustang Mach-E made it this far because it is spacious, fun to drive, has the most impressive infotainment system, and is also very good on range and charging aspects (you can get it with a bigger battery, albeit at a great jump in cost). But in a group this talented, there's no hiding from its relative lack of comfort compared with our top three.
The Mercedes is a very compelling electric SUV, with an interior finish that wouldn't feel out of place on a six-figure luxury car and a fluid, engaging drive. But it is overshadowed for cost, range and – most crucially - for practicality by the Skoda and Kia, so it falls into third place overall.
The Kia certainly deserves every bit of the quite remarkable renown and popularity that it enjoys today, and if you specifically don't want a car quite as big as the Skoda (which is getting on for full-sized SUV dimensions next to the Kia's more Golf-like size) then it should be the first family SUV on your list. Driving it with all these rivals, we couldn't escape the sense that the Kia feels like the true, new 'people's car' for the electric era, with costs, space, comfort and dynamics all sweetly judged and just right for a small family. We'd have one over almost every other car in this test and, for what it's worth, we'd have it over VW's ID.3 or ID.4, too. Sorry, VW.
The Winner: What's the Best Electric Family SUV of 2021?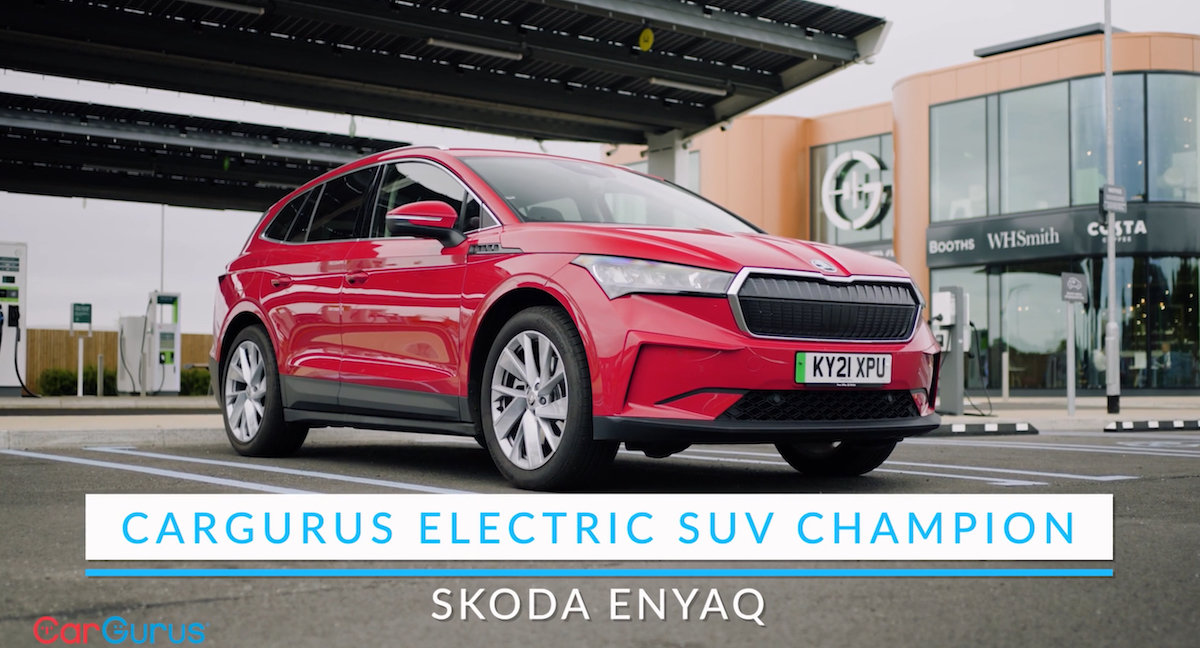 However, this is a battle of electric family SUVs, and the Skoda is much roomier than the Kia, goes longer on a charge and simply offers more for your cash. It is just a brilliant all-rounder, and it sets a new and very high benchmark for electric family SUVs. If you want the best electric SUV out there, the Skoda Enyaq iV is it.
Testers' notes and other electric cars to consider...
A quick note on our methodology for putting our test together. Obviously, there are plenty more electric SUVs on the market than just those included here. However, we can only consider so many at one time, so we applied certain thresholds that cars had to meet before they became eligible for the test.
The first of these was our £45,000 price cap, introduced to give this test more of an attainable, real-world flavour. By itself, that price cap ruled out expensive options such as the Tesla Model X, Jaguar i-Pace, BMW iX3, Mercedes EQC and Volvo XC40 Recharge.
While the price cap put a limit on eligibility at the top end of our spectrum, we also applied a threshold at the bottom end. As we've said, most SUVs – electric or otherwise – are used as family cars, and a decent family car has to be a certain size. Anything with a supermini-sized footprint just doesn't cut it on that score. With that in mind, we required contenders to have a minimum length measurement of 4.3 metres – roughly the size of a Ford Focus, or what the motor industry refers to as a 'C-Segment' car. That ruled out smaller electric SUV contenders including the Hyundai Kona Electric, Vauxhall Mokka-e, Peugeot e-2008 and DS 3 Crossback E-Tense.
The cars that were included in the test constituted everything currently on the market that falls within those two thresholds.
'Currently' is quite an important word here. As we've said, the pace of change in this area of the market is extremely rapid right now, and it won't be long (probably weeks rather than years) until even more new models come along, vying for both your attention and your hard-earned. Already on the horizon to arrive in this space in fairly short order are the Tesla Model Y, Nissan Ariya and Cupra Born, to name just a few. Rest assured, we'll test these new entrants as and when they become available, and now, in the form of the Skoda Enyaq, we have the ultimate benchmark to test them against.
Of course, there are plenty of exciting and tempting new EVs out there right now - and on the horizon - that aren't SUVs at all. There are funky city runabouts like the Honda e and Mini Electric, glamorous coupes such as the Audi E-Tron GT and Porsche Taycan, luxury limousines like the Mercedes EQS and super-desirable hatchbacks like the Polestar 2, Tesla Model 3, Hyundai Ioniq 5 and Kia EV6. These are some of the best electric cars there are, and we wouldn't blame you for being tempted by any/all of them, SUV-style or no SUV-style. What's clear from all this, though, is that the future of electric motoring is looking very bright indeed.
Oh, and if you haven't already, click here to watch the full 40-minute CarGurus EV Megatest video.